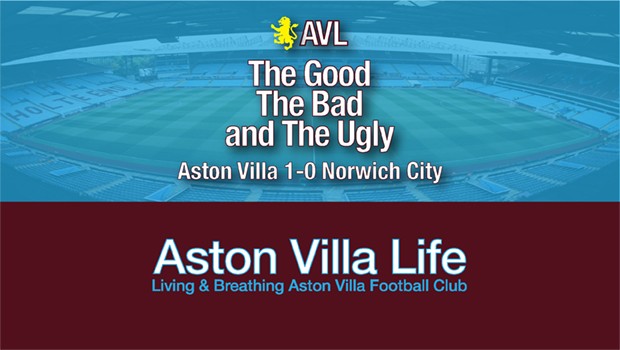 Villa's stretch of matches against fellow cellar dwellers didn't get off to such a great start Saturday, but the side rebounded on Boxing Day, securing a crucial three points against visiting Norwich with a 1-0 victory.
While not a thing of great beauty, it was a far cry from the virtually catastrophic Saints game. In that one we looked terrible, dropped squarely into the bottom three, lost John McGinn, and seemed to have lost our way in general. It was panic stations all round, and not without some cause.
But. It's looking not quite as dire now, with a win finally back under our belts, and West Ham, Bournemouth, and Brighton all within reach just above us. Southampton and Everton aren't out of sight, either.
The Good
Lovely strike from Conor, who, like El Ghazi, seems to benefit from a sit-down. Tom Heaton was top class. Konsa and Hause settled in together, and grew into the match. Douglas Luiz had, I thought, his most physical performance and a brilliant goal-line clearance. He and Nakamba did well enough. Wesley put in a good shift. Jack was Jack, though more centrally deployed, and had a perfect assist. After the goal, you could see confidence returning, and better, more composed football resulting—until the obligatory nervy finish, of course.
The Bad
Villa rode their luck, and keeper, at times, with Norwich creating more and playing better, overall. Trezeguet was poor all round, especially in getting dispossessed from behind. El Ghazi had two chances he fluffed that would've changed the nature of the game dramatically. Set piece defending was still a shambles for two-thirds of the game, but did improve. Service into the box was generally…poor.
The Ugly
Farke's silly rant about a throw in.
Final Verdict
A win that Villa desperately and quite obviously needed. Villa didn't look like Klopp's men, but they somehow managed to keep a clean sheet and see out a lead. That was all that mattered. Villa came in seemingly bereft of all confidence, and turning it round was never going to be an instant turnaround. The side managed to find a way to stay in it, grab a goal, then grew in confidence after, and most important, kept ourselves in touch with the safety zone.
Interesting on the day was how moving Jack central played out. Defending, Villa looked to have a more 4-4-2 shape, with Jack and Wes at the top. Grealish's free role going forward had the formation looking like a variety of things in attack, even going so far as to reach something as meaningless as a 4-2-1-2-1. Or 4-2-1-3. Or 4-2-3-1. Take your pick. There was a lot of moving around, is what I'm saying.
For their part, Trezeguet and Ghazi didn't offer much, though they did help make up the numbers. This is a problem. Ghazi has to take his chances, and he's been off lately when he's been in the right places at the right times. Trezeguet was basically useless on the day, and being subbed out so late has me wondering about Jota's true fitness.
Further, Villa keep getting lined up and static in attack, which is big part of why we aren't creating a lot of chances. When we did score, it was because Jack's position on the ball pulled the defenders deeper, leaving space for Hourihane. But we still aren't succeeding at quickly getting between opponents' lines often enough further out. If I were to point to a flaw in Jack's game, it's his hesitancy to play through-balls quickly. But when I look at how poorly they come off from everyone else, I can't say I blame him. That said, it's a key to unlocking more direct chances. If and when he adds that to his locker, he'll be a complete and very dangerous player.
The thing here, though, is that we can all see Jack carries the burden for the whole team. It's easy for him to try and do too much or be too cautious. No idea what Smith's instructions are, but the way we're set up, turnovers on that final ball can be deadly. What got better during the match was Konsa and Hause pushing up and getting to balls in the air and on the ground, which is also crucial to the system. You have to win that phase with the numbers we try to throw forward, and not let the ball drop in front of the back line. If the wide forwards aren't going to cut in and convert, or find Wesley or trailing midfield runs, they may as well stay home, and it seemed to me Dean did have them lying deeper more often than in previous weeks.
Equally important, I thought Luiz showed more aggression and persistence off the ball. There's a decent partnership to be had with him and Nakamba, and as tired as we all are of hearing it, it's simply the case that this is very much what a work in progress looks like, especially when neither of them (along with Trezeguet and Wesley) have any experience in English football, never mind the Premier League. I think more than anything, it's the lack of time on the ball, from all directions, that's been the rudest awakening for most of the newcomers, as well as the complementary element of playing so tight without the ball. But those were the first real glimmers of tenacity I've seen from Luiz—if he's finally taken that part of his role on board, well, let's just say it's not a moment too soon, especially without McGinn, who, when fit, does a lot of that dirty work. When we turn it over, someone has to be dogged in blunting the counter. For his part, Nakamba's not bad at reading things, and being tactically subbed off for Conor had everything to do with Dean wanting three points.
All fixed? Nope. But it gave me hope. And it has to have done the lads a world of good. Winning always does. The trick, as we all know, is doing it again tomorrow.
Over to you.