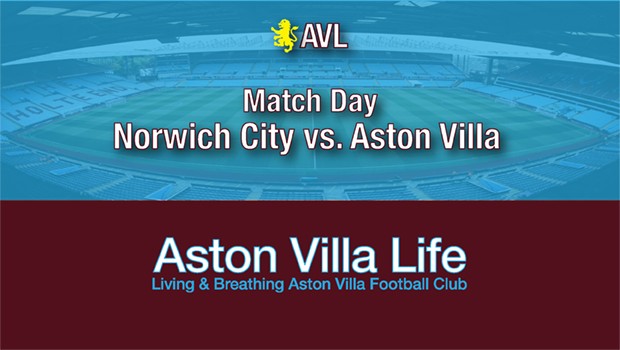 Following Villa's 1-0 win over visiting Swansea Saturday, there was much talk from Dean Smith about tactics, training, game plans, and what he was trying to do. Most everyone found the insights refreshing and indicative of a new approach at Villa that's been long overdue. One or two found it a bit disrespectful to Steve Bruce. The vast majority didn't care about perceived slights and would simply like us to take another step forward in year three of our quest to return to the top flight, and the question tonight is will we see any progression against Norwich on the quick turn, or is that asking too much?
In all fairness, Smith's comments were answers to pointed questions because it's pretty much a given that everyone wants to know why Smith's teams play the way they do and why Villa haven't. In short, what does Smith offer that Bruce didn't? So, Deano told us a bit. He could've said more, I'm sure.
What all of this will illustrate is how good a coach Smith is and which players are up for it. He's playing with his predecessor's team (and some of RDM's, as did Bruce), so it's much easier to evaluate the difference in approach as it's apples to apples given there's been no turnover in the side to accompany Smith's arrival.
At any rate, since the games come fast and furious after a break, there won't be much time to dwell over the last couple days. Villa travel to Carrow Road tonight, and the magical mystery tour will make its second stop. The Canaries are in fine form, and Villa might well be a little leggy after exerting themselves for 45 minutes against the Swans.
Smith has said he's not trying to change too much too quickly, that he wants to "drip-feed" his ideas to the players. Saturday's priority was keeping a clean sheet. Tonight's? Well, likely more of the same, but it might well serve as another round of auditions for a couple of players.
For one, John McGinn will serve his one-game suspension, so someone's got to take his place. Conor Hourihane would not be a surprise, though he's not the ball-winning dynamo McGinn is. And I don't really know that we have another box-to-box player with McGinn's engine to choose from.
Anyway, that's the way it works. Will we see El Ghazi? Hogan? Adomah and Elmo again? Your guess is as good as mine, though the team sheet will soon be out and we'll have our answers.
In terms of tactics and approach, Smith would obviously like us hold onto the ball better, and take the opportunities for breathers that possession entails. He says the side have recovered well, and I'm guessing he'll ask for the high press again. And like I said, I'm pretty sure that regaining possession and creating turnovers will be a fundamental emphasis throughout his tenure.
I think most everyone would take a draw before kick-off, but I'm fairly sure Smith will be playing to win. How he approaches that on the road against a side in good form? We'll see. If Villa can somehow pull off a win it would put us right back in it—we're seven off the top two places, but just three back of the playoff spots.
Further, two on the trot under the new man would certainly build some momentum and belief.
Whichever way it goes, it will certainly be interesting to watch.
Over to you.