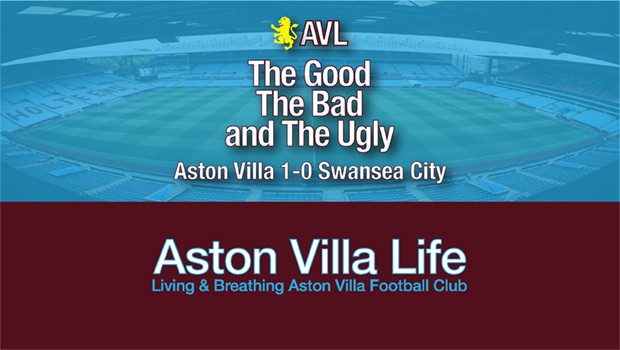 A packed and raucous Villa Park welcomed the Swans on Saturday, and Dean Smith came away with a 1-0 debut win thanks to Tammy Abraham's 8th-minute header.
Here's what I came away with.
The Good
Much more aggressive pressing higher up the pitch, which saw Villa largely bossing the game through the first 45. A lovely little ball from Ahmed Elmohamady that was well finished by Abraham to make the early advantage count. Of note was that it's the kind of ball Elmo is well suited to provide, coming not from the touchline, but further infield, which is more of a Smith trademark.
John McGinn delivered another all-action performance, further cementing him in the hearts of Villans, and reinforcing the perception that we might well have finally found a replacement for James Milner. He's rapidly become indispensable, so it's a shame he picked up his fifth yellow and will miss Tuesday's match. But at the same time, he'll have gotten it out of the way.
Orjan Nyland made some excellent saves. One hopes we'll be turning him over to a kicking coach. But on the day, the distribution woes paled in comparison to preserving the win.
The Bad
I've seen Albert Adomah come in for some stick, and I do understand. He was putting in the effort, but he still hasn't regained that remarkable run of form that might well have turned out to be atypical of him. Worse was Bolasie's complete lack of impact. And Johnathan Kodjia still just isn't right. The heart's there, but he can't quite pull off what he could before the ankle, and is still trying to do too much on his own.
There were also a number of gilt-edged chances that went begging.
As Dean Smith noted, Villa let Swansea into it in the second half largely due fatigue, which is probably to be expected after the break and running more. It's going to take a little bit to get them all going for 90 minutes when that's not the sort of game or match fitness they've been trained for. The good here, though, is that the idea is not to let the opponent come back into the game by dropping off. We did invite Swansea on in the first to make space, but that was obviously intentional.
Could've been a very entertaining draw, as a result. But, thanks to Nyland and some grit, Villa got a vital three points to kick off the new gaffer's tenure.
The Ugly
I'm going to just leave it at The Bad. Nothing ugly on the day.
Final Verdict
All we've been reading and hearing before and after the match is that Dean Smith is, first and foremost, a coach. And Smith used his two days with the full squad to focus on playing without the ball. We saw the evidence of that in the first half: tighter triangles, coordinated pressure.
In the post-match presser we heard unfamiliar terms: game plan, traps, overloads, second-phase delivery. Things like "We'll also work on possession in the coming weeks because were a little loose on the ball. We can't be like that at this level." Or even just saying that the point of focus on the day was keeping a clean sheet. A clear, simple first step that wasn't made out to be anything else.
What I expect to see in coming weeks are the fruits of coaching, things we often gloss over, except to say, "I don't know what they're working on in training." Knowing how to communicate with different players, how to organize sessions and get the focus right, make the most of the time, and having a Point A and a Point B. That sort of thing. Sounds rather simple, and it is in the big picture. But not all managers are good coaches. And then it's up to who they surround themselves with.
I expect the players will take it on board because we've heard too much from too many about the lack of coaching, and not just under Bruce. They see how successful sides play, they've fallen victim to it, and they know their futures are only brighter the more they learn—individually and as a team.
It's more an aside, but I'll also expect Smith to rotate a few players through these first couple of weeks to see what he's working with. Saturday's lineup was not a radical departure, with Tuanzebe at CB being the only real move of significance. We'll probably see largely the same spine with wingers being swapped round, and maybe Hogan coming on instead of Kodjia.
So for me on the day, a couple positive signs, and obviously too early to reach many conclusions. However, I'm very much liking what I'm hearing, because I don't remember hearing someone actually laying things out for a while. And I'll certainly take the three points, and remain optimistic that Villa are going to improve.
Over to you.