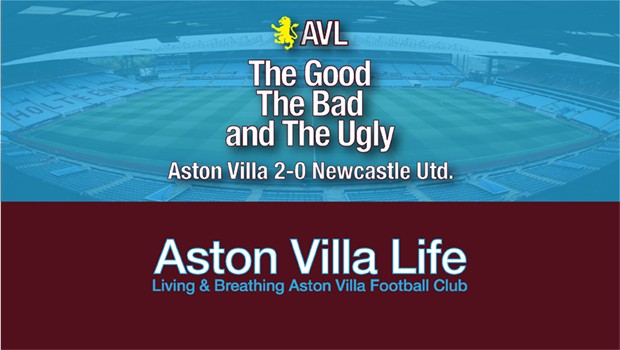 Steve Bruce was on the touchline at Villa Park for the first time since a fateful cabbage took flight, and his side delivered a suitably underwhelming performance. Fortunately, Newcastle are his now, and it was Villa who walked away deserved 2-0 winners.
The Good
Villa were composed and patient, especially in the first half, when it really counted. Conor Hourihane delivered two inch-perfect strikes, one to score, one to set up El Ghazi. Jack drove at the toon all night, earning the telling set pieces and continually disrupting their backline and organization. Konsa was steady. Targett and Guilbert got forward, and didn't do too badly at the back, either. Heaton made two excellent saves. Ghazi did his job, keeping the width and threat, and should've had a second. We finished very clearly on the front foot.
The Bad
Not a lot here, really. We let Newcastle get their heads up to the start the second, and showed some of the nerves that have undone winning positions before. A bit sloppy, a bit headless. But we settled down. I suppose you'd have to say we were profligate, but at least Wes had his first good look-in for a while.
The Ugly
The mood, had we lost.
Final Verdict
It was a big game and we came away with the points at home. Also helped our goal differential. So, in the end, that's all that matters. Every team in this league will make and miss chances, and the irony of Villa being the set-piece winners, well, like I said above, had to laugh at Bruce's post match comments. "I thought the first one was a bit soft." Stupid, is what it was, Steve, and obvious as the day is long, but Yedlin was beaten and at least managed to push Jack over outside the box. Not that it mattered, in the end, but it was a professional foul that probably should've earned him a booking. What was soft about the whole thing was the positioning of Newcastle's wall.
Tactically, Dean Smith obviously got it dead right on the night by bringing in Hourihane and playing Ghazi instead of Trez. The chip that Conor carries from being left out often works wonders for his performances. Luiz for Nakamba…well, Douglas is still finding his feet, but I think most days Marvelous is the better bet to play the holding role. At the same time, Dean knew the barcodes didn't really pose much threat from the middle.
As many have said, we did look a bit shaky for a while there in the second, but the important thing is that we settled down, got back to playing our game, and were relatively smart about it. Was really nice to see us close it out looking for a third. You hate to see so many good chances go begging, but when you win…?
McGinn was disappointing again, which is a shame. But while you might worry about it with a lot of other players, you know he'll get back to his best. He looked tired, basically. Wesley looked more interested and worked hard up front. One of his better games, and his efforts helped us apply high pressure. Also nice to see him finally push back against a CB and show his strength and a bit of attitude.
Targett and Guilbert also added a lot. Matt continues to offer much more than Taylor in the attacking phase. Guilbert obviously provides a lot of service on the other flank and had a couple-three nice tackles. They're playing what has to be the most difficult position in the modern game. There's a lot of speed, skill, and threat out wide in this league. Just like we expect to beat people out there, others are going to get at us, and part of it is just down to our formation. That's where Mings, Engels, and Konsa come in—mobile and athletic. With a good DM in front covering the middle gap, and the wide men tracking back, you'd like to think we can survive a fair amount of exposure out there. Konsa's done a nice job deputizing for Engels and may well keep him out for a while.
And then, of course, we come to Jack, who is simply the heart and soul of the team. His quality and composure, the attention he draws, the confidence he gives the side and the way he makes the system work…He's simply irreplaceable. I think we all know that, by now.
What I'm taking away from this first third of the season is that we're good enough. And it's a bit impressive that we're trying to, and often succeeding at, playing expansive football even as we learn on the fly. Smith has been true to his word and philosophy. We've also been undone by it, but in the end, that's the only way you learn. You're going to have to take your lumps. One of the analysts I heard afterward praised Smith's calm and steady leadership, and how he's stuck to his squad and philosophy, rather than panic and start throwing darts the way Fulham did. It carries through to the team, and you could see the smiles. They're enjoying their football, hard as it's been at times, and every now and then there's a lovely passage of play that shows they're really getting it and coming together. There was more than one last night. All that was missing were the finishes.
And of course I was quite pleased to see Bruce's 'homecoming' spoiled. He did a lot of good for the club and obviously feels aggrieved. He's not done badly with Newcastle. The set-up there suits him. But Smith's the right man for Villa, and it was good to be reminded of that on the night.
I'm going to enjoy this and actually look forward to United just a bit. They're obviously still wobbly, and the Sheffield match is not going to have them feeling any better about themselves. We're about due for a big win, because we've been close and got Arsenal and Spurs before they started struggling. Anyway, we're not going to end up being one of the worst three teams in the league, and given the way things are playing out around us, might well end up comfortably sat somewhere between 10th and 15th…with a bit of luck. So, yeah, let's make some luck and go get something at Old Trafford.
Over to you.