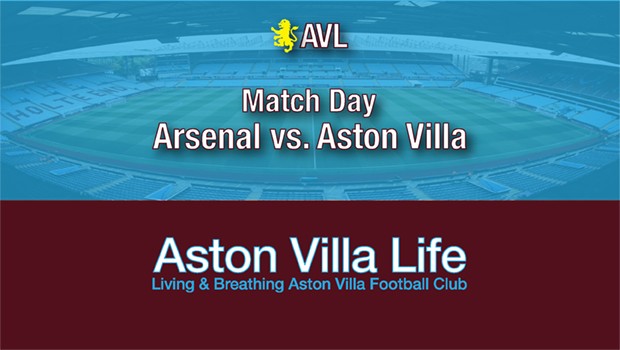 Sunday afternoon, and time for Villa to visit the Emirates, though the match won't be on TV. Which is annoying for us, but maybe not so bad for the players. While Arsenal have struggled a bit in their familiar fashion, it's still a tough place to play. Cameras don't really help. And I have to believe Villa will be thinking they can spring a bit of a surprise.
Throughout the week we've heard a lot about getting Jack further forward, and I thought Smith's comment about the error at Spurs being in Jack's head. In short, he's got a sense of responsibility, which could very well explain why we end up saying he needs to release the ball quicker—an overabundance of caution. So, two things there: finding a way for Jack to feel less responsible at both ends, and find a bit more freedom to play the sorts of balls and take the shots that can end up coming back at you. Never mind helping Wesley get more involved. My guess is that the more opportunities Jack has, the less likely he'll feel like they're opportunities we can't afford to squander. And that Wesley will convert if he gets more than one decent look-in.
Jack looked much more himself against West Ham. Will it continue?
I've seen it suggested the armband may be weighing him down. Which is possible. Just as it's possible that the England call-up he dreams of could be adding to the pressure. It's a big stage today, and Jack will want to make an impression.
So there's Jack, and then a fair amount of talk about getting Marvelous and Luiz on the pitch at the same time. Everyone's pretty much unanimous that Trezeguet should replace Jota if we stick to the current set-up. A lot of folks are calling for Targett. McGinn, as ever, is a no-brainer.
Obviously, it's all about the lack of goals, Wesley's struggles, and shoring up the midfield. And while Villa will very much have their hands full with Aubameyang, Arsenal's defensive woes offer a glimmer of hope for a result. Looking at results around us, a draw today would be a very reasonable return. And quite timely. If Norwich can surprise City, well…We've seen Arsenal collapse.
But which Gunners will we get? We've got the blown two-goal lead against Watford last weekend, then a 3-0 dismissal of Eintracht Frankfurt during the week. Hard to say where their heads and confidence are, how much they've got in the tank, but they are at home and have quality outside their error-prone backline.
So, could be a wide-open game. Villa could be under the cosh. I'll be curious to see how much pressure Smith is willing to exert in Arsenal's third to try and force errors. Be curious to see whether we hunker down. Curious to see whether Targett gets thrown into the deep end. Me, I don't think he will be today, but his time is probably coming.
Hourihane has slipped out of the conversation a bit as folks talk about Luiz and Nakamba, but Villa certainly haven't been taking advantage of dead balls. And Conor does have a knack for making that run into the box. He scores. If he doesn't start, I'd think he has to come on at some point if Villa are looking for an equalizer or winner.
Anyway…All very interesting. Like I said, I was encouraged by what I saw last weekend. But that's usually the story for teams in the relegation zone. Encouraging performances accompanied by a lack of goals. The upside is that we haven't been giving them away cheaply, apart from the Bournemouth setback. And then in context, the match today could see us climb back out of the drop zone, just, on goal difference.
Probably more important is that the game sets the stage for a run of four fixtures against Brighton (2), Burnley and Norwich. It's an important stretch given that it's Manchester City and Liverpool back to back after. A good outing might provide the platform we need to get a decent return.
Regardless, whatever happens, we're going to have a lot more to talk about this evening. And I wouldn't mind seeing a bit of luck fall our way. I think we're a overdue on that front.
And the lineup questions have been answered:
Heaton, Guilbert, Engels, Mings, Taylor, Marvelous, Grealish, McGinn, El Ghazi, Trezeguet, Wesley.
Subs:
Jota, Elmohamady, Davis, Hourihane, Konsa, Lansbury, Steer
Over to you.