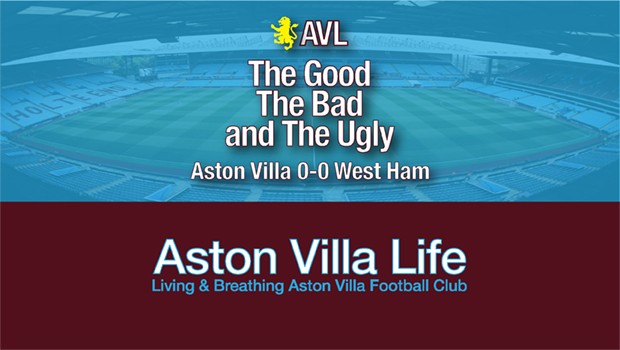 An entertaining and ultimately frustrating match saw Villa earn a much-needed point against in-form West Ham. However, the side will be disappointed they couldn't capitalize on the man advantage down the closing stretch.
The Good
While there weren't any true standout moments, I was encouraged by our performance. More dogged. More fluid more often, quicker, and seemingly more consistently threatening. Both Grealish and McGinn looked good: Jack was very composed, ball glued to his feet, and took us into transition well; McGinn, well, he was his usual all-action self, but really shone as an all-round player on the night. Marvelous Nakamba ultimately had a promising debut. Guilbert showed a lot of quality and commitment (that 75-yard track-back and tackle after his giveaway was fantastic). El Ghazi was direct and strong. Heaton was basically unbothered. Mings and Engels dealt with relative ease, and Mings in particular had an aggressive, vocal and very composed evening. Engels was quietly assured and effective. A second clean sheet.
The Bad
You'd have to say not capitalizing on the man advantage. No goals. Misplaced passes. Trying to play too quickly or do too much individually.
The Ugly
Mings and El Ghazi coming together. But all handbags as Grealish said after, and a sign of intensity and desire. Mings is really coming into his own as a leader, and I, for one, don't mind him holding players responsible. Didn't like the way it looked, but much better than not caring. Which I saw Neil Taylor saying after I wrote this.
Final Verdict
Overall, I thought that despite errors and a lack of goals, Monday's performance was the most we've looked like a Premier League side so far. West Ham were coming in off a good run, have expectations, and really didn't dominate proceedings—53% possession versus 47%. In the end, I thought we had the better chances, one forcing a good save, another just going wide of the post. The Hammers had their moments in possession, but Villa were combative and blunted most of the threat while showing some tidy passages and decisiveness moving forward. There seemed to be much more assurance and quickness of thought and action throughout the side. I also thought it was the best I've seen Jack and John look so far, especially at the same time. Jack was almost imperious and full of confidence. McGinn did so well in so many situations: combative, good at reading defenders and retaining possession, strong on the ball, and tireless as usual. A constant threat and very aggressive.
On the downside, as the players and Smith have said, once the Hammers went a man down, it seemed to work to our disadvantage. I agree with Dean's assessment that we were trying too hard to make it count. At the same time, West Ham really did dig in and turn things up a notch. Full credit.
But as I mentioned above, despite looking quicker and more assured, there were some big misplaced passes, a little dawdling, too many individual efforts, and a lack of composure that kept us from getting more from the match. I've no doubt the players were feeling the pressure to get all three points at home, and showed just a bit too much eagerness.
So, partly situational, and partly still learning. For example, both Jota and El Ghazi are still learning that they're not just going to be able to glide past players as they might be used to. Defenders are too good, strong, and quick at this level to pull that off very often. Jota is looking good in space, and finding it, but needs to find an outlet quickly instead of trying to dribble out of trouble. El Ghazi dribbles less, but still persists somewhat in doing too much. I like his determination, strength, speed and directness. Certainly can't fault his full-blooded commitment in getting decked by Fabiański.…just want a little more prudence at times. Jota is also a little bit of a liability defensively. He'll run and work, but he's not terribly fast.
Jack raised his hand, and maybe some others did, too. You could see he was gutted at misplays and missed opportunities. No one needs to hold him to a standard. I think he does it himself. And his grace in carrying the ball out of all kinds of situations…I enjoy watching him when he's on song.
Nakamba had up and down moments, but I think he's much more suited to DM than Luiz has looked so far. For a first PL start, I thought he grew into the match and gave us some of what we've been missing.
Yes, I wonder about getting Luiz and Nakamba on the pitch at the same time, and while I understand Elmohamady replacing Jota, it might well have been the case that Hourihane should've been on instead of Luiz as we chased a goal.
For me, I think there were two big takeaways: 1) We are capable of playing at the necessary level, and 2) Smith's persistence with 4-3-3 is not just stubbornness. His post-match comments are always honest and accurate, I think. He sees what's going on, he believes in his system, and he believes that addressing our play is the key to success rather than changing to what others are doing. Based on the step-up in this performance, I can't say I have any reason to disagree. Now of course it all depends on whether the players are fit for purpose. Most are, I think. What we need to see is more adjustment, and I've seen it from some more than others.
Then of course we get to goals. Wesley's a good big man. And we almost found him a couple times, especially from Jack's perfect cross when he got round the defense on the right. Wes comes deep, holds the ball, has a good passing range. But it's clear that goals are going to have to come from AEG, Jack, John, Jota, Trezeguet, and Conor. Kodjia might bag a couple coming in late, and Davis will be in with a shout here and there. But lacking a speedy, small forward to torment CBs is a weakness. If said forward was also a sharpshooter, well…Everyone wants one, don't they?
So for now, the game feels like less of a loss to me than it might do to the players. Having watched Arsenal, maybe they patch up the comedy of errors that is their defense, maybe they don't. They'll obviously look good attacking, and one wouldn't want to bet on us keeping a clean sheet. At the same time, I wouldn't necessarily bet against us finding the back of the net, either.
If Villa can get a draw or even all three, I think it would obviously do a lot to steady us. I don't think it's unrealistic.
Over to you.