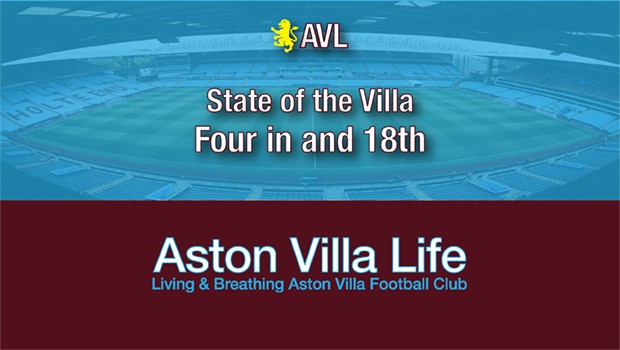 I won't say I've been putting this off, because I've been absolutely swamped of late. But things have been bubbling around, and I might just be ready to distill them. In pieces. So, a few thoughts four games in and sitting 18th.
VAR
Given a lot of time watching sports with all sorts of instant replays and official reviews, here's what I know: Officials on the field just can't see the game the same way a camera can. My basic rule of thumb is that when viewers can see what an official can't, maybe the game should primarily be called by people who are watching the TV.
The problem doing this with football is that it's such a fluid game. So we get Kevin "Friend" blowing for what he "thinks" is a dive instead of letting the play go on and seeing what happens. He didn't play the advantage, or 'disadvantage' in this case, and therefore precluded the review from getting the right result. Frankly, though, how to get it right gives me a headache. Does the official raise his hand, but not blow, indicating an incident that should be reviewed within a certain time frame (five seconds, 10, 15?) if there's not an immediate stoppage or natural conclusion to the passage of play?
I dunno. All I can say is that despite what happened in the previous 94 minutes, Villa were robbed of a goal and a point. They didn't have to deserve it on the balance of play. They scored in the allotted time, and that's all that matters. But Friend cocked it up and if Villa go down by a point, well, he's certainly going to live in infamy.
Officiating's a tough job, no doubt. Sport is fast, and before there were technological alternatives, there was simply no way round hoping that the good and bad calls (and the results) would balance out over a match or season. But now there are alternatives. We just have to embrace them to their full extent, or get really frustrated that humans remain the problem. And hell, it's not even just "humans" getting it wrong. It's that you simply can't see things in all that action the way a camera can present them to you.
So you call the game from the booth. Or you don't. Passages of play should be allowed to continue. It's just up to what point that's hard to determine. But Palace? All I can say is we were robbed.
That said, we struggled. And while we absolutely should have taken a point, in the end, we couldn't cope with Palace's pace. And it's either been pace, strength, or both, that's troubled our midfield so far.
Midfield
In the early going, this has been the problem area. We're getting shredded, for the most part.
It's hardly a novel suggestion, but putting both Marvelous and Luiz in, and then having Jack, John, and Conor on top supporting Wes seems like it might be necessary. Douglas Luiz, while looking just fine, hasn't really added any muscle or imposed himself yet.
I don't know what you'd call it: a 4-2-3-1; 4-4-1-1…Doesn't really matter to us as long as the players know what they're supposed to be doing. Maybe it's really a 4-3-2-1, given Super John's style of play. And it doesn't necessarily have to be Conor, as I think El Ghazi and Jota can do creative things with more support. AEG and Jack are a little tough together since Jack shades left, but AEG is the strongest and fastest of the three wingers. Maybe Jota/Trezeguet are up top with Jack to start, and SJM, Luiz and Marvelous give us more bodies in the middle. Jota seems to read Wes well, can maintain possession, and links up well with Guilbert.
Lots of permutations and pros and cons.
This would leave us more narrow in the attacking phase, for one. But since we're playing on the counter a lot anyway, I don't know that it really matters. Jota's done some useful things, and Trezeguet has popped up in good spots. They both work hard. But since we need to plug up the middle more, and we're already conceding a lot down the flanks, someone probably has to make way tactically. Jack and (fill in the blank…I'd say McGinn, but he's going to be box-to-box no matter what) more permanently forward in and around Wes make a dangerous tip of the spear, and we're just not possessing the ball enough to really bring the best out of Dean's preferred 4-3-3. We've seen that Mings and Engels can handle pretty much all of what's coming in from out wide.
For his part, Guilbert contributes pace, width, and a quality ball going forward. I've really got no idea about Targett, but I'm hoping he's available again soon so we can see whether he does have anything to offer. Taylor's done alright, and probably exceeded most everyone's expectations, but we need more there. Trick is, looks like Targett will need a bit of a run to establish himself, and that might be a luxury Dean can't afford just yet.
Overall, though, we have to be more combative in the middle. The game needs to be contested a bit further up the pitch. We've got talent, but, so far, I'm not sure we have the requisite athleticism throughout the side. Marvelous and Luiz should be able to raise that up a bit. It's what we've got. Lansbury's a good player, but he's not quick. If there's one thing we've learned, it's that the Premier League is very fast.
Results So Far
Even though results are all that matter, we've been unlucky. Two self-inflicted wounds cost us against Bournemouth, and Kevin Friend took a point away from us against Palace. So we probably should have at least two more points on the board. Maybe four, if we don't get off to such a nightmare start against the Cherries. But we don't, so it's been a rough start.
I'm not panicking yet, but midtable dreams seem a bit far-fetched at the moment. While I certainly back Deano to get it right, we've taken it on the chin so far, by and large. He's been right to stick through to the break, at least, as it's the only way the players will learn. Having seen his most recent comments, I'm not sure any adjustments are in the offing, but you never know. At least some of the attacking core has been working together over the break.
Everyone's learning and adjusting. Haven't seen any hanging heads, and we fought to the end against Palace. Playing a man down doesn't help, and Deano remains defiant, saying that if Trezeguet hadn't seen red, we'd have won. Anyway, we'll learn something from how he sets us up against the Hammers. Early days yet, but we need to get some more points on the board.
Over to you.