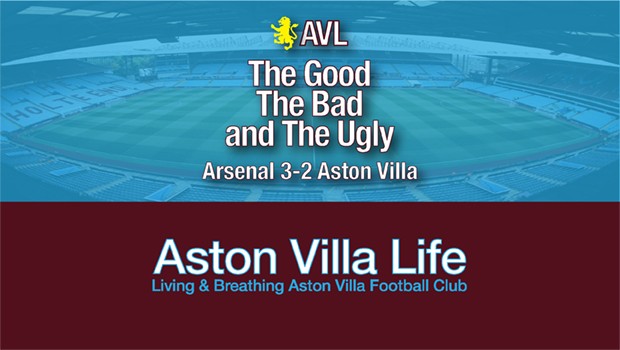 A truly gutting loss on Sunday has a lot of Villans asking questions. After twice leading Arsenal at The Emirates, Villa succumbed late to a Pierre Emerick Aubameyang free kick to slump to a 3-2 defeat against 10-man Arsenal.
It's going to be difficult to relive, but, well, that's what I have to do.
The Good
Two very nice goals from open play: El Ghazi's cross and McGinn's finish; Jacks' dashing run, cutback and Wesley's finish. Answering an equalizer at The Emirates. A number of promising moves. Good save from Heaton. An excellent first-half performance.
The Bad
After regaining the lead, Villa sat back and invited Arsenal onto them. It really looked like we were the team a man down. A number of opportunities to increase our lead when we had the initiative that weren't taken.
The Ugly
God. Where do I start?
Final Verdict
This is really tricky because it was such a gutting loss. It's so easy to overreact, especially coming on the heels of a 0-0 draw against another 10-man side. You'd have thought lessons were learned.
Apparently not.
10 Men
As most any football fan knows, a man advantage is in no way a guarantee of victory. Teams can park the bus. Teams can find another gear (remember Rotherham?) Teams can get lucky with dead balls. There's any number of ways to make do being a man down. We have to get over the idea that being a man up guarantees victory. It doesn't. Arsenal were at home, down, and had nothing to lose. They may not be vintage, but they've got great attacking players.
The Goals
Let's remember that two of the Gunners' three goals were from a penalty and a free kick. Despite living dangerously, Villa were not outscored in open play. Small comfort? Of course. But also true. Villa answered the penalty equalizer beautifully just 90 seconds after being pegged back. Aubameyang's free kick? Lovely, but also, by rule, it should have been disallowed. Penalty at the death? Well, most if not all pundits seem to agree Sokratis lifted his arm and moved his body along with said arm toward the ball. Penalty seems to be the unanimous verdict. VAR fails Villa again. This time, twice in the same match. The players didn't give up, just like they didn't give up against Palace.
So, we take away one goal. Or we add another. 2-2 or 3-3. Still gutting, yes, after being up 2-1, but it wouldn't have been the end of the world against a side with as much attacking talent as Arsenal to come away with a draw on the road.
The Real Problem
A lot of criticism has been directed toward Dean's Smith's management of the game. And I can understand it.
But I don't think Dean asked the team to sit back, stop pressing, give Arsenal complete control of the ball anywhere between 30 and 50 yards from goal. He didn't, as far as I'm aware, ask anyone to let Guendouzi almost single-handedly propel Arsenal forward. "I got them in and spoke about keeping that structure. But, for whatever reason, after 10 minutes or so we dropped deeper. We ended up jumping out of midfield to press and they played through us."
That's all on the players. Smith can yell all he likes. But they shrank, quite simply, like they did the week before. Did they need telling again? I'm quite sure they'd have gone over that during the week. Dean is, if nothing else, a coach. Terry, no shrinking violet. I'm sure they were told exactly what to do and didn't do it. We heard the exact same criticism after the Hammers match. Smith is not a disciple of the 1-0 and park-the-bus school of thinking:
"We tried holding on to our lead both times, rather than going to try and get another goal. I said to JT at the end of the first half, 'I feel we can go and win this 3-0'. I felt there was a lot of belief there. But after a few half chances in the second half, we dropped deeper and invited them on. We can't afford to do that in this league against top players."
And then Tyrone Mings: "We were good at times on Sunday, but it feels like when we go ahead a bit of desperation creeps in. Instead, we should be trying to get another goal and really being ruthless…We're a pressing team and we like to go and press. I think we should be a bit braver and go and stop teams higher up the pitch, especially if we have a man advantage…The mentality we have got us into the lead twice, but it's a natural thing to maybe drop off after taking the lead. When they get a goal, we need to do what got us into the lead in the first place."
As a result, fantastic performances by Engels and Mings in the first half looked disastrous in the second. No wonder. Virtually the entire Villa side were playing in a rectangle 30 yards from goal. That guarantees a nonstop assault. Very little room to move and react. Players in each other's way. Too much action in and around the box (which led to a penalty). Opponents snapping up desperate clearances and bringing it all right back. Quick, overly ambitious outlets that were off the mark, again ceding possession right back. Yes, try and go win it. But be a touch more clever when you're under the cosh. Play your game.
Villa were simply afraid to stamp their authority on the match. Afraid to risk losing by doing what it takes to see out the game. They had to come out, pressure, frustrate Arsenal, win the ball, slow the game down at moments and regain the initiative. They had to show composure.
They didn't. Simple as.
Anything Else?
Other contributing factors? Well, you could certainly point to fatigue. And if Jack and John were gassed, that's a problem. Because you don't have two better midfielders at maintaining or gaining possession. You don't have a ball-winning pit bull to sub in. Taking off your two best players…? Only if you have other viable options. But they shouldn't have been any more gassed than if they stayed out a full 90 playing against 11. And if defending requires more energy, well, don't do so much defending. You have to take the initiative to claw your way back into the game. And I'm guessing Smith has a pretty good sense of his players' fitness levels.
I've seen Elmo for Trezeguet criticized. I can understand. But Trezeguet had worked his socks off. I think he probably was gassed, as he hasn't played that much. Elmo, though aging, was a defensive-minded substitute intended to shore up the right in Trezeguet's absence. El Ghazi still had running in him. If you're going to sub one of the two, Trezeguet was the right call. Was Elmo the right sub? All I can say is that, in the end, it didn't necessarily work. Neither was he at fault for the penalty, free kick, or the second.
Conor and Lansbury. Conor's faster than Lansbury, or seems to be, anyway, but neither is terribly quick-footed, and neither is a ball-winner. Fresh legs, yes. But Villa probably would've given up all hope of ball control and attacking impetus. In this situation, I agree with Dean that they're the kinds of players you bring on to find a goal as complements, not to stanch the flow. Luiz wasn't on the bench, and while he'd probably have made sense, he just wasn't there. Accept Smith's reasoning (two forwards, two midfielders, two defenders and a keeper) or not. Perhaps there was a little more to him being left out. Dunno.
Still, you're making substitutions who don't play together much and putting them in a pressure-packed situation. Was Conor going win balls and push us up? Lansbury? I see bringing on Lansbury criticized, but he's the one who popped up with the late goal against Palace.
Davis for Wesley? Well, I'd wondered about that at halftime. Then Wesley scores. At 2-1, it could well have been the case that Davis would've provided a better hold-up outlet. More important, he probably would've provided more pressure. If there's anything I'm going to criticize Wes for at this early juncture, it's his lack of pressing.
Nakamba? Up and down, still finding his feet. But across the league, there are plenty of much more expensive players than what we've bought taking a while to adapt and impose themselves.
But the only player I screamed at during the match was Neil Taylor. Apart from consistently being got behind, he failed to close down his man on the equalizer, allowing the ball in. When Mings tried to play it back to him, he was unprepared to move, so he got caught flatfooted and was beaten again. Not saying it was the world's best decision by Mings, and I haven't been able to bring myself to watch a replay, but Taylor had been beaten and then checked out. 2-2. We play the ball out a lot in that situation. Taylor just can't be that turned off at that kind of moment.
I just shook my head and said, "Of course," when Engels went in. Lack of composure.
Bottom Line
I'm not a happy clapper. You've seen me criticize plenty. And I don't want to exonerate Smith if he doesn't deserve it. This week, like last, I'm pointing my finger straight at the players for shrinking and somewhat losing their heads. I like that they keep trying to attack. That's what we wanted, attacking football, and that's what we've got—a side built to attack. But you can be smarter about it. Show a little more composure. Try and hold the ball. Make Arsenal chase. Take the heat out of the game.
The one thing you can't do is sink back. Which, again, is what Smith had to say straight away the week before, and was left saying the same thing Sunday. A lot of words from me to simply say I agree. That's what I saw. What gets a little bit lost in Mings' and Smiths' comments is that Smith is saying we didn't press well, as a unit. When he says Villa didn't go and try to win the game, it wasn't that we didn't try to launch counters. It was that, as a side, we didn't play with the belief to keep executing our way of playing. We didn't keep the structure. We didn't hew to the plan.
We can argue whether the side is good enough to stay up. Me, I've not written them off. We clearly should have more points than we do. And I was truly, truly gutted at the result, much more so than against West Ham. And I can't say the upcoming games aren't important. They are. For one, don't give Brighton anything like our real team Wednesday. But I really do think it's premature to be questioning Deano. If we go back down with him, so be it. I'd want him to stay and do the rebuild. Nothing to do with being one of our own. He knows what he's doing. The players just need to believe in themselves at this level.
But fair question to ask: Has Smith learned something? I'm sure he has: VAR is no friend of his; don't go a man up; and tell your players yet again to do something about making a man advantage count in case the worst happens. Hint: It involves not retreating into a shell. Or, as Mings said, keep playing the way that got you a lead. I think that's pretty much what Deano said, too, in the end.
Over to you.