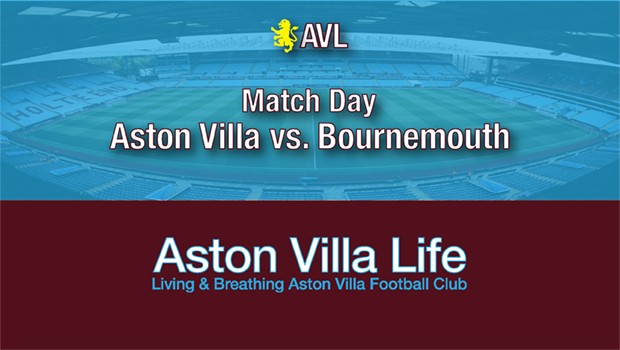 We've gone over Spurs to death, just like the punditry and everyone else. Most think we'll be okay, some think better than that, one thinks Villa will crumble. With that last one in mind, I wrote the headline, admittedly, as the tiniest of friendly wind-ups.
Bournemouth today as Villa Park sees its first Premier League action in three seasons, and most on the outside would say it's a match-up between two teams looking to avoid the drop. Which is pretty much what 10-14 of the teams in the PL are trying to do—though some will obviously have a much easier time of it than others.
It's too early for us to really have any idea how easy it will be for Villa. But the team sheet's out, and Smith has made only one change, a change that might be the most important one he can make without changing his system. Douglas Luiz comes in for Conor Hourihane.
I've said I have a lot of time for Conor, and I do. But Smith, Compass et al, didn't fork over £25m-£30m on two defensive midfielders not to play them. The idea is that it gives Villa a much better floor for Jack Grealish and John McGinn to build on.
I've certainly been of this mind, and if Spurs taught us anything, it's that we need to be a little tougher in the middle. Whether Luiz will give us that remains to be seen. But as I was saying Friday, this marks the first time Villa have had a proper holding midfielder in I don't know how long, and certainly since Grealish and McGinn teamed up.
So what we're looking for is Jack playing further forward, more ball winning in the middle of the park, and someone else who can bring it out and spread play.
Elsewhere, as you've read, no changes. Trezeguet remains preferred to Jota, and Elmo and Taylor…well, seems like Smith is telling Guilbert and Targett they'll have to take those shirts. I think they probably will in due course, but for now Smith hasn't seen a reason to take two players out who acquitted themselves pretty well under constant attacking pressure last week from a stable of very talented and dangerous players.
Now, is it a six-pointer? Let the games begin. I do believe it's an important game, and while a draw wouldn't be the end of the world, Villa will be hoping that they look good getting whatever they do from the game. Everyone will want to see signs of settling in and Villa playing their football. Putting a couple points between us and one of the weaker teams in the league would certainly not hurt our season any.
So, there we go. A raucous and happy crowd, the Premier League back to venerable Villa Park, and Douglas Luiz with his first start. Home debuts for Wesley, Trezeguet, Engels and Heaton. A day we'd all like to see yield three points so we can really say game on.
Should be interesting.
Over to you.