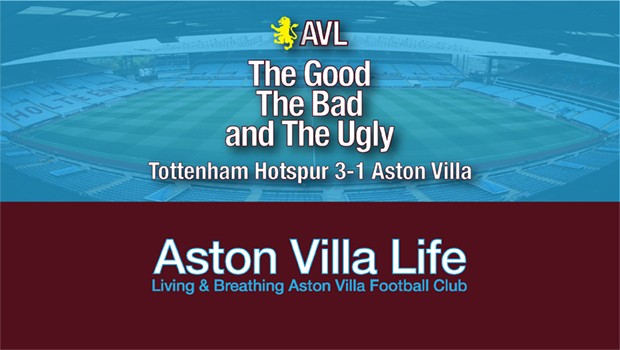 It all started off very well for Villa when Tyrone Mings found John McGinn with a beautiful ball over the top, and McGinn very cooly took his chance to put Villa ahead in the ninth minute. But a tired side eventually ended up shipping late goals after a lot of one-way traffic, and finished, fairly, on the wrong end of a 1-3 scoreline. Definitely a wake-up call to everyone involved, but not a disaster by any means.
The Good
Mings to McGinn and McGinn's finish. Superb. Mings and Engels at the back. They dealt with an awful lot, and Mings was very unlucky to redirect the ball into the net. Didn't go down as an own-goal, but Heaton might've gotten to it otherwise. Good game plan from Smith initially, forcing Pochettino to change things round in the second, one which held Spurs in check for the first half. Trezeguet had a decent debut. Heaton had a couple of excellent saves, particularly from the free kick. That was top drawer. Besides the goal, McGinn had a good, combative game throughout. And overall, the team showed a lot of resilience.
The Bad
Well, never nice to ship three, and never nice to be under the cosh for so long. Lost the battle in midfield, were wasteful in possession, and were guilty of dwelling too long on the ball. Wesley had a rough introduction and was very isolated. His touch let him down, and he was getting frustrated. We couldn't match Spurs' ball-winning intensity. Whether by design or not, Grealish had to come back very deep a lot. This is where we hope Luiz and Marvelous will make a difference, giving Jack and John stronger backing and allowing them to have more impact further upfield.
As Smith said pitch-side after the game, you chase that much, you get tired. And he pointed to us trying to get up and score every time we did get it back instead of settling things down and working smarter to hold the ball. But where Poch changed things round, we didn't really, and I think Dean will learn from that.
The Ugly
Well, I'm going to go with the scoreline. Not that it wasn't deserved, in the end, but it could've well ended up 1-1 or 1-2 with a little more luck and a little more nous.
Final Verdict
Perhaps a strange bit of decision-making from Dean Smith on the starting lineup, but obviously he went with cohesion and consistency. And most everyone acquitted themselves fairly reasonably given the quality of opposition. It was a conservative game plan and approach, and obviously broke down in the end. Kodjia probably could've come on earlier, as he looked livelier and was trying to contribute more at both ends than Wesley. Likewise Luiz.
But Villa were set up well to begin with, and frustrated Spurs without giving much away in terms of chances. It was a different story in the second half, with Pochettino adjusting to get attacking players out wide and stretch Villa's back line. And of course when you can bring on a player like Christian Eriksen to change things late, well, he showed his class.
As I said above, and as Smith pointed out, Spurs' physicality was telling in the end. They just kept pressing, winning virtually all the 50-50s, and Villa kept falling back. You could see fatigue in the late goals, and also a bit of poor decision-making. Grealish obviously thought he had more time on the edge of the box to bring it out, and probably should've tried to play Trezeguet through earlier on the break. It really could've been 0-2 to us at that point.
But he wasn't the only player guilty of not quite being ready for the pace and intensity. Many times we got caught in possession and had our pockets picked. And, to be honest, I thought there was a fair degree of hesitancy, with players preferring to play it safe rather than take a chance and really bear down on the ball. We didn't press much, which also seemed to have a bit of design behind it. They'd never admit it, but I think they were often more concerned about making mistakes and thinking too much. It's been a very pressure-filled buildup, and it wouldn't be realistic to think it wouldn't have an effect. They'll be glad to have that behind them. And they won't feel bad about having led for 70 minutes.
And we really shouldn't forget that Spurs have a lot of quality, pace, and strength. They've scored a lot of goals against some of Europe's top sides. They've been building for a long time, are very well managed, and are very well acquainted with playing the game at the highest levels. They even had a much tougher preseason slate. Villa just have no way of matching that experience. Spurs also simply played very well on the day. They've got something to prove. 
I also often say you learn more from a defeat than a win, and I think that was definitely true today. A result would've been fantastic, but Villa got a lesson they needed. It should show in training, preparation, and players' mentalities. They're not going to have their way for long periods the way many of them are used to. The Championship is rough and tumble, but there just aren't the same levels of physicality and quality. This is why I've said in the face of all the optimism that I'll be very happy with 17th this year.
But…we're not going to be playing sides like that every week.
So, a rough introduction, and probably a good lesson for Dean, as well as well as the players. This is why we signed Douglas Luiz and Marvelous Nakamba, to get a bit more pace, strength, and quality in midfield. I like Conor, but he's not up to being the anchor of a PL midfield, at least not against a team with that much quality. And I don't know that we're going to keep seeing Taylor and Elmohamady. El Ghazi is going to learn he can't take on players with the same expectations of beating them or just running past them that he had last year. Smith might find himself adjusting things more during the course of games than he's had to.
There's a way this team is made to play, and they didn't really get, or give themselves, much chance to do it. That's where the adjustments will be, in-game and in between.
In the end, far too early to pass any judgment except perhaps for the fact that Mings and Engels held up very well, and Heaton does look the part. The debrief will be interesting for everyone else. But Smith didn't seem too concerned speaking after the game, and that will be a big thing. He doesn't get too high, doesn't get too low. There'll be a good week of preparation, probably some players having a long look in the mirror, and we'll expect better against Bournemouth.
Over to you.