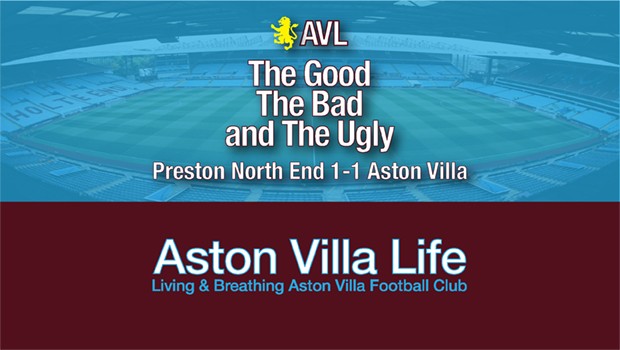 Aston Villa squandered a slender 1-0 lead to draw 1-1 with hosts Preston North End Saturday. Which was a shame, as there was ground to be gained on the day given other results.
Having missed the previous two matches while traveling over the holidays, I feel somewhat disadvantaged picking the plot back up now. But I've at least seen the highlights and though they're a poor substitute, you can generally tell something. What I saw was a nice opening against Leeds and then largely one-way traffic the other way. Swansea…scrappy and just enough.
The Good
Great reaction save from Nyland to deny PNE an opener. Encouraging cameo from Bjarnason. Another goal from Abraham, who could've gone over, but kept his feet while being pulled back and still got enough on the ball to guide it home.
The Bad
A spill from Nyland that almost gifted PNE an opener. His catching is simply subpar. He also got caught in two minds coming out for a ball that dropped short. Luckily, the resulting effort went off the post. He was lucky again when the shot slid under him at the near post and came back out off the woodwork. The defense was once again dodgy and that's no surprise. PNE's goal looked poor, from our view, but the move was well worked and I can't say they didn't deserve it. Whether it was Elmo or them, it seemed sort of inevitable. A number of quality long balls from Preston put Bree and Chester under a lot of pressure. Bjarnason's miss was almost impossible, and he probably didn't know too much about Abraham behind him. He then forced a save, but should've passed the ball to Tammy, who was all alone in the middle (and perhaps offside…I've not watched that one back). For his part, El Ghazi went for glory earlier and ignored a wide-open and very upset Abraham—who likely would've slotted home easily had he gotten any kind of decent ball to work with.
The Ugly
Villa's passing and ball control. Oh, and Giroud getting crocked, increasing the very distinct possibility Abraham will not be seeing out the season in claret and blue.
Final Verdict
At the risk of oversimplification, Jack is out and Smith has had little to work with in trying to paper over his absence. Jack's the glue. He's the guy who can carry it and play out of tight spots. He draws attention and fouls. His performances this season may not have produced a lot of highlight-reel moments, but his presence is huge. Without him, the midfield looks empty, and the ball isn't sticking in the opponent's half. The number of quickly stalled attacks leave a very makeshift back four exposed, and Villa are too often back to ball-watching. It's a defense scared to commit and there's been little cover in front.
McGinn has yet to take over in midfield, and Hourihane was never that kind of player. It's the combination of the three that brings out the best in McGinn and Hourihane. Likewise, Jack doesn't have to try to do everything with a ball-winning terrier beside him.
Give Preston credit: They played the game the way they had to. Lots of energy and pressing. They couldn't stand off and give us room, and they didn't. They got back and packed it in, and then played well on the counter. Deano acknowledged the difficulty quality long balls were causing us. Daniel Johnson grew in influence as the game wore on and was bossing things down the stretch. Birkir's introduction helped turn the tide in the middle, but it was probably left a bit late. PNE will probably feel disappointed not to have come away with all three points and I wouldn't blame them.
For Villa's part, poor all the way round. Yannick Bolasie had no touch whatsoever. Anwar El Ghazi was better on the ball, but seemed intent on trying to do too much himself. Abraham didn't get found often enough. John McGinn was customarily tenacious, but the game passed him by for long stretches. He and Conor Hourihane can't make up for Jack's absence and Glenn Whelan's lack of wheels, and couldn't impose themselves. Passing was wayward throughout the side and just wasn't quick enough.
Axel Tuanzebe also is a big loss for perhaps much more obvious reasons. Chester's been playing hurt for a while and is not at his best. James Bree has done as well as can be expected, but all of the understanding Tuanzebe and Chester were developing has gone, as well as the height Tuanzebe brings, and Nyland must inspire little to no confidence. I would assume that Kalinic has not been signed to look on. Elphick coming back can only help.
This isn't to say the side haven't gotten results. They've continued to fight and have scored enough to win, even if they've had to settle for draws. But draws are what get you killed in this league.
So, the window's coming up, and we can only hope Jack's coming back sooner rather than later. We've got a big keeper who probably will be introduced as soon as possible, especially since Nyland has apparently gotten injured in training.
Very mixed bag and I know we're all more than curious to see who arrives. But the search will be complicated if Jack is going to be out for an extended period and even more so if Abraham leaves. I was worried when Grealish was initially sidelined, but thought the side might cope. We have, just, but this is obviously not the team with so much momentum going up into the Albion robbery. Given Grealish, Abraham, and the other shortcomings, this window will almost certainly determine whether Villa stay in the hunt or start looking to next season.
And I also should say: I wish you all a happy new year, and hope that 2019 is a year of prosperity and joy for all.
Over to you.