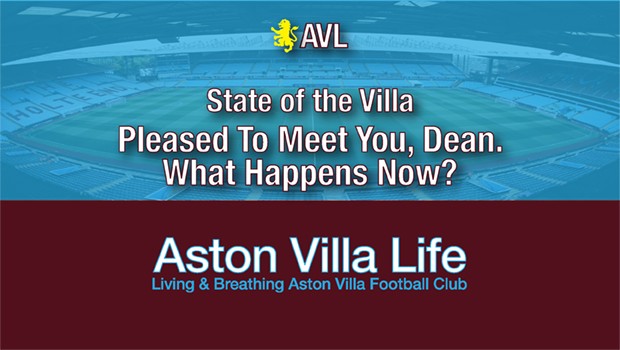 Dean Smith & Co. took their first bows this week, and along with Christian Purslow, seemed to quite easily make a good impression all round. Well, Purslow seems a bit tightly wound, but you know what I mean. When he talked about Villa's FFP woes being completely resolved? He made a pretty good impression.
So what else did we take away? Richard O'Kelley seems likable and no nonsense. John Terry made all the right noises. And Smith? Smith managed to not say a whole lot other than promotion remains the goal. Together, the crew gave the current squad plaudits, said the tools were in place, fitness was good, and they were looking forward to getting everyone back. Smith himself came across as affable and intense. I don't think I'd want to make him angry.
We also heard about being disciplined, organized, and knowing what to do with and without the ball. We've had insight into Smith's ways at Brentford. We've been introduced to "Head Coach." I got the impression there's a lot of coaching going to be done. I also got the impression that Smith & Co. were all quite pleased to take it on. It was a good rollout.
So, the supporters are once again allowing themselves cautious optimism. In Purslow and Pitarch, there are two men who know firsthand how big-time clubs are run. In Dean Smith, we have a man who produces good football and manages not to sound terribly continental about it.
Me, I'm thinking he'll be a good fit. I think the players will like the opportunity to realize their potential, and I think they'll be fairly treated. He's young enough and confident. He's kept things ticking over with lots of disruption and brought players along. He knows how Scott Hogan scores and managed to create the conditions for him to do it. I've no idea how Smith intends to address the make-up of the squad, and he may well face some early tests to his man-management skills. As usual, the safe thing to assume is that he'll not make radical changes from the off.
However, given the size of the squad, there are choices to be made. I'm sure Smith will want to see over some period who takes things on board and can execute. He'll already have his ideas about what Villa side he wouldn't have wanted to face, how he wouldn't have wanted us to play.
Will we be playing to knock in crosses? Wasn't really Smith's MO at Brentford. I've heard talk of two deeper-lying midfielders, and also creating a dynamic, interflowing central three. If we're going to learn to hold on to it, press, win it back, and play in tight triangles, which of Adomah, Bjarnason, Bolasie, El-Ghazi, Grealish, Hourihane, Lansbury, McGinn, Whelan and maybe Jedinak is he going to want to see out there first? One assumes getting the best of Grealish and McGinn will be top of mind.
At the back, will Tuanzebe come in at CB? Will Bree get a look in? Where does Hutton go? Elmo and Taylor? Could Smith even imagine playing a 3-5-2 before the end of January?
And then of course up front, Abraham, Hogan, and Kodjia are all going to be wanting a place. I wouldn't be at all surprised to see Hogan sooner rather than later, and I wouldn't be at all surprised if it's Kodjia who makes way. If nothing else, Hogan does much more off the ball than Kodjia, and if Villa are going to up the pressure, it has to happen all over the pitch.
There's also the old three games in a week after the break for Smith to navigate. That's good, insofar as he'll see them a lot early and has an excuse to rotate. It's not so good given most everyone has been away playing. And of course, the league remains relatively tight, but Villa are still three games off the pace. We've done the numbers before. It's not a time to lose any more ground. But with change like this, you might well take a couple of lumps.
But there's time to make up what gap does exist, and if you were to pick a Championship side that has the potential to be much better, you'd think Villa are probably top of the list. NSWE have given themselves enough time for it to happen.
Will we see the new manager bounce? A team unbound? No idea. But I like our chances over the course of the season. While it might take a month or two to really fall into place, if it does, we could go on quite a tear. Really don't know what to expect. But I've also not thought for a while that beside the right man at the helm, Villa have everything else in place to excel.
It's been interesting so far, and it's about to get a lot more so.
Over to you.