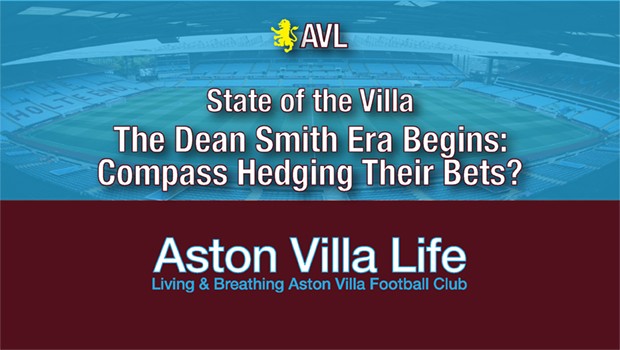 Weeks of speculation and tabloid frenzy ended Wednesday with the appointment of Dean Smith as Steve Bruce's successor at Aston Villa. Smith will be joined by none other than John Terry, who was seemingly part of the package for whoever we've been talking to.
And strangely this new era begins just as we hear of the passing of Sir Doug Ellis. RIP, Doug.
Smith and Terry will also be joined by Smith's number two at Brentford, Richard O'Kelly. (No one's quite said how that arrangement works.) If that weren't enough, Jesus Garcia Pitarch will be Villa's new Sporting Director. Taken together, it really comes across, initially anyway, as a bit of coup—a truly comprehensive overhaul from the Compass in a short period of time. One that seems to have been in the works for more than just the last few days, despite all the blathering in the papers.
The overall reaction has been very positive, and I, for one, join in the optimism.
Which isn't to say that Smith doesn't have a big job in front of him.
Obviously it's his first foray onto such a big stage. The pressure is immense, the expectations nothing less than promotion. He's got some big egos to deal with.
Further, the side also looks to be somewhat fractured in the dressing room, as evidenced by Scott Hogan's broadside at the departed Bruce. One could say his comments are an underperforming player's cheap shot. One could also say they're a rare moment of honesty and insight behind the scenes. We can think of others like Bjarnason and Adomah perhaps having similar frustrations.
Probably most interesting among Hogan's comments were those pointing out that we didn't work on way to play to get him the ball, and that players just received a "pull up your socks and work hard" approach to coaching. Excuses or truth? Draw your own conclusions.
So Smith has work to do on all fronts.
However, Smith does have some things going for him. He's got a lot of support from the fans. He's coached against Villa as well as Villa's opposition, and understands exactly how to go at them. He already has a pretty good idea of what he thinks he needs to fix. He's got a good record. And, whether he wanted it or not, he's got John Terry to help lay down the law and perhaps solve a few defensive woes. Terry gives Smith immediate insight into the dressing room, as well as the strengths and weaknesses on the pitch.
And it seems to me that Smith might very well find a bunch of players who will be more than receptive to a fresh start and a plan. And perhaps some structured training and a system.
After all, Smith has shown he can craft hard-working sides who play good football and punch far above their weight. Organization, tactics, a defined and modern style of play…these are among the things many felt were lacking under Bruce. And these are some of the things Dean Smith's sides possess. Surely Villa's players will remember their Brentford outings.
But even though I said "nothing less than promotion" as one of the expectations, I think Smith might well be a hedged bet from Compass. If Villa can't be pushed over the line but play better and come together, Smith's record indicates he'd be very well suited for the inevitable reconstruction of the side. If he has those assurances, then maybe it takes the pressure off and Smith is encouraged to truly go for it. Not that he wouldn't have anyway.
So, I'll leave it there. Welcome Dean Smith. RIP Doug Ellis. Gears seem to be turning somewhere.
Over to you