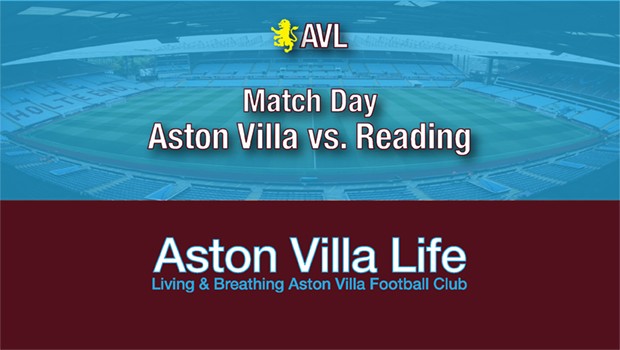 A last-gasp equalizer from Johnathan Kodjia saw Villa salvage a point midweek against visiting Brentford, making it two draws in a row following two league wins to open the season. Four games, eight points. Right at Steve Bruce's two-point-per-game target of last season. Sounds like he has a target this year, as well, but he hasn't exactly said what it is yet.
Then of course there were two new signings: widemen Anwar El Ghazi and Yannick Bolasie. Along with three games in seven days, it's been a busy week at Villa.
Naturally, the new loan signings raise questions for Albert Adomah and Andre Green, as well as Ahmed Elmohamady. Since almost single-handedly keeping Villa in contention during a long a long stretch of last season, Adomah has gone off the boil a bit and has largely kept his place due to lack of options and Bruce's apparent desire to bring Green back into things slowly.
And indeed, El Ghazi will step straight in against visiting Reading, apparently on the left with Elmo continuing to hold down a spot wide right. Otherwise, not much changes other than Bjarnason coming in for Whelan.
Lineup: Nyland, Tuanzebe, Chester, Jedinak, Hutton, Elmohamady, Bjarnason, McGinn, El Ghazi, Grealish, Kodjia.
If nothing else, Villa now have four true wingers. I'll admit, I quite liked what Bolasie brought to Crystal Palace a couple years back, but I've not seen his Everton spell and what hasn't worked out for him there. So, not sure what we're getting. Likewise, El Ghazi was a hot property until a less successful season at Lille after leaving Ajax. Bruce says we'll love his technical ability. I would love to love his technical ability.
So for now, at least, it seems as though Green and Hepburn-Murphy will be used off the bench primarily, but I'm expecting Green, at least, to get the odd start in the rotation.
Reading, for their part, have had a rough start to the campaign under Paul Clement, losing three before also drawing 2-2 in their last outing. I'd prefer today not be the one where they start putting it together. Villa aren't too far off the pace, and could well have either won or lost the game midweek. A win today keeps Villa where they want to be. And what Villa want going forward is simply more goals. With Kodjia notching three in two now, we might expect an uptick in that department.
If Grealish, McGinn, Hourihane, and whoever is playing wide can chip in as the ought to do, we should be able to make up for the shakiness in the back leading to some soft goals. One expects that will clear itself up as Nylund settles, Tuanzebe gets a regular run, and Jedinak gets more time on the back line.
Anyway, today will be interesting yet again, and while we'd all have preferred a storming 15 from 15 given the relatively easy run of fixtures to open the campaign, taking 11 of those possible points without a loss wouldn't be bad. Certainly far better than last year.
Villa looked better against Brentford, and who knows what would've happened if a couple of good early chances had gone in. With the recent signings, the team is getting faster and younger, as promised, though not by featuring our own youth. But it's hard to argue with the experience Bolasie and El Ghazi bring.
And it's also encouraging to see Villa playing to the end and scoring late. The team has shown it can and will fall behind, but has enough to still go on and get something. The trick, obviously, is to stop falling behind. It's easier to win when you're not trailing. File that under football genius.
Maybe today Villa can build on the good moments against Brentford and start putting together a full 90 minutes that sees them comfortable and assured.
Over to you.