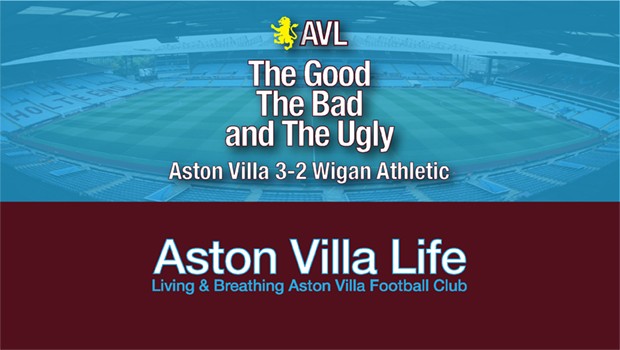 The first home match of the 2018-19 campaign saw the Villa once again come from behind, this time eking out 3-2 result at the expense of visiting Wigan, who must've been gutted to to lose at the death. And once again for Villa, no recognized striker was on the score sheet. Still, two games, six points. Not bad.
The Good
If your only available senior striker is still a bit crocked and you come away with three goals two weeks in a row, that's good. When Villa were at their best last year, goals were spread around the side. And so far this year, they've needed to be. Elphick, Chester, Bjarnason, Elmohamady, and Hutton have all netted.
Perhaps the most exciting part of the day was John McGinn's debut. On first viewing, he looks the part. It was his beautiful delivery into the box that led to the own goal, dropping it in the perfect spot to cause chaos of one kind or another. It wasn't the only perfect ball, as Chester's goal proved.
Besides his delivery, he showed pace, strength, a willingness to get forward, chase back, and tackle hard. I commented yesterday that his performance reminded me of what James Milner used to bring, but with better delivery.
And of course, to keep on playing and not settle for the draw…very good. A team has to believe it can score when it needs to.
The Bad
The side is yet to hit its stride. Which, if you're winning anyway, might actually be "good" this early on. As I've said, can't really explain it other than there were six changes this week. Steve Bruce has admitted it was a "bit drastic." But it's only two games and playing well in August doesn't guarantee you anything. Only points do. And Villa have picked up maximum points from their first two matches for the first time this century. So…This is a qualified "bad."
I should probably also throw in the lack of goals from attacking players. Goals are goals, but you can't rely on them coming in bunches from defenders. It's great to score from corners. Great to score from free kicks. Great to see Cafu dribbling through a side. But it's not going to keep happening at this rate I don't think. Jonathan Kodjia looked a bit more like himself in the second half, which was good to see, and it's a shame he couldn't get on the score sheet. He was so close to connecting with Grealish's cross into him and then will have wished he'd done better with another fine delivery from McGinn that he headed over.
The Ugly
Bruce has called for a little more protection for Jack, and I can't say I disagree. While Jack will look to pick up fouls, usually by dancing past someone and getting them leave a leg out or some such, he is also victim to a lot of "challenges" that are nothing more than hacking down a talented player to stop him playing.
And really, the issue is that it's not good for the game. It's not the '70s anymore. And if football is to be entertaining, skill players must be allowed to play. I'd rather see the game's top players making magic and memories than laying on the ground. Of course there are always going to be fouls: honest, but late challenges; 50-50 balls; professional fouls to stop a threatening break. But simply kicking a more talented player is cheap and thuggish. Do I expect it to change? Probably not.
Also… I know traffic can be bad. But don't leave until the final whistle. You just might be surprised.
Final Verdict
Early days yet, and Bruce seems to be trying to spread the minutes around by his own admission. Which, as he said, if it works, then great. But if Grealish is going to feature every week, Bjarnason surely can. I wouldn't expect McGinn to be sitting down now anytime soon. Chester will always be out there, as will Hutton.
So, there's something to treating early games a bit like preseason, and easing everyone into it. There's also something to committing to a starting XI and making occasional changes due to fixture congestion, injuries, and specific match-ups. But a consistent XI is the only way Villa are going to become cohesive and play up to their potential.
And there's plenty of potential in the side. I like who we've got, and when deployed properly we should be able to play with anyone and expect a result. We all came away at the end of last season thinking the team needed to be younger and faster, and we've got the players to be that. Bruce just has to commit to using them. I know he's feeling pressure and it's doubly hard to sit veterans when that's the case.
But what should be happening is that it's Elmo and Taylor, for example, who are the fill-ins to give someone a rest. Bjarnason shouldn't be making way for Whelan or Jedinak. Adomah shouldn't be on the bench so that Elmo can play right wing. Unless Elmo's playing wide right so that Uncle Albert can be on the left and let Green get in the middle.
Doesn't mean Whelan or Elmohamady are bad players or that they don't contribute. Elmo scored last week, and headed off the line this week. But I think we have younger, better players that can take their places and should in for eight or nine games out of 10.
Right now, I'm still chuffed that Villa have emerged unscathed from a close-season that looked catastrophic, have new owners, have money, have kept Jack and James and even added McGinn, and come away with six points to get things rolling. All we need now are some fit strikers.
Over to you.