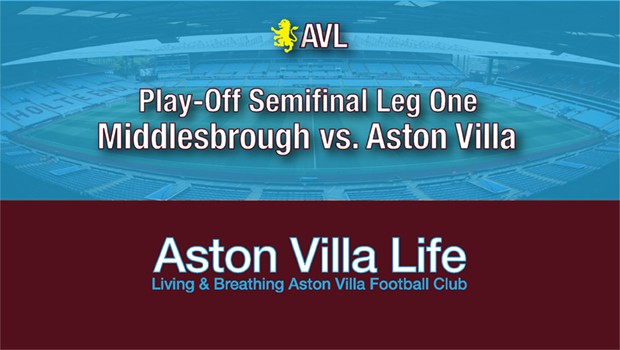 Here we are. Forty-six games played, 46 games out the window. There's only two that count, now. Villa's aspirations, kindled by Dr. Tony Xia's ambitions, will either be within reach or cruelly denied by the time we crawl into bed Tuesday night. And how we feel tonight may well be all we need to know.
The regular season isn't entirely meaningless, but in many ways it is. Play-off games are different. Everything is on the line in what boils down to a two-game season against one side. But of course, the preceding 46 games are what's got us here. They've told us what there is to know about the squad, players, and manager. Who we are, what we do best. What we're not so good at. We either feel good about ourselves or we don't.
We can look at the table, and there's not a lot to separate us from Boro—which is about what you'd expect from number four playing number five. We finished off seven points better by virtue of winning two more and drawing three fewer. Our goals against (42) is slightly better than theirs (45). Our goals for, also slightly better, at 72 versus 67.
And perhaps fittingly, both sides were tipped to have perhaps done a bit better this season. Yet here we both sit. And also perhaps fittingly, it's a very familiar face in the opposite dugout, one that looks a lot like it belongs to Tony Pulis. That can be shorthand for whatever you like, but we know how he likes to set up his stall, and you'll be holding your breath in set-piece situations.
We'll also welcome back fan favorites like Disco Stew, Adama Traore, and Rudy Gestede.
We had one game each on either side of Gary Monk's short tenure, and even though Pulls has got them in the play-offs, we can probably expect these two to play out not much differently: 0-0 at Villa Park in September, 1-0 to Villa at the Riverside.
Attention likely will focus on Jack Grealish and Adama Traore, but Stewart Downing, Albert Adomah, and Robert Snodgrass will all have a lot to do with things, even if it is just canceling each other out. Britt Assombalonga (14 goals) and Patrick Bamford (10) will be expected to provide the goals for Boro, but Daniel Ayala has also chipped in with seven, and Traore five. It's Traore's 10 assists, and Downing's seven that give you some idea how this is likely to play out.
Compare that with 15 goals from Albert, nine from Conor Hourihane, eight from Lewis Grabban, and seven from Robert Snodgrass.
Without being particularly brilliant about things, it seems like the task on the day will be neutralizing Traore while not forgetting about Downing. With Taylor out, we'll see Hutton on the left side and I'm sure we would've done so even if Taylor were fit. On the right, I'm assuming Bruce will go with Elmohamady's experience. Then it's really up to Albert and Snodgrass to put in a shift with and without the ball.
For me, if he's fit, Bjarnason has to be in the midfield rather than Whelan if for no other reason than Traore's pace. He's got to be bracketed as much as possible, and Bjarnason's got a good enough motor along with the requisite tenacity to help offset Traore's dynamism. Hutton's fairly quick, too, but will get turned. The trick is that Troare will, by and large, be coming through at John Terry if he's getting away clean. That will see Terry yielding a lot of space in front of him. One might suppose Jedinak would be an upgrade in terms of pace and mobility, but there's not way Terry's not playing.
The other consideration is size, and whether Bruce elects to go with Jedinak in DM. And do we end up in a 4-2-3-1 in that case? I would think Jedi is going to need help in the middle of the park if he does start. In that scenario, does Hourihane make way for Bjarnason? Or is Bjarnason making way for Jedinak? Does Josh Onomah have a part to play?
And then, of course, we have the two-leg strategy to take into account. Is Bruce happy with a 0-0 and it all to play for at Villa Park? I'm guessing he'd be very happy to set up that way and see if he can't come away with a 1-0 win. The math's not hard. Everyone would feel better being up on the goal tally at the end of the day, along with whatever psychological edge that provides. At the same time, if you keep the home side stalemated, you won't feel bad about that. Anything's better than coming out Tuesday night with a deficit to make up.
So, there are some tactics and strategy involved, and getting the set-up right is going to be vital. We're told the staff have been preparing.
At the end of the day, though, it really is going to come down to who wants it more and who's more cowed by the occasion. The pressure has been put on Villa, and given the way the season's played out, you can understand. The trick for Bruce is getting the players loose and ready to embrace the challenge. Villa have to match Boro's intensity and avoid conceding early. And ideally avoid conceding at all. This is where Bruce's caution may well be a plus. Villa can do 0-0s and 1-0s. So can Boro.
Whatever happens here shortly, it's almost certainly going to be nerve-wracking. Villa's fate is squarely in their own hands. They simply have to be up for it. We'll soon see whether they are.
Over to you.