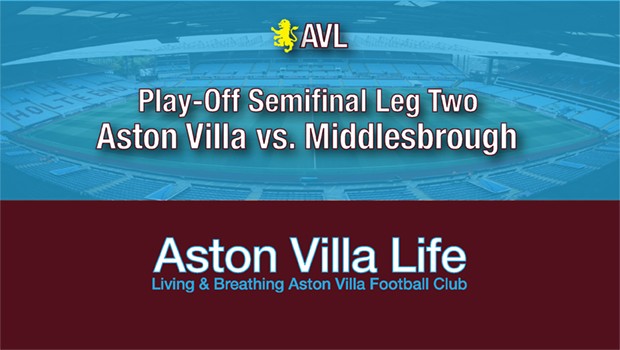 By now, we've read all the takes on Saturday's 1-0 win at the Riverside—"defensive masterclass" seems the most common, and it's hard to argue with the hyperbole. Just as it's hard to argue that Alan Hutton, once a regular target of supporters' ire, has become Villa's best fullback. He did a fine job combining to stifle Adama Traore and it really is time that we stop talking about him once being out of favor. He's always been a warrior, if somewhat unbridled and often suspect in the past. Credit to Bruce & Co. for getting the best out of him.
Overall, it was that commitment to boxing in Traore that was the difference in the first leg. Two and three players were often employed, which is about what it takes to blunt his considerable talent. You can almost bet he's going to beat the first man, and perhaps the second, often as not. The key is to expect that and have someone in position to get at the ball as he's moved around that first man. You see teams playing similarly in regard to Grealish: as he typically likes to drift in toward the center from the left channel, defenders will follow along and step up in the center to take away shots and clog the passing lane(s) into the box. Because they cheat left, the pass to Adomah, name-your-full back, or Hourihane is often on. Fortunately, Traore tries to do more on his own than does our Jack.
Since the job's only halfway done, the business at hand Tuesday night will be all about whether Boro can or will shuffle things around. Or whether you can negate Traore twice in four days using the same tactics. In other words, how will Adama and Tony Pulis react? And can Villa conjure up a repeat performance?
While the game generally felt relatively comfortable after Mile Jedinak's breakthrough on 15 minutes, Boro did have chances and Britt Assombalonga will be ruing a couple of squandered opportunities. In other words, Pulis might feel that with a little more luck and application, they can get what they need by doing what they do. Stewart Downing had a relatively quiet game, and I'd imagine they'd like to get him more involved.
On the flip side, it's whether Bruce needs to change anything. Obviously there's recovery to consider, though it seemed to me Boro did a lot more running than Villa, especially in the second while we sat back. And while we all cringed a bit about how far back we were sitting in the second, it is, as Bruce remarked, part of human nature. I also wonder to what extent players were considering saving something for Tuesday. To be fair, it was when Villa were more open that Boro were able to find long outlets into wide spaces and putting their pace up front to best use. Once we were packed in it was more about whether something unfortunate was going to happen. And it almost did. While Bjarnason was relegated to minor cameo, his deflection of Fabio's shot may well have preserved the one-goal advantage.
Coming into tonight, another big question will be Boro's situation at the back. When Fabio came on to replace Ayala, Boro lost a set-piece threat and their preferred CB pairing. However, though Shotton was getting upfield when he was at RB, it was Fabio that presented much more attacking threat. Whether Pulis looked at Fabio's impact and decides to give him a start is an unknown. Obviously will depend on whether Ayala's fit. If I were Tony, I'd think about that. I might think about it even harder with Ahmed Elmohamady's status uncertain at the moment, and that it may well be James Bree needing to come in if Bruce doesn't ask Bjarnason to deputize. If it is Bree, he will have to be adaptable, and we just haven't seen enough of him to know whether he has that in his locker. We've also seen that Bjarnason is a better midfielder than fullback.
I also want to acknowledge the wonderful irony of Jedinak being a game-winner rather than a liability (in terms of pace, recovery speed, etc.). Given the way Boro play, I figured that if he were starting then it was certainly going to be for height and experience. Me, I thought more pace and energy would be required to smother Traore. But as I've said, Bruce and the staff obviously got that one right on the day.
What didn't go so well was Kodjia's introduction. We all know what he's capable of, but it's not happening yet for him. He's still looking a bit off the pace and rusty, and was never a hold-up man, which is largely what we were asking him to be. Now Hogan is even less a hold-up man than Kodjia, but he will run around more and leave us looking less like we're playing with 10.
I've seen some folks saying that perhaps Kodjia should start. Can't see the point of that. Bruce also apparently felt bad for Whelan, but it was the right call, and I don't think he should come in as a sympathy gesture. If Jedinak's leggy, it has be Bjarnason. Which means it'll be Whelan, and he'll score the match-winner. I don't necessarily agree with swapping out Hourihane for Bjarnason. Hourihane is a bit of a mystery, but what he does is keep things ticking over. That might remind us of a certain Ashley Westwood, but Hourihane scores and just fits.
Anyway, all told very happy with Saturday. Really nice to see the side keep a clean sheet and get a win on the road in a play-off game. Excellent achievement, and everyone played a part. One more half like that and we'll be looking forward to all new levels of anxiety. Especially since the Cottagers dispatched the Rams. That was not the match-up I was hoping for. But. We still have to get there to worry about that one. And on our day, we can do the business.  So let's do the business tonight, and look toward the likes of John Terry to give the rest of the lads a bit of spine.
Over to you.