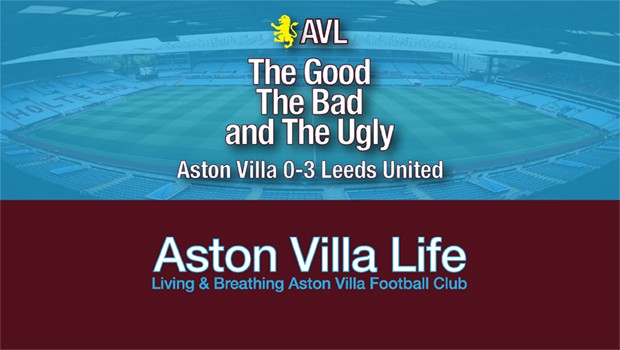 Turns out 5-0 wasn't meant to be. Shame, that. And even more so since the inevitable first defeat was a bit resounding. Bielsa won the first PL round with Smith, and Leeds ran away clear and deserved winners. However, it wasn't inevitable on the night.
The Good
Villa weathered the initial wave and settled into the match. Created opportunities that could've seen us up and changed the game. A couple moments of Grealish magic that sadly came to naught. That's about it, really.
The Bad
Most of it, if we're being honest. After getting to grips with the game, Villa couldn't keep it up in the second half. We looked slow and then leggy. Leeds just kept coming. Which is what they do, and virtually every pass was on the money for them. They played about as well as a team could play. Heads dropped after the first goal, and Villa were usually late arriving, slow anticipating, and slow reacting. We were just slower.
The Ugly
Bamford surrounded by four players in the box, and somehow afforded the time and space to get off a shot that really had no business being on. Game over.
Final Verdict
I said in the preview that I expected Villa to be the more cautious side. To play Leeds like Wolves did. Sit back, take away the space and pace, and pick their moments. We didn't do that. And we just didn't play all that well in the second. Some of that was down to Leeds' pressure, some of that just down to us and failing to adapt to what was clearly happening.
And to be honest, I've gone a bit back and forth on this. At first, my reaction was that Villa were simply too expansive and didn't approach the game the way we should've. But as I've thought about the way it played it out, I've become a bit more conflicted, and I'm ending up changing my initial draft on this.
Villa could well have been in front from Jack's effort cleared off the line after Villa had weathered a strong start from the visitors. Goals change games, but we didn't get that one. Nor did we get one either from Jack's run (yeah, he probably should've shot earlier) or Konsa's header tipped onto the bar.
After that, Leeds scored, and Villa just couldn't keep themselves from giving Leeds the space in which they thrive as we chased an equalizer. Smith says Villa got away from their game, lost their way after falling behind. The danger signs were there from the start, and while we were perhaps playing straight into their hands by playing our way, we still did enough to get in front while Leeds weren't taking their chances. Which was probably the bet: We'll trade blows, we've got more quality up front, we'll go get the first one. And I'm sure we expended a lot of energy that we could've used later by trying to match them in a wide-open match from the start. Perhaps it was a bit too much self-belief, arrogance, or complacency, as it might be called. But that confidence wouldn't have been entirely misplaced had we gotten on the board first.
As far as the onslaught, Leeds' patterns of play weren't that hard to spot, and their relentless attacking is no surprise to anyone. We weren't pinching up on the places they were going and were late arriving to the next ball: expending the energy without getting a benefit and getting pulled around. Barkley didn't look to be fully at the races, Luiz was left covering far too much ground, and Matty Cash was under constant assault. If we've seen a flaw in Mings' game, it's that he often hesitates in the box, and it cost us on more than one occasion.
Now, that's not to say he was at fault, because Leeds fashioned plenty of other chances that didn't have much to do with him. Those were just ones they missed. And it was clear Leeds were well up for this one: Gabby's big mouth didn't help at all given his comments were mentioned after the match. Once they were in front it was going to be difficult if we weren't smart and adaptive. And I think Leeds played about as well as they possibly could have. Almost every pass was spot on.
So to me, this could be about being outcoached, or it could be about being a bit stubborn, and having a bit too much pride/confidence in the goals we have in the side. Bottom line, without going ahead, we ultimately left ourselves far too open too long, dallied a bit too much in the face of Leeds' constant gang-tackling, and gave ourselves far too much chasing to do. Leeds executed brilliantly and took full advantage. Full credit. They can run all day, and get waves forward, but also get back and close down really quickly.
Down the stretch, I think the most telling difference was in Barkely's and McGinn's relative lack of pace and energy. Leeds got the ball wide behind Jack and Trez, and quickly played into the attackers and midfielders swarming forward. You could argue Traoré should've been introduced earlier, or maybe even Nakamba for McGinn, fresh legs, if nothing else.
All I can say is lesson learned. And while in retrospect I liked the confidence in trying, it was simply the case that if we fell behind it was going to look naive, in the end. That said, had the early aggressiveness paid off, I'd likely be writing a somewhat different summary. Hence the conflicting ways I'm seeing this.
Big picture, the setback doesn't mean we aren't improved. Doesn't mean we're going to go and lose the next 10. What we were trying nearly came off, but nearly wasn't enough in the end, and without the cushion and psychological edge of a lead, we simply couldn't cope with the fitness and pace down the stretch when trying to get back on level terms. Hesitancy and mistakes crept in that kept setting them up and gave them room to run wild when we'd tired and lost any initiative. That's when we needed to make the game ugly and scrappy, and we didn't.
So yes, Bielsa has a system and the players to execute it. Nothing surprising, no 11th-dimensional chess, or anything insurmountable. It just means conventional wisdom would say you accept those strengths and play to nullify them. If you don't and instead go wide open and play for an early lead, you're very much be hoping you get it. Villa didn't, fell behind, and that was it.
Over to you.