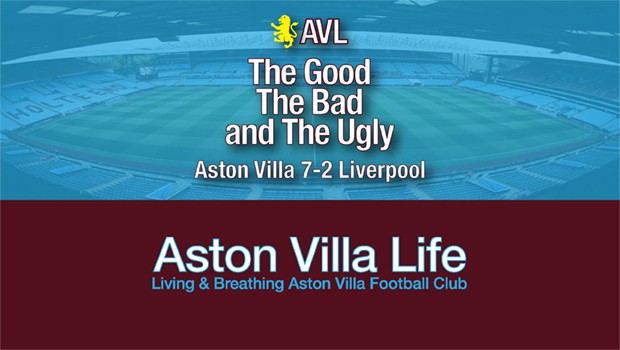 All the superlatives have been used for a historic night. Aston Villa's 7-2 pasting of Liverpool was the absolute last thing anyone expected, most certainly the defending champions. And me, can't believe I'm typing that. Villans have two weeks to enjoy a surreal and glorious performance to go second with a game in hand. I'll be buzzing for every second.
Here's the breakdown.
The Good
What wasn't good? Villa could've had 11. Take away the deflections and you've still got at least eight guilt-edge chances, with four going in. I'd take that any day of the week. Villa were on the front foot from the off, Jack, Ollie and Ross combining like they'd been together for more than less than a week. Super John McGinn bulldogging, passing, scoring, assisting. Ollie's hat-trick. Jack's brace and twisting van Dijk into a pretzel before nutmegging him. Trez's relentless effort and assist. It just goes on and on.
Embarrassing the defending champions, you just can't say enough.
The Bad
Wasn't 8, 9, 10, or 11. Can't have it all, though, can you, and Dean will need something to talk about.
The Ugly
The grass? C'mon, Graeme. And poor, slow Jack only notching three assists and two goals.
Final Verdict
Surreal. Villa played just about as well as they can. They pressed hard, won the midfield battle, were ruthlessly effective going forward. They carved apart Liverpool's high line time after time, playing the ball quickly and decisively. There was always a willing runner making a good run. You can fault Adrian all you like and rightly so for the first, but it only happened because Villa were up in Liverpool's grill from the opening whistle. After that, well, it basically looked like Villa could score anytime they had the ball in Liverpool's half.
Ollie Watkins. Strong, fast, extremely good on the ball, clinical in front of goal, working his socks off, and notching an assist to go along with a hat-trick that could well and truly have been five. I'll take that over Callum Wilson any day of the week.
Ross Barkley, fantastic debut. He looked completely at home, and his strength, ball control, passing, forward drive, and positional sense were outstanding. Changed our team.
Jack Grealish. What happens when it's not all on his shoulders? He looked world-class. Tell me England couldn't use a little more of that.
John McGinn. That's the player we fell in love with. Combative, relentless, great range of passing—including his assist for Jack, which was sublime.
Trezeguet. Much maligned, yet invaluable. Tireless and committed, he showed Traore the kind of effort required to take his place. A big part of keeping Robertson and Jota from running riot.
Douglas Luiz. Quietly took care of a lot of nasty business.
Emi Martinez. Big, strong, putting confidence in everyone, distributing the ball well, barking orders. An excellent piece of business.
Matty Cash. Three matches on the big stage, and dealt with Robertson and Jota (along with Trez) about as well as you could expect.
Matt Targett. A much better game than his critics might think.
Konsa and Mings? Well, they're a pretty good pairing, aren't they. Either one looked better than Gomez, and neither got nutmegged.
In short, the most complete performance we've seen in a long, long time. Villa didn't let up. After the second, they sank back a bit, and Liverpool were rewarded. But once Villa reclaimed their two-goal advantage, which was surprising enough in itself, they just weren't going to let Liverpool have their way. Fought for everything, knew where their teammates were, played out of trouble, fouled smartly, and lumped it to safety when you should.
Further, the deflected goals were on because Villa kept winning the ball, moving it around, putting themselves in good spots, and taking shots with Liverpool's defense in disarray.
Dean was ecstatic. They all were. This is Dean Smith football. He's finally got the players for it to have a chance to work. When it finally did, they simply embarrassed a very strong strong lineup from one of the best teams in the world. Graft, commitment, flair, relentless attacking intent: It was all there. And the players were loving it.
And Dean, of course, was his usual humble self, and he should've been pleased to get a "wow" from Klopp. Never too high, never too low. If the players don't believe now, they never will. Even Marvelous looked aggressive when he came on, having seen from Luiz what it takes.
Yes, it's one game. But it's also one for the ages, the kind you'd love to tell your kids you were at. Villa showed what they can do. They showed the money has been well spent. That the whole set-up is getting things right. That Smith's faith in Watkins, never mind Konsa, were well justified. He's not stupid, Dean.
Bielsa gets plaudits for coaching Leeds to a defeat against Liverpool, after struggling longer than Smith to get his side out of the Championship. Will Dean get the same credit for engineering their destruction after promotion, a massive rebuild, and a miraculous relegation battle? Doubt it. But when your side has Liverpool concede seven for the first time in 57 years, well, you might just know what you're doing. And now, you just might have enough of the right players for it to show.
It won't be like this every week. That's not the way football or the Premier League work. But that's how it was this week, and Villa have now recorded one-third of last season's total victories, never mind a mind-blowing performance. Instead of struggling for a draw, or crumbling in the last 15 minutes, Villa just kept coming.
Hats off, Villa. You made us all proud.
Over to you.