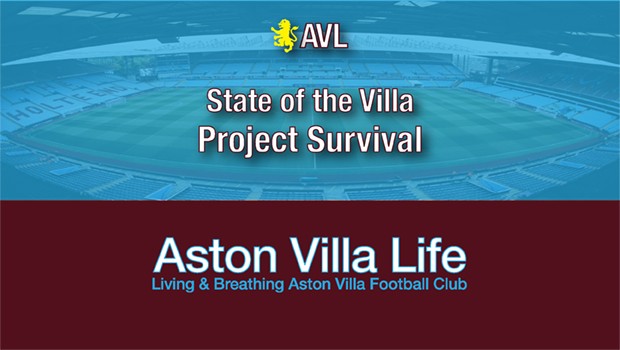 It's been a surreal couple of months, where everything and nothing have changed. The range of experiences individuals will have had…there's no summing it up. For some, life largely as usual. For others, complete disruption and worse.
So, football's been just about the last thing on my mind, to be honest. And it feels very strange to be coming back to the keyboard to write about a resumption of sporting hostilities when so much else has been going on.
But here we are. In just eight days (at the time of writing), Villa will trot onto the pitch at an empty Villa Park and play the game in hand with Sheffield United. We all know how it works: Win, and we're out of the bottom three.
Obviously a massive game. Getting clear, even if momentarily, could mean everything if there's another suspension in play. Getting clear of the drop zone from the restart with arguably one of the more winnable matches we have left is perhaps the only realistic way of staying up should all the games be played without interruption. I know, Sheffield are no pushovers, and they're playing for Europe. But we at least know them, and what we should be doing differently.
You could point to Wolves, maybe. Newcastle, Crystal Palace, and Everton a bit more confidently. West Ham, but final day, which could either decide everything or come too late.
Chelsea, Liverpool, United, Arsenal? Well, you never know and we won't know what they have to play for given they'll be three games in, and we assume Liverpool will have clenched the title by the time we visit an empty Anfield.
Just as obviously, there are so many variables in this resumption that it almost defies analysis. This will not be a continuation of the season in any meaningful sense beyond it involving a football, 11 a side on the pitch at a time, and most of the established rules of the game intact. And, naturally, Villa's position in the table and the remaining fixtures are unchanged.
What we'll get is anyone's guess. We had the friendly with the baggies and Gareth Barry saying Jack was class. McGinn got 30 minutes in, scored two, conceded two. There might be some other details out there, but that's what I stumbled across. Sounds like we'll do another session with Leicester (if we haven't already by the time this goes up), which would be a good test.
Sheffield Utd? No idea whether the layoff will affect their tenacious style of play more than it has our approach. Which is probably the most pertinent aspect. No idea what set pieces will be like, how anxious players will be to get to grips with each other. I've not watched any of the Bundesliga matches for insight. Again, could be a double-edged sword. If players are not crowding and fighting as usual, does it help or hurt us? Since things weren't brilliant in that department for Villa before the suspension, hard to say. But I doubt the layoff will have improved our defending.
That said, with a thin squad, I'm hoping the time away has allowed any niggling injuries to heal that might've played any part in said defending. Guilbert's knee comes to mind, but I'm sure there were others. McGinn clearly will have benefitted the most. I know he'd have wanted to come back as soon as possible, but psychologically, he's got to be feeling better about the ankle than he would've four or six weeks ago.
And really, while there are all of these variables for Villa and the game in general, SJM is probably the one that could save us. If he contributes anywhere near what he did when fresh and flying (all in relative terms, of course), he could improve the midfield dramatically. He takes pressure off Jack and the defense by being able to carry the ball (and fight for it), and create a little more space for him. But he's also been out a very long time.
Keinan Davies could also be an important wild card if and when Smith were to change things up. Can't say he'd go 4-4-2 other than late on and chasing a result, but since he's had time to think, there are worse ideas than giving Samatta a strong link-up man to play with. And I wouldn't mind seeing Nyland between the sticks, to be honest.
As far as the thin squad goes and the increased number of subs that seemingly will be allowed, Smith has had Louie Barry and Aaron Ramsey training with the first team, as well as Tyreik Wright, Mungo Bridge, Jack Clarke, and Kaine Kesler. No idea whether we'll see any of them, but I can't say we won't need to try and wring a few minutes out of one or two.
And to state more of the obvious, the fitness curve will be all-important as it'll improve as the games go on…along with fatigue. My head tells me that players will be easing into things, and managers eyeing strains and energy levels given the crowding of fixtures. I can see Smith wanting to go all-out against The Blades, but while the heart may be willing, we just don't know who'll have the better legs and risk-taking mentality. By the time we get to Crystal Palace and Everton, you'd think we'll be closer to full speed. Could also be knackered. Same for everyone? In principle, yes.
Anyway, that's me easing back into football. God only knows, and fingers crossed that the unprecedented situation somehow works to Villa's advantage.
Over to you.