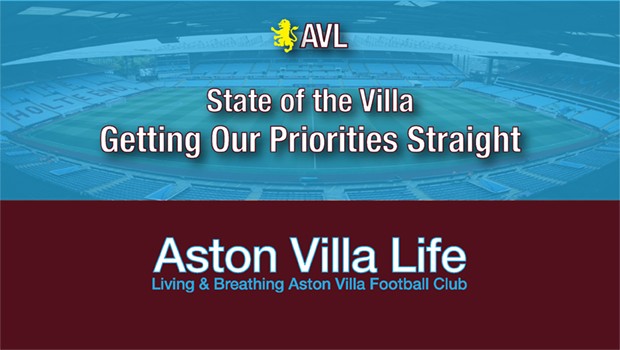 The world's finally, belatedly going on lockdown. It's the only sensible thing to do—slow the spread by isolating ourselves. The response has been badly bungled all over the place, but some recognition of reality has finally started to take hold. And if we've handled it disastrously to date, we have to see it out better to learn the proper lessons about preparedness and response for the next inevitable outbreak. And of course in the here and now we have to do anything and everything we can to minimize the number of deaths and follow-on consequences from overwhelmed health systems.
Since this is a Villa blog, I've only considered how the pandemic affects the team in the comments so far. Lots of other things to worry about, and I usually stay out of anything unrelated to football. But obviously this is different. So the main thing is for everyone to reduce contact, find clever ways to keep supporting local businesses if they're allowed to remain open. Do some shopping for high-risk individuals. The missus and I are much more worried about our parents than the kids. And we're worried about the kids. So, we're dropping off groceries, keeping our distance, and telling them to stay put.
Higher up? Governments need to do what they can to offer support to the workers and businesses who are being affected. As well as do everything they can to stop the spread and treat those who are ill. It takes competence and intelligence, which have seemingly been in short supply in much of the Industrialized West until things got out of hand. Surely we can rely on those who dedicate their lives to public health and epidemiology to have rational paths forward if we only listen to them.
When it comes to football, truth be told, I won't be heartbroken if the FA do the right thing and just suspend and/or void the season. Yes, there's lots of money involved. Lots of details and dominoes. I have no idea where the acts of god clauses fall into place in all the various agreements and contracts. For example, Sky and BT pay the PL for rights, sell subscriptions and more to make their money, of course. They're not considering refunds, at the moment. Somewhere in that agreement a person clicks on will be some line saying Sky or BT is not responsible for things beyond their control.
This sort of thing is playing out for everyone in all kinds of different scenarios. And the only thing I care about in regard to sport is the workaday people whose lives and livelihoods will be affected. People who don't have guarantees. I hope the clubs (to the extent their resources allow) do everything in their power to look after all the associated employees related to the club who don't have contracts. And hold firm in not resuming play until it's safe to do so. That's as much about messaging as anything. And in the meantime, the clubs can assume a greater, more positive role in their communities by doing other things than resuming matches too soon.
When it comes to the season, league standings, all of that…it may get a bit heated. We're all reading and watching the latest, have no idea how it will shake out. But everyone's going to have an agenda, for reasons right or wrong. For example, I've seen Oliver Holt being an idiot in the Mail saying this is all about denying Liverpool the title. Villa, Bournemouth, and Norwich? Hard cheese, but you can't keep the title from Liverpool.
Absurd. That's not anyone's motivation, and dressing it up like some opportunistic vendetta is ludicrous. It's a global health crisis, we're shutting down countries. It's not a campaign to deprive Liverpool of a title. Talk about a victim complex. Kenny Dalglish, who couldn't be less neutral, agrees. "Anyone with a football heart…" Please. Don't tell me Villans, with all their suffering and loyalty, don't have football hearts.
I'm sure everyone would be quite happy to vote Liverpool champions regardless of how everything else is dealt with. I'm sure Liverpool are guaranteed CL football, regardless, and all that money, because that show must go on at some point, as well. Promote the teams in automatic positions. That's easy, too. That there's some immutable law handed down from Moses saying you can't crown a champion with relegating teams is farcical.
But to assume that anything is going to play out normally from here is to deny reality. Does a three- or four-week suspension (or even six to eight weeks) help a struggling team catch its breath? If anyone climbs out of the bottom, is it fair to the teams who get sucked in?
I don't think so. In any other sport without relegation and promotion, the whole thing wouldn't be an issue. So just take those things off the table.
Before all this blew up, it was obviously looking decidedly dodgy for Villa. No idea whether we'd have escaped the drop. But you can't relegate teams who have a mathematical chance of surviving. The consequences are too great. Liverpool's 'punishment' would be far less than Villa's, Bournemouth's and Norwich's. And it's irrational to be rushing back to football with much bigger concerns at hand because we must crown a champion. And if Villa haven't yet 'earned' relegation, then teams who haven't already achieved automatic promotion down the leagues have no greater claim on going up. Have they earned it yet? No.
Continuing the season in the summer at least it has an air of fairness about it, even if contracts, fitness, breaks in play, fixture congestion and all the rest complicate matters. Dalglish may not care about Villa playing two games a week, because Liverpool only need to win two and they could probably use a rest. But to not even get the standard break between matches when Villa face 10 cup finals is hardly fair on a threadbare side.
For me, the compromise whereby you promote without relegation makes a lot of sense in terms of the least amount of damage done and honoring the spirit of sport. No one suffers the bitter consequences of relegation, but teams who've tried long and hard to get promoted and are poised to do so don't miss out.
But as long as people resist basic, common-sense solutions, it's going to be bit of a nail-biter as far as football goes. Here's hoping football manages to stumble over the right thing to do, on and off the pitch.
In the broader picture? None of this matters a bit until we get things settled down and prepare for what's likely to be a resurgence in the fall. What happens to people and their jobs? Their housing? How are we going to better protect the particularly vulnerable? That's all that matters.
Over to you.