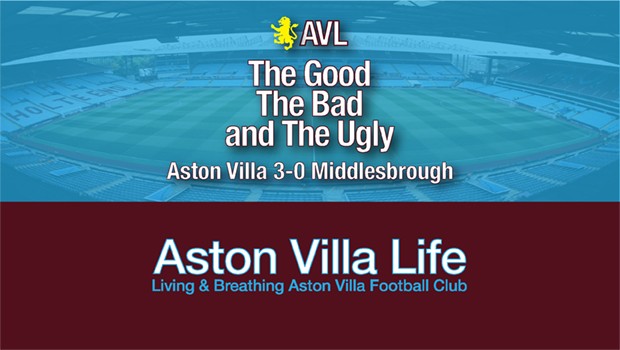 Middlesbrough came calling Saturday at a rather important juncture in Villa's season, and promised a stern test. However, Villa largely brushed Tony Pulis' men and tactics aside to cruise to a vital 3-0 win that saw us climb back into the promotion places for the first time since something like the sixth week of the campaign. Not a bad day.
The Good
Anwar El Ghazi and John McGinn taking their chances. Can't really overstate the importance of this. Boro were decidedly parking the bus, and the two chances (AEG's being a bit more clear-cut than McGinn's) simply had to be converted to open things up. On AEG's goal, it was McGinn with a brilliant, sweeping, cross-field pass that sent him in. On the second, Grealish controlled beautifully, and while Abraham largely missed the resulting pass as Jack was fouled, it ran through to McGinn, who, with two defenders closing in tight from either side, was barreling toward the box and struck quickly and decisively from the top of it to slot home and basically end the match.
Glenn Whelan had another very good outing and almost looks a player reborn, though his face hasn't changed much. Tyrone Mings and Kortney Hause once again were excellent, with only one real chance presented to Boro in the middle of the box (which they obviously failed to convert). Each is comfortable on the ball, and many times confidently worked themselves free to defeat high pressure and get the ball out without inviting sustained Boro possession, or mistakes leading to easy chances. And both of them have the ability and confidence to switch play with long passes to unmarked wide outlets. They're not punting; they're helping launch attacks. And I've started to fear conceding corners less.
Jed Steer had very little to do, but was assured. Albert Adomah finally got back on the scoresheet after Randolph bobbled Keinan Davis' shot and was there to slot home and make the scoreline more reflective of the performance. Once again, goals throughout the side, and McGinn, in particular, back to his best.
The Bad
Boro, really. No surprises in how they play, and for a while it was working. But you'd expect all the resulting one-way traffic and possession ceded to Villa to eventually tell, and it did. Negative football getting just what it deserved. Wait, that's good, right? Never mind. Have to put something in here. And you could maybe say we were a little bit profligate.
The Ugly
I was going to say Pulis' footballing philosophy, but I'll just leave it alone.
Final Verdict
Four out of four is impressive, all the more so given three games in a week against sides all better positioned. There was no let-down after the emotional derby win against small heath, and the side really impressed in negating Forest's early goal and coming right back to take the lead, along with whatever wind Forest might've had in their sails. The third challenge might've seemed a bit harsh coming so quickly given how big the preceding wins were. but Villa didn't seem at all bothered by the energy expended earlier in the week, and looked very mentally balanced. They looked to be on the hunt, and Boro definitely looked spooked.
Whatever you say about Boro's performance, Villa did what they had to do, which was find a way to unlock the stingiest defense in the league. And that's where the talent told. McGinn finding AEG looked to be the result of real understanding developed on the training ground, and was just the sort of visionary pass and run necessary to create a breakthrough. Up until then, it looked as though Boro might weather the storm and get the game played their way. Going down would've been tough to come back from. But Villa weren't having any of it, and Pulis will be left rueing the decision to pack the middle and sit deep rather than come out and press Villa higher up the pitch. Truth be told, though, on the day it didn't look like anything he'd done would've changed the result. They'd probably only have lost by more if they'd come out to play.
Further, it was another real team performance. Grealish had less to contribute than in the two previous matches, and it didn't matter. Three games in seven days was always going to be a big ask after a 13-match layoff. But he still had the quality where it counted, and everyone else played with a confident, attacking mindset. The pressure all over was very good. Whelan was well positioned throughout, providing an outlet, cleaning things up, and even beating men to loose balls to keep the pressure on. Mings and Hause kept everything under control and weren't bothered when Boro did try to press them. And the side kept going forward for the full 90. McGinn was immense, and AEG had one of those games that showed what he can do.
Late in the second, there was one passage of play between Grealish and McGinn down the middle that was both sublime and illustrative of the understanding they've developed. Shame it didn't result in a goal.
So, we'll get different challenges coming up, and there are plenty of teams nipping at our heels, five of them, in fact, within three points. As everyone knows, Villa have to just keep winning.
But right now, confidence is high and Villa are as well positioned as anyone to grab fifth or sixth. When you see that we've  only lost three more than Norwich, it's clear that all the draws over the 13-match span in which both Grealish and Tuanzebe were out have been costly. On the other hand, those draws, instead of defeats, have kept us in it.
Given the defense is now much more stout and the midfield is giving them much less to do, never mind that the attack has looked all but unstoppable, you'd like to think that any of the draws during that stretch would now just as likely be wins. Which is grounds for confidence with eight to go and all to play for. Likewise, where I'd ordinarily be upset about a break, I think the team could use one, especially as we wait to hear the extent of Abraham's niggle. Whether he scores or not, he's all over the place, attracts all sorts of attention, and will be back in the goals soon enough.
We've all been here before and no one's getting carried away. But it was a fantastic week where Villa had answers for every question asked, and everyone should enjoy the break, albeit with that ever-present cautious optimism we know so well.
Over to you.