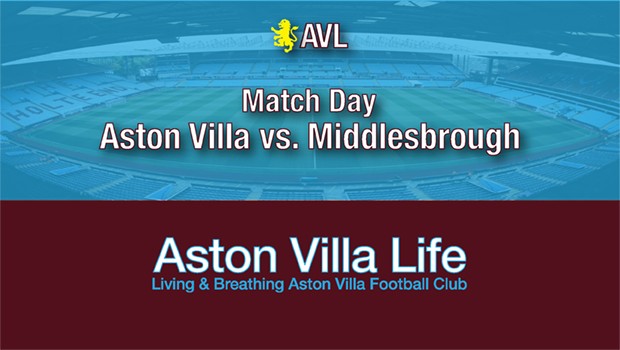 With three wins in three outings, Villa once again find themselves in with a shout for promotion with nine games remaining. Is it possible? Probable? A bridge too far? All depends, doesn't it.
There's only one thing Villa can do to help themselves: keep winning. Beyond that, since we're making up ground, it's also up to the results around us. Basic stuff. Helping matters was that there wasn't that much ground to make up, and a nearly full-strength Villa side finally have come back together just in time to face Derby, blues, and Forest—all clubs sitting above us. Must-win six-pointers. Now there's another this afternoon against Middlesbrough.
Six-pointers are certainly what you want at this stage for obvious reasons. Instead of going out and beating Ipswich and hoping Boro lose to Bolton, you have the chance to make sure Derby lose. Making up ground is firmly in your hands.
And while it's all well and good to be looking up the table, it's the Championship. Which means there are others always nipping at your heels. Win, and it doesn't matter. Lose, and naturally you're left to hoping other results go your way. But when you're chasing, you've got to win a higher percentage of the remaining matches than the teams you're chasing.
That's the obvious out of the way. Well, not quite. What's also obvious is that we're looking to either pip Boro or Derby to the post for 5th or 6th spot. Derby have had the weaker form of late, and they both face a similar strength of schedule based on the average position of teams left on their upcoming fixtures. Both will play Bolton, who are all but down, and both have a game with an opponent (Reading and Rotherham, respectively) that will be staving off relegation.
In the short-term, though, it's Boro who have the tougher run starting with us today, then top-of-the-table Norwich, and Bristol. After that, everyone's basically playing mid-table teams, and you have no idea what's going to happen.
Our run-in isn't terrible, but of course everyone's pointing to Leeds and Norwich at the end. So we're all hoping Leeds get back up into the automatic spots before we play them. Doesn't necessarily make things easier, but if they're through by the time we play both of them, there's the obvious question of motivation. We'd like one to have a firm grip on the top spot, and the other to be in no danger of dropping from second. Leeds losing to Sheffield United wasn't a great bit of news, then.
Based on the fact Villa are once again looking like the steamroller we saw before the injuries hit, there's obviously reason for hope. Being Villans, we're also braced for crushing disappointment. I suppose it helps that this is a rather late ray of hope, meaning most of us were getting used to the idea of not staying in the mix.
It also helps that Boro and Derby have been wobbly of late, and a win today will likely put the nerves into them. Villa, just three matches ago looking out of it, have the psychological advantage of being underdogs with a distinctly non-underdog side.
And if we do find ourselves in the play-offs, we'll have been on a very good run, and I wouldn't bet against us. There's really no one above us we can't beat on our day. I'd like to think that will be an inspiration.
So it's a big game today. Going in, it's our last chance to take points off a team currently sitting where we'd like to be and leapfrog into the playoff spots going into the break since Derby aren't playing. As for Bristol, one point above us, who knows where they'll be by the time we play them.
Dean Smith has made just one change from the side that dispatched Forsest 3-1 midweek, with Whelan in for Hourihane. Fingers crossed we've got enough in the tank to see us over the line today.