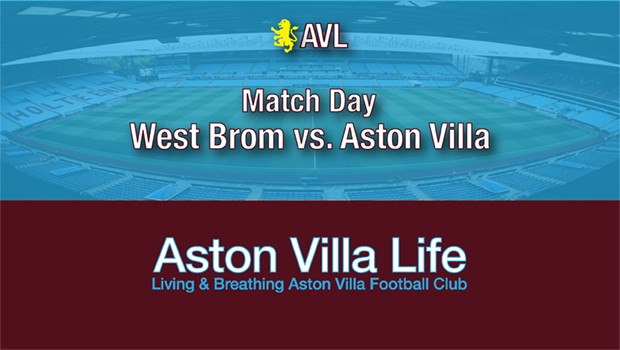 Another week, another derby. West Brom's not as nasty a rivalry as that with small heath, but it's a no-love-lost match-up nonetheless. And Villa come into tonight's game at The Hawthorns after a very interesting, entertaining, and revealing week. A week that's left us a bit hopeful.
It's starting to seem a long time ago that Steve Bruce was in the dugout. But Dean Smith has only been in charge since Swansea, and he took the helm during a break followed by the quick succession of matches that always follows. Smith got the win against Swansea in his first outing, followed by one-goal losses to Norwich and QPR.
Then there were 2-0 and 3-0 wins against Bolton and Derby, respectively, followed by another break. This time, Villa returned to handle blues 4-2, had a surreal but extremely entertaining 5-5 draw with Forest (about which Smith was likely none too happy), and then a comprehensive 3-0 win at Boro. Tired? No. Jaded? No. On the contrary, Smith wondered whether the players away on international duty were getting enough minutes to keep their fitness up.
In that span, Villa have beaten two of the seven teams now above us, and drawn with another. Tonight, West Brom sit third coming in, Villa eighth, and the gap is only four points. Albion have scored a couple more than us, and conceded a couple less. We're unbeaten in five, and the Baggies have won three, drawn one and lost one. The wins against Derby and Boro were considered statements, and rightfully so, especially since both were decisive and away against good sides.
What to expect against another team vying for promotion? Well, as the league's two highest-scoring teams, we might expect fireworks. However, Deano will only be interested in one-sided fireworks. He's had a week to prepare, and we know he likes his preparation and makes good use of it.
Albion present a bit of a challenge in terms of that preparation, though, due to Darren Moore's tactical flexibility. They've played three and four at the back, with a variety of midfield permutations. Smith has varied his looks, but not quite as much. But lately, both sides have trotted out what is essentially a 4-2-3-1. Will they do that again? Villa, I'm thinking yes. The only other option I think Smith would try is a 4-1-4-1, though we could see a 4-3-3. However, Smith's 4-2-3-1 works about the same as a 4-3-3. Albion? No idea. I could see them going with three to get at Villa's defense and give our outside players more work to do, but also sticking with four due to our strength down both the flanks and the middle.
What we can probably count on are reactions from both managers during the match. If something's not working, look for tweaks. Neutrals will be looking at the showcase for Dwight Gayle and Tammy Abraham.
For Villa, the game will come too soon for Albert Adomah. Smith talked during the week about giving Jonathan Kodjia a needed break against Boro. After a week, will we see him reclaim his place, or will Anwar El Ghazi get the nod again? The team sheet might've just pipped me to the post, but my gut is telling me El Ghazi.
Regardless, it should be good match, one I'm looking forward to yet again, and Villa will be feeling pretty good about themselves. The trick here is to stay disciplined and not get too carried away. There are obviously plenty of goals in both sides, and some defensive frailties. It sounds obvious, but it seems to me that the outcome will be down to who's more clinical up top and then more organized without the ball. That and the old chestnut I always trot out: Who wants it more? Simples.
A draw would certainly be acceptable, but I have a feeling Villa want all three points and will play for them. Another away win against a top promotion contender, and Villa might well be on their way. A loss? Well, it will be all about how we respond.
Over to you.