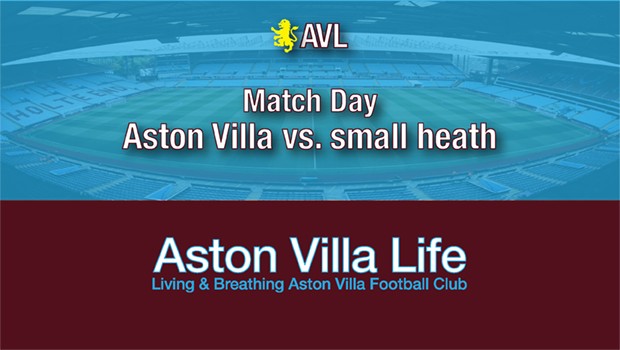 It's The Derby up next, and no one really cares how it happens—we just want to see Villa break small heath hearts. It's about emotion and pride, which is why you most often will simply say, "throw out the table, recent form, and all the rest."
For the players in the modern age, however, it is, by and large, just another game. The difference is in how much it means to the fans. The weight of their expectations will color the day.
Small heath are on a slightly better run of form, but sit level with Villa on 24 points, Villa just having the edge in 11th versus 12th due to a single goal differential. Beating blues is always sweet, but the three points are what count as they won't really move us up much, if at all, depending on results. They just need to be had as a stepping stone, because it's the quick succession of matches with Forest and Boro, then Albion a week later that really is the making or breaking of the first half of the season. Three matches against clubs currently in the top seven, an opportunity to make a serious statement of intent and climb the table.
In other words, small heath is more a distraction than anything else. Maybe it's a bit heretical to say, but there it is.
Appropriately, we've heard Deano talking about preparations for the first three outings taking place during the break. He gets the derby as well as any of us, but he's paid to see it as a match like any other, and to play to win in the context of really wanting to win all four upcoming games.
So what can he, JT and O'Kelly do while so many are away? What they should be doing: watching film, analyzing, and developing game plans.
The players return, the staff are ready for them, and they'll get their heads focused on the fine points identified as keys to victory. And given the always silly congestion of fixtures after a break, time spent with players who didn't travel will be important as they may very well be called on to keep the side fresh.
And don't think for a moment that Smith himself isn't relishing the upcoming slate. I've a feeling he has a point to prove. Several, actually. Points about fitness and training, methods, actual planning, and the like. This is where recovery and nutrition are vital. Where running training sessions to get the most out of the limited time available is crucial. Where 'management' is actually just that. Where a man finally has a talent level throughout a squad that he's never enjoyed before. He wants to prove that he wasn't just good at getting smaller clubs to overachieve. Rather, he wants to prove that he's a good manager at any level.
On Management
In the previous and now very stale thread (which was no less fascinating for its philosophical digressions), we had a bit of talk late on about Smith's pre-blues comments. And in those comments we got another indication of how things have changed at Villa Park, this time on match days. Players are now required to show up quite a bit earlier. To eat a prescribed meal together at a given time. And then sit down and do a tactical review before changing and warming up.
I expressed surprise that this wasn't already the case (silly me). As someone who watches a lot of American football, it's simply stunning to me that these kinds of preparations have not been taken for granted for years now. Game planning, nutrition, film study, rest, recovery, rehab, installing the game plan…These have all been dialed into a level of precision that's virtually militaristic.
The games are very different, obviously. So one could argue that it makes the necessary approaches are apples and oranges. I'd strongly disagree with that. The rationale and intended outcomes of preparation are the same: to be focused on what's coming, know what you're planning to do about it, and be as physically ready to give 100% for the entire game as possible.
Playing three games in a week? You'd better have a plan to create the circumstances and environment that will allow you to be at your relative best.
Before, we heard about returning players being tired, not quite seeing that and getting the lineup wrong. Followed by a hodgepodge rotation. Now we're hearing about whether they got enough minutes over the two weeks to still be match fit. That's night and day in terms of expectations. In Smith's world, the international breaks apparently are light duty.
That said, will any of it make a difference? The bar has been raised in the Championship. Villa are just now catching up to what other progressive managers have been doing. What worked in the past won't necessarily get you over the line anymore, and doing what others are doing simply puts you on a level playing field.
At the very least we're apparently now creating the conditions that should allow Villa to be more consistent and prepared. (Ironic that, prepared.) On the day, anything can happen despite your best efforts. But when you raise the bar, your best efforts tend be…better.
So as always, we'll see. It may still be a bit soon to see us play three good games in a row, never mind three great ones. Our opponents will have something to say about it, as well. One guesses that to get all nine points, there's going to be some serious graft, ugly passages of play, and a bit of luck. And I'm sure Dean would've much preferred to have another regular week following Derby so he could build on that performance properly. But, he'll have been doing everything he can to make up for that. And you know what they say about luck.
What we do know is that Villa Park will be rocking and the players should feel more confident and prepared having played a very good 90 minutes last time out. Making it three on the trot would do nicely and then it's on to Forest. All I know is that I'm glad we've already been thinking about this one, that one, and the one after.
Over to you.