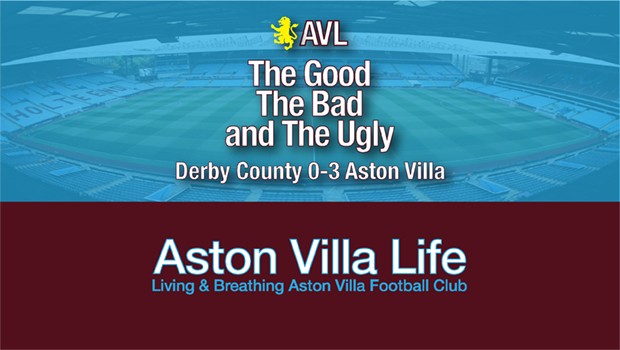 On Saturday, Aston Villa delivered their most comprehensive performance of the season to put hosts Derby County to the sword 0-3 and gain their first away victory since the season opener at Hull. For vast swaths of the game Villa dominated play, and for once it was the opponent that looked dazed and demoralized at the final whistle.
This will be rather long, but, of course, well worth reading. (Insert whatever emoji you like here.) You can, of course, always just skip it.
The Good
Well, everything, really. An away win against a good team. Goals distributed throughout the side. Playing out from the back with much more assurance. Quick passing. Excellent patterns of play in the final third. Constant attacking threat and intention. Two crucial saves from Nyland, who also looked more comfortable overall. Another all-action performance from John McGinn. A much more settled performance from Axel Tuanzebe, who roamed around cleaning up all sorts of threats inside and out, and played the ball forward with much more confidence. A high press employed at the right times and throughout the match. A strong cameo from Yannick Bolasie.
Moreover, it was an open, entertaining match. Lots of chances, lots of excitement, well worth the price of admission. Villa did not come to play like an away team. Villa came to play like a team with every intention of winning and doing it their way. I've always hated the conventional wisdom that for some reason you have to play differently on the road. You should always play how you play, and make them deal with you. The crowd aren't on the pitch. If you're going to be cowed away from home and set up to give the home side the initiative they're going to have the initiative because you've conceded it to them before the opening kick-off.
The Bad
Villa squandered a number of chances to put the game away early, something we've seen a lot of this season. But Villa didn't relent or retreat into a shell having spent themselves in the first half-hour, kept hammering and were eventually rewarded. They were able to stay in the ascendancy. A couple breakdowns had Derby in with chances they should've done better with, but Nyland did what a keeper is supposed to do, which is keep the ball out of the net. Most sides will have chances. It's keeping out all those that can be kept out that make the difference between a result and a disappointing day.
The Ugly
Nothing really, except it got a bit ugly toward the end as Derby's frustration mounted. To his credit, Frank Lampard apparently did not come into the match directing his players to take Jack Grealish out at every opportunity. Derby came to play to football, and so did Villa.
Final Verdict
What we saw Saturday was the first match in Smith's tenure when all of the changes we've been hearing about were finally on full display. And the result was the first gripping game of football (for all the right reasons) that we've seen in a long time. It resulted from subtle but significant changes in all phases.
At the back: We've seen Whelan and Jedinak sidelined. Whelan did get a lone start, and was praised, but has not featured since—other than in late-game cameos off the bench. Jedinak was removed from the back line and replaced with a natural center back playing in his preferred position. We haven't seen him since. Instead, we've seen Tuanzebe grow from match to match, finally putting in a performance yesterday that Jedinak simply doesn't have in him. The result is that Chester had far less to do, as should always have been the case. Tuanzebe has greater range and pace, apparently is strong enough, and is growing in confidence. I'm not scared seeing the two of them at the back, or either one of them isolated in space and defending wide on counters.
This is no small thing. It's allowing Villa's back line to get further up the pitch while also being able to get back and snuff out counters. It's allowing the rest of the team to play further forward and stay on the front foot. With better composure on the ball, playing out from the back is becoming more effective, and there are fewer aimless punts up the pitch resulting in the ball coming straight back at us.
In combination, the high press, which is what all good teams employ these days, is allowing Villa to play much less in their own half, and reduces the pressure on the back four immensely. Tighter triangles and predictable positioning are allowing players more options on the ball, and letting them play more quickly without succumbing to the pressure directed at them. Greater fitness is now allowing the team to keep it up for 90 minutes.
We're seeing the bad habit (which I presume was a combination of instruction and fatigue) of dropping back and defending deep get corrected.
In the middle: We've seen Smith looking to let McGinn be the engine, Hourihane the swing the man, and Grealish the forward creator. (This doesn't mean McGinn doesn't create. He obviously does.) Less and less is Jack trying to carry the team and do too much. The complementary strengths of each of these players is being utilized. We are not relying on a big plodder to mop up in front of the back, or an old plodder too often seeing the play pass him by. Hourihane playing deep is very much a statement of philosophy and confidence. The statement is that we're not sitting back to absorb. We're not playing scared. We're going to put our quickest, fittest, most composed and skillful players on the pitch and take it to the opponent.
Up front: Even if he's been wildly profligate, Jonathan Kodjia is actually running, tracking back, and fitting into a role, rather than roaming around idly waiting for an opportunity to make something happen on his own. We've seen much more deliberate patterns of attacking play, which, yesterday, created numerous chances. And again, if you're defending from the front, you're much more likely have more men in the box since they're not all a) gassed from running end to end, and b) actually up the pitch and available.
Abraham is being used to hold it up, but also to work quick interchanges to unlock defenses. He can do this because he's not the only man up there—he's also quick, strong and has good feet. He now has Jack to play off, as well as two wingers in a 4-3-3 who are looking to get infield as often as they are to play the ball in from wide areas. This takes pressure off him, draws defenders away, and opens up space. We're seeing smarter runs that are anticipated because they're intentional and everyone is on the same page.
Overall: As Smith has said, it's not rocket science. And he's right. Which, of course, leads one to wonder why these basic facets of the modern game weren't addressed earlier. This is how the game is played now.
I've said that there's no one on the team I don't like. Whelan and Jedinak know what they're doing. They're simply just not suited to this style of play. Elmohamady has always had plenty of running in him, but if he is playing at right back (as was enforced yesterday by the injury to Taylor), he's doing much less defending in this system (as are all the back four), which has been his greatest liability, and is not being asked to play in midfield. He can be a wingback. He's not a winger. Speaking of fullbacks, we are starting to see them get closer to their men instead of standing off so much. This, again, is partly instruction, and partly based on the system and fitness which means there are more players getting back to cover if they do overcommit and let their man get free.
So…Yesterday was a treat. We went to play a good team and took them apart. We looked like we knew what we were doing. We saw players playing to their strengths, and saw a set-up and philosophy that's making this possible. We've even seen players expressing frustration on the occasions when they've pressed and someone hasn't come up to press the outlet as expected. We saw 90 minutes of running and Villa on the front foot til the end (which is why the dominance finally told and the floodgates opened).
Will it continue? Well, we know there are always bad days at the office. It won't look like this every week. Never does.
What's important is that yesterday the players saw the fruits of all the work on the training ground proved out. Their buy-in is crucial, so seeing it pay off is vital if it's going to continue. Yes, there's a new man to impress. But they're showing they have the heart, and the desire to play better. Seems to me they were no more impressed by how they were made to look than we were.
They're showing that this system suits their talents, just as we saw a few matches last season where many of these players were playing much more like this and got their rewards. We then saw it changed back. As a side note, we've seen a consistent XI, with players being played in their proper positions. Smith is drilling this into a side, while working with the fringe players so that they're on the same page if and when they're called upon.
We believed the talent was there. We just didn't see it being applied properly. If we can produce performances like this more often than not, and grind out the games where we're not flying, there's an indication that we can expect more. Smith is confidently predicting there's more to come. And so far, there's no reason to doubt him.
If nothing else, what I'm seeing is a man who's coached against Villa, and our old-guard tactics, and saw a tired, disorganized, yet talented team flailing about and making life way too hard on themselves. He knew what he would change if he were in charge of a talent pool he'd never had before. And now that he has it, he's starting to prove out his approach. A man who pays attention to Guardiola & Co., and is trying to implement lessons learned from the game's best. It's not revolutionary, it's simply intelligent and progressive. This is the modern game.
Although it sounds like I'm belaboring the point or perhaps trying overly hard to be critical of Bruce, I'm not. I, along with a lot of the support, have been banging on about these very things for years now, predating Bruce. Villa simply had not modernized and it was clear to see. We saw far less talented teams doing to us what we did to Derby and far too often. It never felt like there were answers forthcoming. We'd just go out and do the same things the next week and hope for better, to be there or thereabouts.
I hate to say it, but that's not really a statement of intent. Wanting to pile on and put fear into opponents' hearts? That's a statement of intent. An organizing principle: We want to be the best, we will play our game, and we will take it to you. We will match your intensity and your organization. And we have better players.
So. Joy on the day, optimism looking forward. It's a shame there's another break, as a couple (almost) full weeks of training have taken the side forward. But Smith will have another intrasquad match to work on the fitness and cohesion of the players not going away on international duty, and given that what not only looks like improved fitness is actually improved fitness (according to Hutton, anyway), we may expect less drop-off in energy levels after the break.
I won't go overboard, I won't make bold predictions. I'll just say what I've said before which is what I'm seeing and hearing is refreshing and long overdue at Aston Villa. Like all of us, I'm hoping it continues.
Over to you.