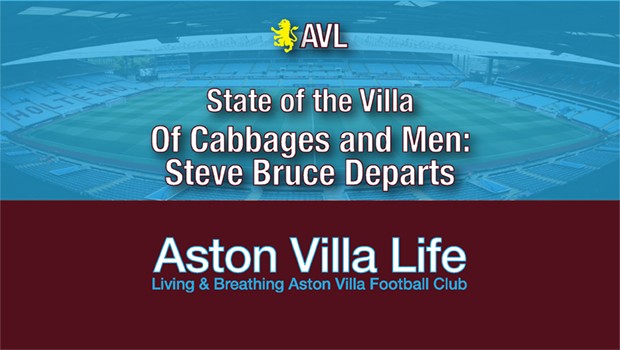 The Steve Bruce era at Aston Villa came to an abrupt if not surprising end after 102 games, and just as it was for Roberto Di Matteo, Preston North End was Bruce's ostensible undoing. There's a lot that's been said, but it won't stop me sharing a thought or two.
Thank you, Steve
First, I do want to give Bruce thanks. Not just because it's polite, but because he did do good things for the club. He offered some stability. We saw some fight at times, and a transition away from the dark days of our drawn-out fall from grace.
Further, Bruce was willing to stand by the club during the summer's turmoil and uncertainty. He soldiered on through the death of his parents. He got us one win away from a return to the promised land.
But in the end, it wasn't enough. So go on, Steve, relax a bit. You deserve a rest and some time away from the pressure and the spotlight. It wasn't an easy ask, we know that, and the club is better off than when you took over.
Fruit and Veg
For the record, I certainly don't condone throwing vegetables (except in the case of Donald Trump or bucolic festivals). The most famous cabbage in the football world was obviously launched with malice aforethought by a man at the end of his rope, which excuses nothing, but just as obviously summed up the frustrations of many. It was tragic and comic at the same time. Which simply made it thoroughly modern Villa.
Kidding aside, Bruce didn't deserve that, and it obviously didn't reflect well on Villa. Is it a modern affliction? Well, I've watched a lot of vintage films where tomatoes being hurled at poor stage acts was standard practice. Depending on what sort of music you like, you may well have seen bottles being thrown at the band, both empty and full.
Supporter Power
This brings us to 'supporter power'. Bruce largely seems to believe that a small but vocal minority of the supporters were his downfall. I don't think that's true. Or, I should say, I don't think he's right. He believes what believes. What I believe is that those who aren't happy with Villa's play, position in the table, Randy Lerner's or Tony Xia's tenures, or whatever else are not some small subset of irrational bullies.
There are always blowhards. There are always those whose glasses are half-empty, those who are shortsighted, those whose default response to anything is to get angry and call people names. And if it's true that Calderwood was responding to something truly appalling being said to Bruce? Well, he had every right, and it's that  "supporter" who should be banned. Shame he didn't get a beating. But that's the true minority. It's that way in our regular lives, too.
Some pundits maintain Bruce's sacking is crazy. Some are saying "they're only six points off," or "he's gotten promotion four times." Some say it's because he managed blues. How many of them have watched virtually every Villa game the last four years, never mind the last decade? Repeating that well-worn promotion line is lazy. As they tell you when you put your money in investments: Past performance does not guarantee future results. The blues thing is just stupid and lazy.
It wasn't the fans. The cabbage and Whelan might've gotten Bruce the sack sooner rather than later, but it seems apparent that Sawiris and Edens were looking to the first quarter of the season to evaluate the balance on their considerable investment. These men didn't get rich by not taking calculated risks, and they're taking one now. They saw a team with only two new players on the pitch blow a 2-0 lead to the worst form side in the league. They saw a man taking and missing a game-winning penalty who has no business being in the side to begin with, but has been a Bruce favorite. They saw a dead man walking, a man falling back on caution, a defensive manager without a defense. They did not see the future.
In short, they were never convinced by Bruce. They'll have done their homework. They'll have studied last season. The players brought in, the players selected and sidelined, the money spent, the ups and downs, and all the rest. They left Bruce in place long enough to get a sense of the season and whether it was fair to judge Bruce on last year. They supported Grealish's contract, McGinn's signing, Bolassie's wages, and whatever else. They're apparently willing to risk a points deduction that would virtually guarantee yet another year down. They saw a side as expensive and talented as any in the Championship win one in nine. They simply decided to cut their losses and change course.
Yes, keeping the fans onside can be good business. But neither of these men have been afraid of making unpopular decisions. They kept Bruce because of a poll, then sacked him weeks later because the tide of opinion had shifted? I don't believe either of those explanations.
Are They Right?
We'll soon see. But they were either going to stick with Bruce to whatever conclusion, or double down on their promotion goal, demand more, and make a change soon enough to have a chance of succeeding. We'll talk about all the things behind the scenes we don't know. My guess is that Compass know more about it than we do. They may well have concluded everyone needed a swift kick up the arse. Or that those in the game calling Villa shapeless and directionless are the ones who are right. Or both.
We all know that when a team underachieves changes will be made, and sometimes those changes come quicker than others. I obviously agree with those who say Villa were underachieving.
Managers come and go, just like CEOs. They know going in that, right or wrong, they're signing up to be responsible for what's on the pitch. Bruce knew he was supposed to get us up last year, fair or not. He signed up for it.
Me, I think setting a high bar is crucial. And that's coming from someone who's suffered greatly at the hands of truly unrealistic expectations. An FA-founding club like Villa with hundreds of millions invested simply can't settle for the second tier. It just can't be part of our DNA.
And for years now, Villa's DNA has not convinced quality players. Grealish would've loved a switch to Spurs and a chance to play under Pochettino. McGinn is already being touted for greater things. Milner, Barry, and Young didn't leave because Villa didn't want or try to hold on to them. They left because Villa were going nowhere, and more successful clubs were offering them more money to come chase their dreams.
Final Thought
Steve Bruce did his best, and I thank him for it. And whether circumstances, his own shortcomings, or both did him in, the end result is the same. I've watched managers and coaches fail miserably in one place, then succeed brilliantly somewhere else. And vice versa. Sometimes the fit just isn't right, sometimes it's perfect. And of course now we'll never know whether Bruce would ultimately have proven to be the right man.
Players will obviously thank him. Some will genuinely be sorry to see him go. Others will be delighted. All of them will be thinking about how they fit into the new man's plans. The trick is whether the new man has a plan that's any good. But he certainly won't be starting with nothing. Okay, he'll be starting with less than two actual CBs. Once again, he'll know exactly what he's signing up for.
Villans? Just like the players, once again we have to trust in new owners to set the right course and pick the right man. All we can do is hope the club is in good hands and that this throw of the dice isn't just a reckless gamble. Time will tell.
Over to you.