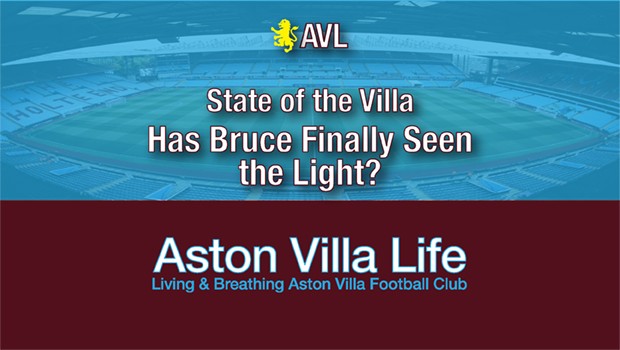 Tuesday night, Steve Bruce taught all his critics a lesson by following their advice and picking an attacking side and formation. As one might have feared, it ended in victory.
Despite the tears, Villans remained stoic and supportive. This commentator even raised his hand and gave Bruce credit for waking up and smelling the coffee, and perhaps reading this humble rag. Or any number of others. Yours truly also praised Ahmed Elmohamady's assist on Bolasie's goal.
Now, of course I jest, and some will consider sarcasm a low form of wit. But.
Steve Bruce actually grew a pair and put out an attacking team. No defensive midfielder as such. Two up top. Two actual "wingers" in Grealish and El Ghazi. Even if Grealish isn't *really* a winger.
Villa weren't altogether dazzling and it was Rotherham. But it's a start after five matches without a win. I'll forgive Bruce Jedinak and Elmohamady given the good choices made elsewhere.
As I said yesterday, the points puzzle and Bruce's future depend on him bucking his Villa, and career, winning percentages. Perhaps, like the rest of us, he finally realized he has nothing to lose by risking a loss. Get sacked now, get sacked later. All the same to his bank balance.
I can't promise that the same team will look good on Saturday. I can't promise anything but honest opinion. But I can say that I truly believe this approach is the path forward. And it actually made me wonder if Bruce was making the selections.
The Grealish/McGinn dilemma was addressed to some degree by letting Grealish play wide left, with McGinn in a more central position (though he tends to drift left, as well). The other wing was manned by El Ghazi, a fast, strong, and skillful young player with something to prove. Even though he wouldn't normally play on the right. Conor Hourihane came in to do the quiet job of keeping things ticking over that he always does to little adulation, and things were fine.
Jonathan Kodjia and Tammy Abraham, meanwhile, gave the defense much more to think about. As a result, Abraham netted his first in claret and blue (as did Bolasie later). But this isn't to say that RHM and Kodjia wouldn't have likewise created more problems than Kodjia alone.
What I hope happens is that Bruce gained some assurance that he can play to win—versus playing not to lose—and be rewarded.
It's also important to remember that criticism of Bruce has always centered on his cautious, defense-first approach. His often baffling substitutions (never mind their timing). His chopping and changing to mess with winning combinations. His reliance on "proven" over-the-hill veterans.
Bruce is a good man. He stood by us over a tumultuous summer. He's taken teams up. But football changes, like anything else, and Bruce's philosophy is simply not progressive. It seems he has to be dragged or forced—kicking and screaming either way—to do something different. He's always been playing not to lose. And that carries through to a side that, in terms of numbers and make-up, is much more offensively minded.
So. Well done, Steve, for fielding the sort of side and tactics your critics have been begging for. Well done for recognizing your preferred way wasn't going to win enough games to save your job, never mind keeping Villa in the hunt.
As a Villan, I hope it continues. I'd very much like for Bruce to be a messiah if not *the* messiah. After all, he's here and drawing a wage already. Just stop mucking about, put out a consistent side with a consistent remit, and let the chips fall where they may.
Anyone can equivocate. Winners chart their own courses. I'd rather see a man dare and lose than see a man fret and lose.
Over to you.