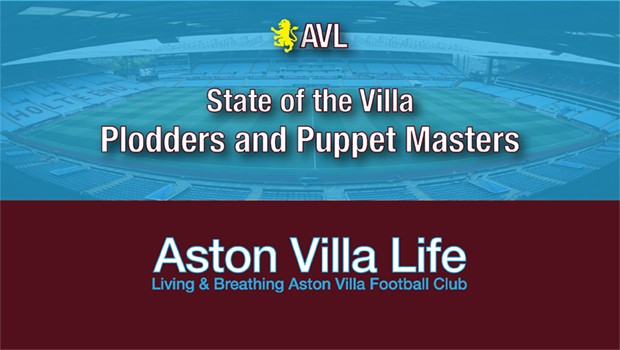 The past week was quite telling. We had John Terry teasing us and Steve Bruce kept his underwear clean. Now we know that playing football in Russia is where it's at, according to Terry, which must have come as a shock to Bruce. Bruce is now scouring the free market for a CB he thought he had in the bag. Tommy Elphick must be laughing. I know for a fact Ross McCormack is. All of this falls on Bruce's shoulders. His best friend told him to pack sand and all the king's horses and all the king's men won't put Villa's rear end back together again.
There has to be ambition amongst the manager's society, but unfortunately most of the thinking is self serving. Like most players, managers are motivated by their own personal agenda. For example, does anyone think that Bruce, Warnock, or Big Sam Allardyce will ever manage a top six team in the Premiership? Didn't think so. What is their motive then? They are motivated by putting a reasonable amount of points on the board, try not to ruffle too many feathers and portray themselves as a steadying influence on the team. They work this mindset into all the teams they manage regardless of the amount of spending they are given. They are old, stubborn, boring, wear sensible shoes and try like hell to keep the pay cheque coming in. That's not to say all older managers follow that line of thinking.
On the other hand you have younger managers—late thirties and into the forties—who have a totally different outlook with a totally different agenda. A few years ago Roberto Martinez was the manager of Wigan. A man with ambition and an agenda. Roberto was looking after Roberto. A "pleasing on the eye" style of football was played at Wigan. He did well against the top ten teams in the Premiership. Not necessarily winning, but putting on a show that caught people's eye. Wigan got relegated, Martinez' reward was a managerial post with Everton for his efforts on the backs of Wigan and their fans. His motive was to impress the big teams and push his boat out and he succeeded.
Well, that's a rather black-and-white assessment on my part. Obviously there are managers out there that don't fit that mold. Aston Villa have a hard time trying to pick the right manager. Being a "big team," they should be able to command a top-tier manager, but they can't as they dwell in the Championship. They know that a forward-thinking manager could blow up in their faces and that a plodder will raise the ire of the fans. Unfortunately, the better-safe-than-sorry path is one that will almost always be chosen as money and finances become the number one consideration. A conundrum for the team owners.
This brings me to Wolverhampton Wanderers. A team that had been adrift for several years, even trying their luck in League One. What an embarrassment for the fans. Then along came a brilliant manager with a boatload of brilliant players. A transformation from a mediocre product to otherworldliness for the Championship. Were the owners that astute or was there something going on behind the scenes? All the fingers (well at least mine) pointed to Mendez the super agent for many talented footballers and managers. Was it his doing that catapulted the Wolves into the Premiership? Did he arrange lower pay packets for players with the premise of Premier League football the following year in order for Wolverhampton meet FFP? For me, something is smelly.
Now, if agents can have that type of persuasion on the inner working of a football team and players they represent, what can they control on any team? An example of their power (and really I have no proof of this) is David Eusted, a goalkeeper that used to play for the Vancouver Whitecaps. Eusted is a good goalie. Always seems to be one step ahead of the opposition and blessed with lightning reflexes. While having an exceptional season he got dropped never to see the six-yard box for Vancouver again. In my opinion his sin was changing agents. His former agent has several high profile team members on his list including the manager. Both agent and manager have been friends for years. Eusted's lack of play for the rest of the season seems to lie with his changing agents. Again you can't prove this but a coincidence nevertheless. It makes me wonder about Bruce's game-day player choices. Are they all his? Or is someone pulling strings in the shadows?