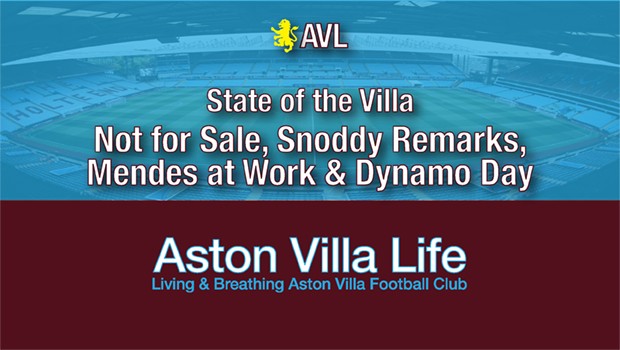 Negotiating tactic, statement of intent, or both? The big talk for Villa late in the week was that now apparently no one's for sale. We haven't heard it first hand, but if Sawiris and Edens are aiming for promotion as we've read, then hanging on to the majority of the side, and especially your two best players, makes sense.
Then, of course, there was the surprising tidbit that Villa had been under a transfer embargo. Which, in retrospect shouldn't all that surprising. Since we couldn't afford anyone anyway, doesn't seem to have done much damage. With that apparently lifted, we'll see loan deals like Ben Woodbury and even a return for Robert Snodgrass being talked about realistically now.
Not sure how I feel about Snodgrass coming back. Loved his attitude and commitment, got frustrated with him at times, but, again, it's more about Bruce's flexibility and tendency to rely on players he knows. Which is what makes supporters worried about his ability to the tap into the talent already at the club. I'll get to Elmohamady and Taylor in a moment.
Speaking of talent, as I was watching the Dresden warm-up, I was suddenly overcome by feelings of selfishness in wanting Grealish to stay. Bottom line, if he wants a move I don't blame him and I hope the club would sanction it. Naturally the sticking point is the gulf in Spurs' "valuation" versus Villa's.
Anyway, just under two weeks to go in the window, and we'll see how this plays out. Not really sure what the FFP game is, but whether it's taking the fine, keeping hold til January and seeing where we're at…There's been a rather different tenor since the takeover, and it's refreshing. I'm going to assume for now that it is indeed reality-based. Jorge Mendes' role in Wolves' success seems to have perhaps caught the attention of NSWE as evidenced by Andre Moreira. If so, I'll applaud some more creative approaches to getting players in.
Hypocritical on Villa's part? Well, there are new sheriffs in town, and I doubt they'll care.
This of course raises the sort-of-forgotten issue of how Villa proceed without Round in terms of scouting and transfer targets. Given the embargo, financial uncertainty, NSWE's sudden appearance, and the looming transfer deadline, can't say there's been much time to do anything more than run the numbers, stick with Bruce, accept financial reality, and largely go with what you've got. Which is to say, not really the time to be worrying about that side of the business. It can wait a couple of weeks. Still, will need addressing at some point.
As far as the Dynamo Dresden run-out, all the usual caveats apply. So, just some thoughts.
• For his part, Andre Green looked lively and confident. He cut a rather isolated figure when he took Albert's spot in the middle for the second half start, but then suddenly was found trailing behind the front line and curls in a lovely strike. Moments later, he finished off Hutton's great run and cross. Good return on the day, obviously. Had almost forgotten how much promise he has.
• Wingbacks. Would rather see Hutton as a wingback than one of the three in the middle. If we're playing wingbacks, I'd be looking at Hutton on the left and De Laet on the right. Hutton has speed, energy, and can sort of play in space, so he makes the back three quicker and more mobile than Elphick would. Still, iff we're doing loan deals, a CB wouldn't be a bad shout.
• Wingbacks II: Not impressed with either Elmohamady or Taylor on the day. De Laet really should be in front of both. Of course, bringing De Laet on as more of a left winger seemed a bit strange. If Hutton is going to be central, and De Laet isn't going to be on the right, it's time to start letting Bree develop. He's shown he needs time to grow into games, but he's barely played since arriving. Basically, I think Elmo and Taylor are surplus to requirements and holding back other players with more upside.
• Will we even actually play a 3-5-2 or 3-5-1-1 once the season starts? Be rather odd to spend preseason working on it if we don't, but since the players know each other so well, would be rather easy to slot back into four at the back.
• As you know well enough by now, of our current squad, I would always have Grealish, Bjarnason and Hourihane in the middle. Whelan will always give his all, and reads the game well. Just a question of pace and range. But he didn't do badly on the day. Me, I'd have run out as much of my starting XI as were available for the last preseason match, then made changes. If Whelan is slated to start ahead of either Bjarnason or Hourihane…Well, just can't agree with that.
So, a week away from the opener, and still a lot of things in play. Might well be a very familiar side we see at Hull Monday night. We'll take a look at that in more depth over the week, but right now, I'm not feeling bad about the season since NSWE took over. I'm okay with the decision to stick with Bruce in the short term, at least. But as I've pointed out, I'm hoping he doesn't continue to be overly cautious. Which, if he feels like he's under threat, he may well be.
The team seems rather obvious to me, minus a couple question marks about who ends up where. I'm guessing I'm not seeing it quite the way Bruce is. Last season showed it's crucial that Villa get off to a fast start and be in the race at the top from the outset. And with our striker shortage, I'll bet Bruce will somewhat understandably be looking to just grind out some results until he has more options up top.
Over to you.