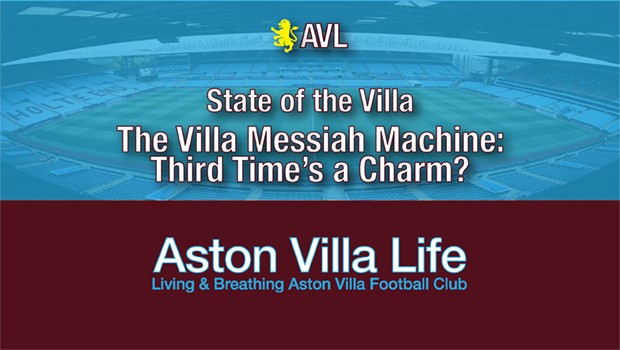 Never a dull day being as Aston Villa supporter. Unless you count match days under Alex McLeish. Just kidding, Alex. You're not alone. Most would throw Steve Bruce and Paul Lambert in there as well.
But whatever the football has been like since we flirted around with the big boys under Martin O'Neill in Lerner's early days, the off-the-field action had been truly spectacular at Villa in recent years. Starting with MON's walkout.
This summer's latest installment of Turmoil Villa Style has perhaps been the most incredible episode to date. Just when it looked to be a tragic tale of epic proportions as we discovered how helpless Messiah Tony was in taking Villa forward after his massive gamble failed, Villa get new owners in almost out of the blue.
What it all means is far from clear, of course. We know that Villa now have the cash to pay the bills, and that FFP problems still hang over the club. Beyond that? Still anyone's guess, and we're all waiting for Tuesday's likely revelations.
Nuts and Bolts: Grealish and Chester
Opinions will vary on how important it is that he stay, but obviously Jack Grealish's future has been center stage in the drama for a number of reasons: true claret-and-blue raised up in the club, once mercurial and wayward talent, and now emerging star who's grown into a man, finally, before our eyes. There's a lot of sentiment around Jack given how many quality players Villa have lost and never replaced over the last several years. Most everyone sees a potential Villa legend in him. Seeing him go because of financial mismanagement would be painful, though no one begrudges him the chance to grow and claim a place among England's elite players.
As I'd expected, Grealish and Chester have been taken off the table for the moment as the new owners no doubt bring in their own sports-finance wizards to sort through the players, contracts, and possibilities. While we don't know the exact size of the FFP hole, they surely do. Sending Ross to Sunderland would be a great first step, though cutting down his presence on the books is obviously just a small part of the solution.
They may well have have sorted through the mess already, because they've had the one thing we don't (besides lots of money): a true understanding of Villa's FFP situation. It's not that complicated in the end, it's just that the most current finances could only be speculated on by outsiders.
So right now, Villa don't need to take Levy's offer for Grealish, or Stoke's bid for Chester. It may well be inevitable that the two depart, but at least they won't be leaving just to keep the lights on and the creditors at bay.
Instead, whether they leave or not more properly will be a function of their value to Villa in the big picture. This calculation will obviously reveal the new owners' appraisal of the club's promotion chances—which is ultimately a financial decision, because that's where the money is. Do they think Villa can get back up this next season if they can somehow find a way to hang onto key players?
Or will they decide it's a fool's errand and that it's simply untenable to hold on to either player and delay a more considered and inevitable rebuild? Which is to say, Villa may well get better faster by clearing the books. Though it's always hard to think you'll get better when your two best players go just to even the books. It would be different if we got £40m for Jack and could put it all into buying half a team.
For Edens and Sawiris, Villa can afford a different way of thinking because they have the money to be a little more disciplined and patient than either Lerner or Xia. As various bits of digging have revealed, Edens has implemented a sustainable model with his NBA franchise. He's also been very focused on commercial development that complements the Buck's new arena, and if he can do that around Villa Park, it ultimately will end up improving Villa's bottom line, add something to the city and raise the club's stature and game-day experience. But that won't happen overnight.
If it's me, I'd start the math from the premise that I'd like to hold onto Jack for one more year, provided he's willing. He's a rare player who's only just realizing his potential—it's not often a Championship club has a number 10 that would've looked at home in the World Cup squad. He's obviously the kind of player you build a team around. He keeps the feel-good factor going, can put bums in seats, gives Villa genuine quality in the middle of the park, and is tailor-made for exciting football. To my mind, there's no reason Gareth Southgate shouldn't be including him in the England set-up for a few sessions to see if he can cut it at the next level. If he's good enough, he's good enough. It's blinkered thinking to believe only Premier League players can be in the squad. Plenty of teams this summer had players from all sorts of leagues looking better than England.
For his part, I think Chester is more expendable as wonderful as he's been. However, if Bruce is going to play a 3-5-2, a worthy replacement becomes rather important. I think De Laet and Bree have futures, and Hutton still has some running in him. Elphick? He's not bad, but I would worry about him playing in so much space, presumably as the anchor in the middle. But if Chester going means Jack can stay? I'd say it's harder to find another No. 10 than a solid CB.
We'll soon see. If Grealish and/or Chester go now, it will be for the right reasons, part of a reality-based plan, and I think a subsequent rebuild finally will be done the right way.
Bruce, Henry, and Terry
Rumors of John Terry returning, and perhaps even Josh Onomah (through a very thin line of speculation), are now fluttering up, but Villa don't have the leeway to take on wages at the moment. I wouldn't mind seeing Terry join the coaching staff, however.
But perhaps the most important question is whether Steve Bruce stays. To be honest, I really don't mind the idea of seeing Thierry Henry on the touchline instead of Bruce, as ludicrous as that rumor might be. The finances are one thing…They're just numbers. The real trick going forward is getting in the right man to shape the squad, someone who can do something besides throw money at the problem.
That's how we've gotten into this mess twice now. The good news is that there is no way to throw money at the problem.
So, is Bruce the man to reshape Villa without a war chest? I'll say that given the stage of preparations and the season's start just around the corner, Bruce obviously represents stability and continuity that could be vital. Especially given that Grealish and/or Chester's departures would be rather abrupt, and they've featured in Bruce's preseason so far. Which is either a good sign, wishful thinking, or a belief that you conduct business as usual until you know differently. Not sitting Jack and Chester could also be posturing for negotiations.
On the other hand, Bruce is not one we'd generally consider a developmental manager. And while we still don't know the scope of development Villa will be looking at, Bruce's seeming inability to put the parts together has been a sticking point for many. One clear example is not having Birkir Bjarnason in the side as a nailed-on starter.
I like Bruce. I like that he's stayed on through the turmoil and kept things moving. He's got plenty of money, so it's not about paying the mortgage. I do think he genuinely cares, even if he's not the most astute or progressive manager, and he's endured a lot. Him staying wouldn't be the worst thing, and he can work a good loan or two.
However, Bruce staying might not be the best thing as we've seen his tactical limitations. While Henry has very little managerial experience, he has been around Wenger, is a highly respected world-class presence, and seems poised and intelligent. You'd like to think he'd he could get the players onside and also bring good football to Villa. If Grealish were to stay, you'd also think he'd benefit as much from rubbing shoulders with Henry as he did with Terry.
But, yes, Henry might well end up being Di Matteo 2.0. Without the money. If the owners want change, there are far less risky options out there with more established pedigrees. Henry could be a masterstroke, could be a disaster.
Final Verdict
Overall I'm optimistic about the new owners. They've got money and established records of success. And of course, we had to have someone, and could likely have done much worse given the scramble. I don't know how well a three-headed leadership group is going to function, but I'm sure it's actually going to be two-headed and that Sawiris is counting on Edens' experience in sports ownership and won't be inclined to listen too much to Tony. Edens sounds a bit headstrong, so my only potential concern is him and Sawiris clashing. However, given Sawiris' money, I think he'd win out.
That reservation aside, Sawiris and Edens look to be much more promising for Villa than either Lerner or Xia. So, it's a step up at long last, and I think Villa are finally going to cease being so dysfunctional. I believe they'll instead be run like a proper professional football club for a change.
At any rate, we'll apparently be looking forward to more answers come Tuesday or Wednesday.
Over to you.