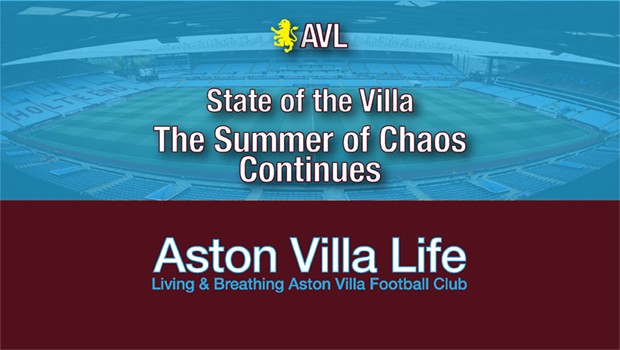 I've started I don't know how many posts over the past couple of weeks, only to spike them as 'events', such as they are, continue to 'unfold', as it were. So much and so little happening at the same time. I've actually fallen into a bit of despair, truth be told.
Now, it's not despair of the existential variety, though Villa certainly can provoke that. It's just the head-shaking, empty-handed, "I have no answers" sort of despair.
Offers made and knocked back. Tony's dealings coming into question in China. Steve Round being dismissed because of an apparently fractious relationship with Rongtian He, and, probably just as telling, there being no need for him since Villa have no money, can't play in the market, and will likely be looking for local schoolboys to make up the numbers—if and when Villa actually start preparations for next season. Right now, I'm almost finding it hard to believe that Villa still exist and are still in the second tier. Feels like we should be in League Two right about now. And perhaps we will be, ultimately.
Particularly troubling is that inaction is costing us precious time at a time when we don't really have the luxury of wasting time. Uncertainty is its own rot. And each little piece of news that leaks out only points to continued uncertainty as Xia flails around trying to come up with a way to stay in charge and keep the lights on. You'll note I'm going to stop including "Dr." in front of Xia's name, because it was a silly degree to begin with, and I'd sooner have the ship's surgeon working on me than this clown.
Uncertainty points to lack of foresight, as we've seen all too clearly. Lack of due diligence. And also a certain contempt for the supporters, who are left with no communication from the club of any meaningful sort. All we've got are a constant stream of newspaper stories, and an emerging picture of an owner who cannot yet find a way to face the fans he's let down. He doesn't have to spill secrets…But he does owe us more than what we've been given to date.
All of this uncertainty might also point to a certain degree of hubris. Or plain stubbornness. Or the simple fact that Tony is either unwilling to face the truth, or too desperate to recoup his losses to be rational.
I don't know the terms, wasn't in the room, but knocking back a £30m investment for a 30% stake…well, let's hope it's a bargaining tactic—from a man who really has no leverage. Tony obviously values the club at more than £90m, and based on what he's sunk in, I'd be hard-pressed to disagree with his slightly delusional line of thinking. But there's the potential value of the club (back in the Premier League and the TV teat), and the reality that the club is only really worth its physical assets and income minus liabilities. (That's this simple man's formula, anyway.) And the liabilities are not inconsiderable.
I was more annoyed by this story than the one about refusing to relinquish a majority stake, because I can understand Xia not wanting to leave the recovery of his sunk costs in other hands.
But I'm annoyed by both because time's wasting and this mess is purely of Xia's making, in the end. And I'm not liking this "China vs. Everyone Else" mentality I'm seeing take shape in the decision-making after our fate was sealed. I see no evidence of football knowledge in the current 'management' team, and no real credentials other than being Chinese and trusted by Xia.
This sort of insularity can be fatal. And it cannot be appealing to those outside the club. I would not want to come manage Villa's high expectations, crushing financial pressures, and threadbare squad under the thumb of henchmen who know nothing about the game. Maybe He is the 'superfan' the Mail have made him out to be, and maybe he knows enough to actually do something good for the club. But as the heads roll around him, I'm finding it hard to believe Steve Bruce would be interested in continuing on. Which isn't to say anything about Bruce as a manager, because I don't really care since he's the only piece of stability at the club right now.
The only encouragement I can take is that apparently there are people interested in putting in some money. But Xia had better get this right and not overplay his hand, again. With investment, we could hold on to enough players for a miracle shot at promotion. But he needs to get the money in now, and let Bruce or whoever else will be in charge get on with it. He also needs to realize that it wasn't some foreign cabal that let him down and put him in this mess. It was his own recklessness and ignorance.
I really wish he'd just find a buyer and be gone altogether. No amount of tweeting and PR stunts are going to restore the supporters' respect for him now. Never mind the fact that he's demonstrating just how out of his depth he really is. In the meantime, it's just about holding our noses and hoping he can pull something out of the hat.
•••••••••
On a more positive note, I want to hail England's victory over Colombia. While still looking a bit unsure of themselves at times, the Lions' youthful confidence also shone through in various passages of the game, and when it was all over we saw that there were reserves of mental strength and self-belief at the critical time of asking. They did indeed bend, but they didn't break. And when it looked like Colombia were on the ascendancy leading into extra time, England found a way to hold fast, not fall behind, and finish on the front foot.
No one ever wanted it to go to penalties, but now that the squad have passed the test and exorcised England's biggest demon, I feel it's the best thing that could've happened. It was the first real test they've faced in the tournament, and they stared down England's woeful legacy and just won.
They'll have learned a lot. I don't know whether they can pull off a miracle in Moscow, but there's not a whole lot left standing in their way. Stranger things have happened.
Over to you.