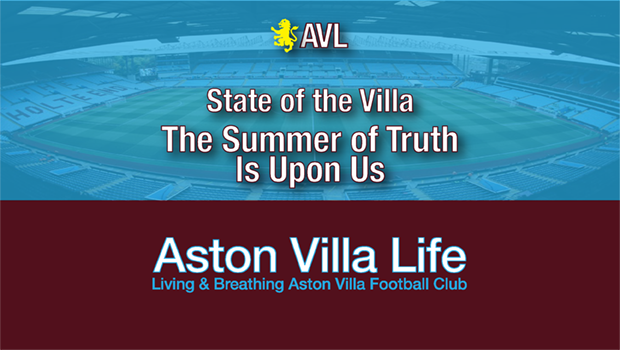 As the epically catastrophic playoff final slowly recedes in the review mirror, the consequences of that result are growing larger every day. I'd used the banner up above before, didn't think I'd need it again. Not so soon, anyway. Shows what I know.
I can't pretend to keep up. I've been reading, always overtaken by a new headline. We'd heard rumblings and questions all along about Tony Xia's money, or lack thereof. But when it was being splashed about it seemed real enough. As did the ambition.
Now we've got cashflow problems. Loans to pay the taxes, loans to likely pay all the other bills. Millions of pounds to be cut. A manager who might be about to part ways on his accord. A CEO  accused of skullduggery who already has, and is now turning around to sue the club.
And in the middle of it all, two statements. Well, a statement and tweet. Heartbroken and working on getting a plan together. Tough road, tough decisions. It's a business. There must be change.
That's lovely. But I like to say I call it like I see it, and what I'm seeing right now is an absolute s**t show.
On Wyness
We've had Wyness and Xia apparently at odds for some time over the finances, and it seems all has not been rosy behind the scenes.  But if there were disagreements about the scale or likelihood of the financial fiasco we see unfolding, then I can see Wyness in two lights.
One, perhaps self-serving, underhanded and two-faced. Which does not seem to comport with the reputation he's built up.
The other, someone trying to do the responsible thing. I mean, looking at this unfold, who in their right mind wouldn't be talking to financial experts and potential investors or buyers? Tony Xia himself seems now to be courting investment, but rather belatedly, and does not seem to have the means at his disposal to clean up the mess without outside help. That can't be news to anyone. Not Xia, and not Wyness.
So, I suppose talking to outsiders without Xia's consent would always have been a problem. But then again, someone should've been talking to them a long while back.
I'm much more focused on the constructive dismissal suit. Is Wyness playing for revenge? To save his reputation? And if he does have a case, that case would be that he was right all along and acting in Villa's best interests. But even so, the suit seems to be a cold dagger for the club, even if intended for Xia. What all that means is that I have no idea whether Wyness will turn out to be a villain or a Villan in this tale. The truth will out, but even if Wyness was trying to save the club, bringing suit now seems a damn funny way to show it.
On Xia
Likewise, Xia. He seems to have had his head in the sand. Or, perhaps it's more apt to picture him at a roulette table with everything he has—savings, loans against the mortgage, and whatever else he could scrape together—all riding on red, paralyzed and fixated on the spinning ball. Which of course came up black. There didn't seem to be much else planned other than to collect his things and get out of Dodge.
There have been some folks cautioning us all along, but optimism tends to drown out the skeptics whether they're right or wrong. After all the arguments we've had over him, Bruce has suddenly become almost an afterthought. Though we'll quickly turn back to talking about his role in this whole mess once we find the floor, wherever that is. But those worrying about Tony's money, what sort of plans were in place, had Villa spent recklessly and foolishly…well, they were right.
And now Villa really are at a crossroads. The club will survive. But after two almost identically foolish owners, the club must have someone in charge with at least some understanding of players and money and managers. Someone with more than a passing interest in the game. Or enough money to underwrite the long learning curve of the naive.
Am I calling on Xia to sell? Well, it's the old sack-the-manager/who-you-gonna-replace-him-with argument. Xia clearly has shown that his ambition, ego, or simple lack of sense have had a lot, if not everything to do with the current nightmare. It couldn't have happened without him, and it should never have reached this point.
I have to admit, I'm having a hard time forgiving him for being such an idiot, even as I earlier cheered him on and thought he just might be brassy enough to get the job done.
Can he clean it up? Can he get the money in and learn from his mistakes?
Or is there someone out there who actually does get it?
I don't know. What I do know is Xia is right about one thing, and it's that a drastic overhaul is not only in order, but inevitable. Right now, it's massive and immediate damage control. Keeping the lights on, paying the bills. We've got our Skype summit today, which presumably will tell us whether Bruce will be in charge going forward. Then we've got crucial transfer business, virtually all one-way, and an entire team to rebuild around the scraps in just a couple of months. Whoever we manage/decide to hang onto, it's hard to overstate the importance that Villa get it right.
And if I thought it made any difference, I'd call on the players earning big wages to find a bit of honor and make themselves as easy as possible to find new homes for. I get the business, I get contracts, I get a deal being a deal. I get the good life. And I get that some are probably even laughing to themselves if they thought they weren't treated fairly. Still…I wouldn't feel very good about myself taking big wages while the club is floundering unless I was going to be integral to making the salary worth every penny and  dedicated to proving wrong those I might blame for my predicament.
We'll soon see something about their character. And that of whoever our manager is going forward. You talk about another big decision. I'd not really thought another relegation would be a possibility if we didn't beat Fulham. It now seems entirely possible.
Message for You, Dear Doctor
For now, all I can say is, Dr. Tony Xia: Pull your head out. Get this sorted and sorted quick. You screwed this up because you did not actually have a Plan B. It was, apparently, double down, all or nothing.
I don't know what's best for the club at the moment. But I ask you, Dr. Xia, to be honest with yourself and honest with the supporters. You cannot dally. You need to come out acting as decisively as you can at each juncture if you're to remain in charge. You have to produce. And if you can't do that, you have to admit you're not the man to clean up after yourself. Others have made mistakes to be sure. But the buck always stops at the top. You did not have a Plan B. And that's about as close to unforgivable as it gets. You bankrolled, sanctioned, delegated, saw it all piling up. And did not have a contingency.
So sort yourself out, Tony. And do it fast. For club you claim to love and the supporters you always applaud. Take your embarrassment and comeuppance like a man, get realistic, and show some character yourself. Walk if you need to.
But whatever you do, don't keep leveraging the club. You've done enough of that already, and you can see where it's gotten Villa. If you can look yourself in the mirror and know you've learned what you needed to know and can turn this around without years in the wilderness, then go ahead and fight like a lion and fix it. You'll be forgiven. Winners always are. But if you can't, then find someone else who can at least bail us out without digging the hole any deeper.
Over to you.