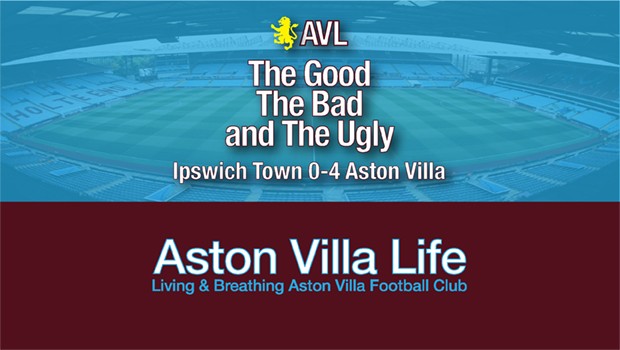 Once again, Villa found themselves playing against 10, and this time it was Ipswich who were dispatched with ease as Villa cruised to a 4-0 victory. The scoreline actually flattered the home side, in the end.
The Good
Lewis Grabban notching two, of course, and then Conor Hourihane and Henri Lansbury pitching in with two more. Been a little bit since we've scored more than one, and when Villa are at their best, goals tend to come from all over. Albert Adomah and Robert Snodgrass getting a rest and Villa still finding plenty of ways to exert pressure and ask questions. Jedinak having another good day at the back.
Special mention goes to Josh Onomah, who probably had his best outing in a Villa shirt. While still managing to look a bit languid at times, he nevertheless was defending well, tracking back, winning the ball, providing strength, athleticism and forward impetus, and made more than one telling pass. You can see the potential in him. Which is why you can also understand that, much like Jack Grealish in previous years, he can be all the more maddening for not playing to that level more consistently. You understand Spurs wanting him to go on loan and find himself. You understand Spurs not having room for him otherwise. He's divided opinion, and I'd written him off, but if he has more of that in him, then I wonder if Villa wouldn't be making a bid for his services if we get back up. Kudos to Bruce for persisting with him.
Likewise, it may have been Grabban's best all-round day. He's scored before, obviously, but he looked at ease all over the pitch and seemed to click with the side throughout the afternoon. He did a lot of work, wanted to score, kept himself from getting frustrated and could well have come away with a hat trick. I think it's fair to say he's cemented himself as the starting striker down the stretch.
The Bad
I suppose I'd point to Villa's start. Although we were away, I was thinking "this is a bit of a shambles" until we started getting a foothold midway through the first. The breakthrough had started to feel like it was coming, but up until then, we obviously hadn't asserted ourselves as much as we might've liked to, and were lucky not to be down a goal.
The Ugly
Well, the tackle on Neil Taylor gets to be in this spot, but maybe moreso the boos from the Ipswich fans for Taylor following Grant Ward's ludicrous challenge and dismissal. Dunno what they thought they saw, but I'm sure that after watching some highlights they'll feel rather sheepish. Could easily have resulted in a broken leg.
Final Verdict
Steve Bruce took a small gamble on the day and it paid off. Resting both wingers, Villa came into the match with the both the short and long term in mind. Even though Albert and Snoddy didn't start, Bruce persisted with Birkir Bjarnason, Hourihane, and Grealish in midfield, along with Grabban up top. So, there was some rotation, effectively a change in formation due to the personnel and assignments, and also consistency. Villa got the three points they should've been planning on, keeping automatic promotion in play.
Whereas Bruce has seemingly struggled with choice throughout the season, he might have finally dialed it in, somewhat. As noted, he's gone back to trying to get Onomah contributing, and it might be paying off. He edged Grabban past Hogan and that looks to be paying off, too, as Grabban has settled into the side.
Of course, the Blues were struggling coming into the match, and once they lost Ward, they pretty much retreated. So, it's difficult to judge, but as I've said before, breaking down a team that's packing it in a man down obviously can be difficult. Three goals in that situation isn't a bad return at all, and Villa should have had more. If I were a home fan, I'd have bemoaned how much space Villa were allowed. At the same time, we were ticking it over nicely, making the Tractor Boys run a lot, and snuffing out potential counters. We stayed on the front foot, kept looking for more goals, and as a result kept Ipswich pinned back.
So, given the circumstances, probably as good an outing as we could've asked for. Goals from striker and midfield, Bjarnason and Onomah employed to good effect, and a rather quiet day for Sam Johnstone.
Coming up, both Derby and Millwall stumbled, which is only going to make next week's match more difficult given Derby fell to seventh (though with a game in hand). They'll be desperate for a win with four teams no more than two points behind. However, could also be the case that away from home and with a game in hand they'll be willing to take a draw depending on how the game plays out.
Since the final two games may well be playoff previews, it's vital that Villa establish a mental edge. Normally we might say "we're in, these games don't matter," but this is a funny situation in that they probably do matter. Maybe it's Boro and Preston in the end rather than these two, but both Derby and Millwall will be playing as though they are playoff games, and we need to show the bottle and intensity to get in their heads prior to a re-match with everything to play for.
As to how Bruce approaches the games, we'll see. I don't envy him the decisions he'll be making. I'd basically feel like the playoffs have started. He may be willing to hold something back.
For supporters, we've largely been content for a while to accept that the playoffs were the inevitable path. But now that we're about to set off down that path, we've got to show some killer instinct—whoever takes the pitch over the next two weeks.
Over to you.