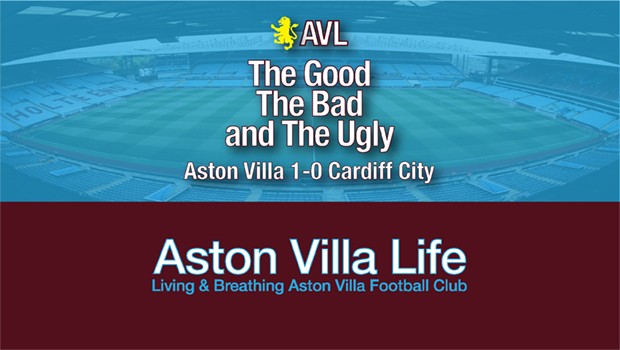 It was scrappy. It was lucky (maybe). It was vital. Aston Villa hosted Cardiff City Tuesday night in front of Prince William, and a Jack Grealish wonder goal saw Villa take home all three points. Oh, and John Carew was there, too.
The Good
Villa showed fight. It was a scrappy game, and with Birkir Bjarnason sidelined following an injury during warm-ups, and John Terry a scratch from the knock he picked up in the loss to Norwich, things didn't look good. I mean, come on. We beat the second-placed team with Glenn Whelan starting and Mile Jedinak deputizing for Terry? Turns out we did.
A thing of beauty it was not. But it didn't have to be as long as we found a way to win. Sam Johnstone was immense and single-handedly gave Villa a chance to win.
And not because Cardiff were overwhelming, by any means. But they did have chances they should've buried, and Johnstone was there every time, barring the opportunity Elmohamady cleared off the line. Glenn Whelan almost scored, too. Fortunately, he didn't.
Then there's Grealish, who cooly takes a volley from the edge of the box, and sends it slicing in off the far post for the match-winner on 85 minutes. Quite simply a moment of magic. At times I've heard people complain that he's being greedy when he shoots, but really he's anything but. I've been frustrated that he passes up so many shots. So all I can say is keep on firing, Jack.
Lewis Grabban showed some good all-round energy, and James Chester had at least one absolutely perfect, crunching tackle he had to get just right. Also nice to see that Christopher Samba is still among the living, and that we had a CB and FB on the bench.
Johnathan Kodjia looked a bit more himself on a couple of occasions, and Grabban's nifty move to put himself in was class.
Nathaniel Mendez-Laing found the post instead of the back of the net.
Upward of 32,000 in attendance wasn't too bad a showing, either.
The Bad
When you're raving about your keeper, you know you could and maybe should have lost. However, I don't know that Villa's win was unfair on Cardiff. Sometimes a great save is also a save a good keeper should make. He's there for a reason.
Then there was the fact that Grabban missed a great opportunity early on, another header he'd have wished he at least put on target, and Conor Hourihane poked wide when he looked certain to score. It was a lovely pass from Grabban that put him in.
So, despite some slack defending, a couple of good breaks, and more than a couple outstanding saves…The Bad? I can live with it.
James Bree had a couple dodgy moments, but how could he not having played so little? Glenn Whelan was Glenn Whelan. Jedinak did better playing CB than in his other outings there. Should've put that one up in The Good.
The Ugly
Maybe the game overall, but then again, both teams were were fully in the mix.
Final Verdict
You can't say much more than a win's a win. As I posted after the game, only Villa could lose to QPR and Norwich in between beating Wolves and Cardiff. Never mind not scoring against Bolton and Hull.
What it seems like to me is that Villa are better as underdogs, and that they tend to wilt as favorites. And although we can fairly say Villa rode their luck, it's also the case that Villa were the team mainly on the front foot. Down the stretch, it seemed more likely that Villa would break the deadlock—Villa had 60% of the possession and completed 113 more passes than the Bluebirds, according to the OS.
Does it mean much? Yes, of course, because we may well have secured a playoff spot—I can't be bothered to do the math at this hour. And truth be told, based on what I saw tonight, I'd probably rather face Cardiff than Fulham in the playoffs. Which means we'd certainly lose a re-match. But with Fulham sliding into second and Cardiff wobbling, well…
Mainly, though, I'm glad to see there was fight and that Villa didn't shrink away from physicality. They didn't get pushed around, they didn't cave.
Next up are Leeds, who've lost three of five, then Ipswich, who've also lost three of five. Villa really could do themselves a world of good winning both those fixtures before facing Derby and Millwall in what might well be playoff previews.
And while Fulham and Millwall have been on phenomenal runs, it's also the case that all good things do eventually come to an end. Paradoxically, we might be facing Millwall, at least, at the right time. Though I wouldn't mind them turning over the Cottagers on the 21st before they come down to earth.
Anyway, it's three points, still in the hunt, and another reversal from the earlier encounter.
Over to you.