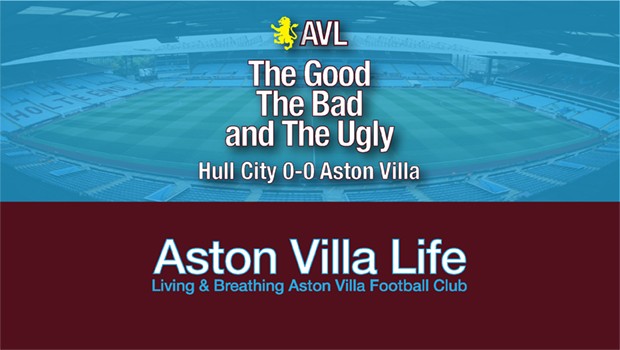 That run-in thing didn't get off to such a great start Saturday night, with Villa traveling to Hull and coming away with a perhaps fortunate point following a desultory 0-0 draw with the Tigers.
The Good
I couldn't really see much to be honest. In fact, I'm not quite sure what I saw. To be fair though, through the first half Villa were the better team, but just didn't come away with anything. At the time, Adomah's miss seemed at least to indicate that we would inevitably score. In retrospect, it could've been the difference in the game.
The Bad
This one reminded me of the opening fixture of the campaign. A great first half, a totally different second. Villa on top, Villa on their heels.
Now this time, I wouldn't call it a great first half for us, but we were comfortable at least, Hull offered no threat, and it felt a win was a likely result.
However, as we've seen many times this season, Villa can have the tables turned on them if they don't capitalize on early opportunities. Hull came out and bossed the second period. Villa were overrun in midfield. There was less attacking impetus from our fullbacks than from Hull's.
And of course, team selection. I can't see playing Jedi after international duty, for example. And expecting things to click with him and Lansbury and Grealish is a bit of a reach, given how little they've played together as a unit.
Along with selection of the starting XI, the substitutes were lacking. When Bruce talked about bringing on more forwards and things getting worse…Well, I think we all could've told him that as we watched.
The Ugly
The failure to establish any positive momentum. It was a point, granted, but that was a very limp response, and certainly no declaration of intent.
Final Verdict
Not a got way to start the run-in, obviously, and not Villa's best side or performance. We all certainly see that once again, Villa did not come back from a break looking anything but tired and jaded. We couldn't match Hull's intensity, and had to hang on to get a draw.
When it comes to the starting XI, I get that with five games in two weeks, you're going to want to keep things fresh. I also get that after some poor results, you might think we need to change things round.
But there should be some method to it. Go with your best team to start, which Bruce seems to have forgotten was the one with the long winning streak, if you want to try and get back on track. That's what's clicked best, regardless of the strengths of the individual personnel. They complement each other. Maybe Bruce thought we'd have to much for Hull regardless of who he started.
If you're worried about legs, you bring on the Lansburys, etc., as subs, and keep some of the starters to 60 minutes. The key is to say: let's get at them, play a very intense first 45, get the goal, and then we'll see. I know that getting Henri and others some minutes could be helpful down the stretch, but it wasn't helpful on the day apart from Lansbury's great goal-saving intervention.
And it's not like Jack and Snoddy aren't going to be starting each of these games, and they both expend a lot of energy. Albert, too.
If you do rotate and things aren't going well, maybe think about changing things up sooner and not just by throwing forwards at the wall to see which one will stick. If the change was Davis, to really alter our style, I'd have been okay with that.
So, I'd mentioned that Bruce needed to keep the plot, and he seems to have lost it. We've gone round and round, but I think there's a tendency for Bruce to outsmart himself. We don't know what would've happened had Jack and Albert not gotten hurt, but it's hard to believe you need to look much further than the side that was on such a good run.
Reading tomorrow, obviously, and I'll be looking to see if Bruce picks his best side. If he does, and things don't come off, I'd probably start them again the next time. Point being, we've already found our best side. You have to believe in them, you have to get them back in the groove, and you have to stop equivocating now that it's crunch time. Which means time's up, basically.
Over to you.