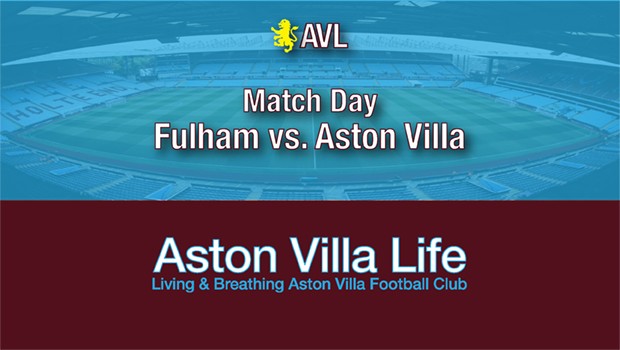 As luck would have it, Villa's aim for eight straight features us away to the Cottagers and potentially missing two of our brightest lights. I don't know why, but when things are going well, it sort of always seems that someone important gets injured.
Which isn't to say that Villa can't win without Jack Grealish and/or Albert Adomah. It will just be harder. Given that it's an away game against a promotion rival in good form, it might well be the case that even with a healthy squad Steve Bruce might've seen this match primarily as one not to lose.
Which isn't to say we'd have been any different in terms of attacking potential. Just that we might have been a tad more cautious, soaking up Fulham's enthusiasm, and then trying to get to grips with things after taking the crowd out and gaining some traction.
When I look at us with two key players out and sitting one above Derby and Cardiff and seven above Fulham, there's no reason not to just keep Fulham at bay and see what happens with the other two.
If they both win, we're in fourth and two points down, most likely, with plenty of games to go.
Moving along. I should know, but don't, what Andre Green's real status is. He's obviously first in line to replace Adomah if he's fit enough, and has put in minutes with the U23s.
If he's not ready to go at this level, I can see Bruce putting Bjarnason in his place. Just came to me. But maybe Green does have 60-70mins in him. Or Onomah goes wide left. Who knows. Bruce is cagey, and even if Green is physically okay to play a while, I just don't know if today is the day to have him start again. Then again, they're all important games from here on in.
With Grealish it gets a bit harder. We don't have anyone else like him, and without him, the way we play can only change.
So, to sum up: A) Everyone's fine. B) We see some changes. C) Maybe we lose, maybe we win, maybe we draw and just take home a point.
I don't really have any predictions as far as what Bruce will do. For me, the questions are obvious: Who is going to be the extra motor in midfield if Hourihane fills Jack's spot, Jedi comes in, and Bjarnason goes out wide if Green isn't ready? And does Grabban have any role to play other than filling in for Hogan? (Short answer: No.)
Me, I don't see Bruce putting in Davis or any other striker along with Hogan to start away against Fulham. He's not going to play 4-4-2 on the road with stars out. (So obviously he will.)
Kidding aside, my swipe at it (on paper) would be:
Hogan
Green Hourihane Snodgrass
Bjarnason Onomah
Hutton Terry Chester Elmohamady
Like I said, I suppose Onomah could be out left, with Bjarnason more central alongside Mile Jedinak. Likely would be safer, but Hutton would probably have his hands full with Onomah in front of him. If Bjarnason is wide left, then I'm thinking Bruce is going to have Birkir play defense first.
At any rate, we'll soon find out. If we lose, it will be a shame, because I actually don't think we'd lose with Adomah and Grealish in the mix. As it stands now before kickoff, I'd take a draw, even if it means we drop. The point could be huge in the long run, and it fits Bruce's thinking. Naturally the win would be better, and we could conjure it up. But tomorrow feels more like a damage-control exercise to me.
Over to you.