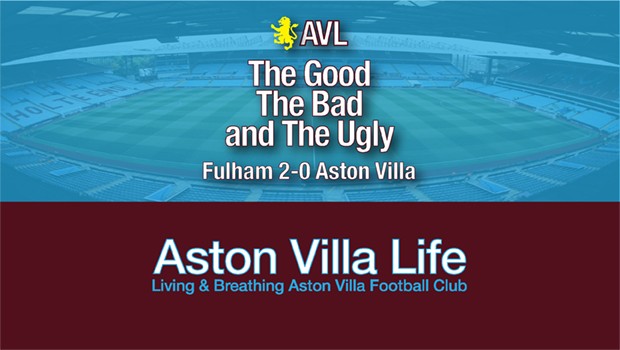 All good things must come to an end, and Villa's grand run of seven and counting was no different today. Fulham were full value for their 2-0 win, pulled within four of Villa, and dropped us to third.
The Good
Not much beyond Tuanzebe. Looks a very good young player. Shame we won't be able to keep him. Bjarnason provided energy up the middle in the first half, getting very far forward to add a little dimension, and there were a couple decent half-chances and positions.
The Bad
Pretty much all the rest. Disjointed and well outplayed by the end. Villa were game enough early on, and while Fulham were getting at us, we looked reasonably comfortable, and got our couple of chances on the counter. Looked a set-up that could get a point. But there was just too much energy and quality from a very confident opponent fully on song to stand up to for 90 minutes, especially with no threat at the other end of the park. The wheels just came off in the second half.
Basically, Villa couldn't hold the ball, Fulham couldn't lose it. They played quick, clean and very well-drilled football. Lots of movement and sharp passing, good control, more than enough speed and strength.
Villa, on the other hand, just couldn't get it together. Fulham's aggressiveness had something to do with that, but players just couldn't connect, couldn't hold the ball, couldn't carry it, kept getting caught in possession. Ambitious passes were anticipated and cut out. Service was poor to non-existent. In short, not enough quality to avoid turning it right back over and consequently never getting settled.
We won't necessarily be thrilled with Fulham's first, but you have to admit it was coming sooner or later. Jedi was a step off the pace. Hourihane was in the right places often enough, but hesitant, getting caught in position and not picking the pass well. Onomah injected a little athleticism and impetus when he came on, but was also a bit on-and-off, and didn't produce anything in the end. But he did try to carry it forward. Grabben got around a half-hour by the final whistle and didn't contribute anything. Hogan never really saw the ball after the first half. Snodgrass was switched to the left to start, bottled up there and also on the right when he was sent back to his preferred side later, and had a very forgettable game.
The defense eventually got pulled all over the place since we kept turning it over, and Fulham are unlucky they didn't score more. Johnstone made a couple of good stops late to deny them a third. But that was only a consolation due to…
The Ugly
At 1-0 down, Johnstone takes a free kick between the box and his right touchline. Everyone's fairly far up. He sends a perfect pass to Ayite in the middle of the park. In acres of space, Ayite realizes what's on, and calmly lofts the ball into the empty goal. Game over.
Final Verdict
This is what we look like without Jack Grealish. Adomah's obviously a big miss, too, as is the understanding the players are developing up front. And with half our dynamic front four gone, including our best and most important player, we always knew it was going to be difficult. The side lacked direction, which is what I was afraid was going to happen. The timing was off, hesitation was rampant, and the resulting passing was poor.
Granted, a lengthy spell away would allow other combinations to take root, but the fact is that we don't have another player like Jack. Absent him, there was no one to carry it, beat a man, pull defenders around, earn a foul, or have the ball stick for a moment, particularly in the middle. We'd eventually have to go back to the Keinan Davis set-up if we didn't have Grealish. Compounding Grealish's absence, there was no Adomah to offer a second wide threat. Elmohamady was tasked with doing the job earlier, which has to be why Snodgrass was on the left, but had to leave, and was replaced by Josh Onomah.
Onomah had the biggest impact of the three subs, but it wasn't telling by any means. The following changes didn't add any cohesion. Davis was only on for a few minutes, and looked as rusty as you'd expect. Might've been a route we should've gone down before bringing Grabban on, though, as he would've needed some time to get into the flow and find his feet. His presence did give us a little something to aim at, but after that, he couldn't do anything with the ball. And Grabban barely saw the ball for his part. Our options for changing it up to get back in it just left us more exposed, meaning there was never really any way we were going to claw back a point. It looked much more likely that the Cottagers were going to score again.
I'm going to leave it there—not wholly unexpected by any means. Main thing is how long Grealish and Adomah are out. I do fear a bit of a slide if Grealish doesn't return soon. No indications that he won't, but we've got to have him down the stretch. Simple as.
Over to you.