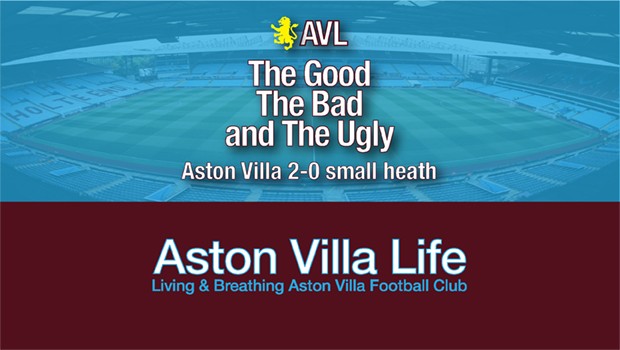 It's a bit dizzying being up so high in the table. For a day or two, at least. But there we were in second when Aston Villa came up aces in the Second City Derby with second-half goals from Albert Adomah and Conor Hourihane powering the home side to a 2-0 win. Oh, and it also marked seven wins in a row for those following along at home.
The Good
The winning and the points are obvious. Fantastic day with a large crowd in full voice, and plenty to cheer about for the home fans. Adomah continuing to score, Hourihane also finding goal again with a cracker. Jack Grealish continuing to shine and even making a tackle or two. Mile Jedinak adding height and strength at the back, making the swap-out with Bjarnason look clever.
Beating blues? Well…that's always better than good.
The Bad
It might all have gone differently had John Terry's slip-up ended up allowing blues to go ahead. But there was the small matter of the post to beat, and the post held firm, so it didn't matter.
But really, that's not bad. It happens. Just something to fill in the space.
The Ugly
Well, blues for a start. And the way they play football.
Final Verdict
You always know you're going to get kicked around playing small heath, and they didn't disappoint. But it didn't matter in the end because Villa just had too much quality (and no one got hurt). And that really was the bottom line. Villa looked and played like the better team because they were.
Goals from everywhere continue to support the fantastic run. Whereas loads of fans were not overly impressed with Hourihane's outing, at least in the first half, he pops up with a lovely strike to seal the game in the second. For his part, Albert Adomah just keeps ticking along, almost casually converting opportunities at the most opportune times. While Grealish is grabbing all the headlines of late, Adomah's been vital all year in keeping Villa in the hunt. Hogan was unlucky not to get one himself, but he never stopped working and finally seems to be enjoying his football.
Jack Grealish was everywhere, running the game, playing hard at both ends, and continuing to impress. Playing a bit deeper, he's invaluable moving us forward through the middle, opening up space on the flanks, and keeping us from playing hoof ball. Up front, he provides movement and guile. Occasionally tries to do too much, but is adding that touch of magic Villa have been lacking for years. He's starting to show the total commitment Delph had, but with more quality on the ball.
Mile Jedinak stepped back in to boost Villa's ruggedness, and delivered a great performance that reminds what he has to offer. He's obviously a different kind of player than Bjarnason, but horses for courses. And it's lovely to have that option, solid professionals who accept their roles.
James Chester was his usual, calm and assured self, and it's easy to almost forget he's there because he's so dependable and does all the right things without seemingly trying. John Terry continues to be the wily veteran, and showed plenty of fight and commitment. His reaction at the end was great to see. This actually means something to him.
What's really great to see is that there seems to be genuine camaraderie and fight. Players are playing for each other, as well as Steve Bruce. If I had to point to anything big-picture that I've seen change over the last few weeks it's that. We're chasing and pressing, keeping it up for 90 minutes, more or less, and players aren't left in isolation. We're seeing anticipation with little backheels and the like. Scoring feels almost inevitable…Just a question of who's going to do it.
Of course the run will come to an end. They always do. But as we play through the final third of the campaign, Villa are now right up in it, and seem to have enough to go the distance. At the same time, it's a mark of how precarious things can be that a seven-game win streak hasn't really separated us much from those up around us. But it has gotten us up there. So, while while the inevitable bad day lies ahead, the question is how quickly Villa rebound. And let's hope it's not a six-point slip-up.
Right now, beating the lesser sides and drawing with those around us might well see us through. All depends on results around us. And if I were a betting man, I'd be thinking that's how Steve Bruce sees it, too. Not that we don't want to take down the Cottagers, and just keep on winning after that. But as we've been talking run-ins, we'll just see how it shapes up. They could all end up being must-wins. Never know. But I don't mind the idea of chasing Wolves. I do think looking forward is better than looking over your shoulder.
Over to you.