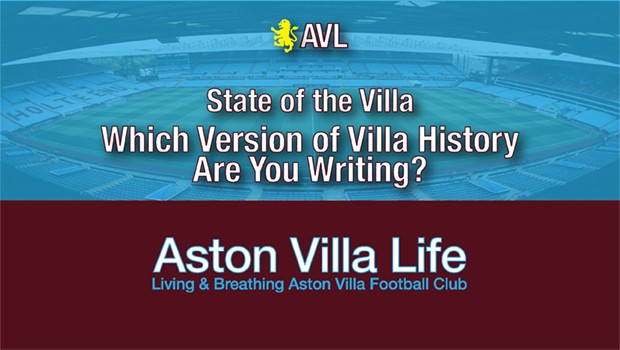 Every sport has them: armchair quarterbacks, or more to our concerns, armchair managers. These fans have been around since the inception of league football. Amazingly, they have always been spot on with their take on "the game." Of course they have!
Dissection has always been 100% accurate, whereas preparation for a game has always been fraught with decisions leading up to kick off.
This is where history comes up. History isn't just a recording of the past. It's coloured by the person who writes it down. For example, Villa won the FA cup in 1957 beating Manchester United 2-1. So, whose history is correct? Villa, who had a brace from McParland or Manchester who only managed 1 goal from Taylor? Emotion aside, Villa won 2-1 but was MU robbed or was Villa brilliant? Now, I couldn't tell you as I was six at the time and other than remembering my father's jubilation I didn't really care. You get the picture—in Manchester the feeling was a downer.
The FA cup in 1957 was almost 61 years ago. How much does this history affect Aston Villa today? Most fans weren't born until after the fact. So I would say zero. It's now a footnote in Villa's history. Now jump ahead to the European Championship in 1982. Peter Withe and Nigel Spink were the men that propelled Villa over Bayern Munich 1-0. And again, depending who you talk to, you were either robbed or were brilliant. And also, again, 36 years later what does it do for Villa in 2018? Apart from the banner at Villa Park the answer is nothing. Another footnote.
McLeish? Lambert? Sherwood? Garde? Di Matteo? Not much of an affect today. Lerner? The architect of Villa's demotion is fading fast.
The advent of the internet gave birth to blogs of all descriptions (football is definitely one of them), and, to quote an AVL member, the emergence of keyboard warriors. If it weren't for the fan who loves to tear apart the last game there really wouldn't be any need for the blog.
Blogs exist to create friction between bloggers, to create groups with similar thoughts on the team. To jump up and scream, vent, and praise anyone who will listen and better yet, anyone who will react. If it didn't and it was just pats on the back and a "well done old man" or "next time old boy," it would die a slow death as it would be boring.
Which brings me to the point: How far back does one have to go before recent history is forgotten? Or how far back do you have to go to forget about a pivotal point in a game? Not far. For example, a defensive blunder that creates an opposition goal in a 6-1 win is really a non-starter, but that same blunder that puts the team 7th at season's end will last until…the start of the next season. It will have become a footnote.
Dissecting Steve Bruce can be a fun pastime. Either slating him or hailing him as a genius creates discussion, banter, and some thinking about opposing points of view. All of this is fodder for our blog. But in the end, it's all moot, it's all history, soon to be dusty and forgotten. Villa sit in fourth (as this is written—either because of Steve Bruce or in spite of him.
We can only look at his history at Villa and only from the start of this season. Or the last four games, depending of your point of view. The rest is history. Some of it brilliant, some not so much and fading fast. It is what it is. Nothing behind us can change the future.