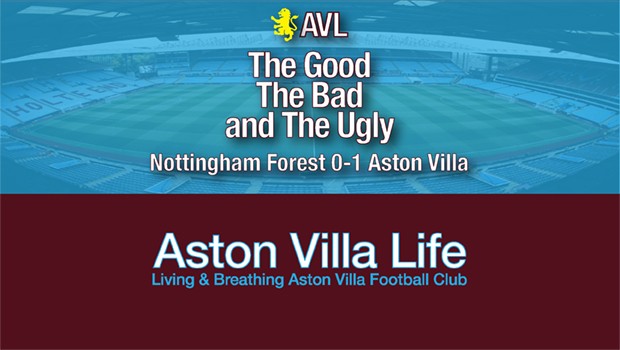 Villa got back to winning ways at the City Ground yesterday, riding a Scott Hogan goal through to the finish line and a 1-0 win over our European Cup-winning companions. They're all important wins, but it was good to see the A team put things right after the cup exit, and continue on in the vein of the Boro and Bristol matches in the league prior to that.
The Good
Professional, workmanlike win that, for the most part, felt comfortable enough. Scott Hogan scored a true poacher's goal to bag his second in two, which is nothing but good but everyone. Really pleasing to see him get going, and I'm sure he's feeling a lot better about himself. One is nice, but to go out and score again, that's what a striker feeds off—the idea that given a chance, he will score, and that chances will come.
Grealish is looking a real footballer more and more each week. Snodgrass keeps doing something important, assisting Hogan's goal, providing the cross for Terry's opportunity, and always looking to drive into the box. Adomah kept Villa threatening down both flanks, and continues to be clever with the ball and his pace, likewise driving toward goal. Bjarnason was much more useful anchoring the midfield than Whelan, even if he's doing the shop-window bit. There's always been a decent player in there, and I don't think he's really had an opportunity to play to his strengths and find his feet at Villa. Certainly doesn't hurt him being slotted into a side that's much more settled.
Chester, apart from one miscue, had an excellent game, and Terry looked more like himself. Shame he didn't sneak that header under the crossbar. Sam Johnstone had only one meaningful save to make, and it was a tricky one, so well done.
The Bad
I can't really see anything bad in the game other than starting Whelan. I just won't be convinced he's not over the hill. To be fair to Bruce, though, Bjarnason turned out to be a more-than-worthy replacement.
We probably should've had three at least, in the end: Terry hit the woodwork, and Hogan was clear through with the goal at his mercy only to send it straight at the keeper. And Adomah, if found just a bit quicker would've had one. I think if it had finished 3-0, we'd be talking about the game a bit differently. Jack wasn't far off on his trademark, cut-in curling attempt, and Snodgrass almost snuck in a well-taken free kick at the near post. I'd like to see Jack shooting a bit more.
This isn't really a bad thing, but I'm still a bit perplexed about the fullbacks. Hutton has been playing well, had an important tackle in the box he had to get just right, but I think the fluidity going forward is better when Taylor's in there. Could be a case of match-ups, never know, but I'm not sure Hutton is that much better a defender than Taylor, and Taylor is better with the ball. We keep seeing good things from De Laet when he does get a chance. But when you're winning and keeping a clean sheet, there's not a lot to argue with.
The Ugly
Once again, nothing to point to.
Final Verdict
Three wins in a row, and up into fourth. You have to like that. Higher pressing and decent organization, have to like that, too. We're generally not easy for teams to get behind, and that's a good foundation. Of course, we've done much better against teams that lack the ability to really make you pay in the final third…But you'd expect that, if you're any good at all, and that's a big component of the final standings, in the end: Those who can score and those who can't. But you do have to at least split the six-pointers at the top, and probably come off a bit better than that.
Always said I'm a results guy. So when we're getting results, and they don't look like smash-and-grabs, I'm all for it. Don't mind the odd lucky win, of course, you need those. You just want to be consistently not needing a miracle against the run of play if you're going to stay the course. And yesterday was a solid, professional outing on the road. There will always be a few nervy moments in a 1-0 game, and I wasn't entirely comfortable down the stretch, and yet somehow I was. So that says something, probably about Forest and Villa both. Still, I can't help but feel the side could be more dominant more often.
Jack Grealish has obviously been a massive boost. Always dangerous, intelligent, and now working hard at both ends of the pitch, he truly is like a new signing. And this is a funny one, because before his injury, he wasn't as complete a player. When Bruce said he was going to build the side around Jack after he went down, many thought he was being silly, or only saying it after the fact as a bit of an excuse, and even then, many supporters didn't think Grealish was a two-way, 90-minute footballer. He was a luxury, icing on the cake. And up to that point, they'd have largely been right.
But since he's come back, Jack's starting to come into his own and finally looking like he might realize his potential. He really is a quality footballer. Whether his maturation is down to Bruce, Terry's influence, the weight room, a conversation with himself…Could be all of the above. Main thing is that it's happening.
The last three games have been more encouraging in terms of the upcoming six-pointers (though Forest have been on a bad run apart from the Arsenal shocker). And I think yesterday's game would've looked closer to the Bristol performance than the Boro one if Terry's header hadn't come back off the bar.
At any rate, we find ourselves in a good position with enough games left to matter, including the six-pointers that will likely determine automatic promotion versus the playoffs. The depth in the side has, as many predicted, turned out to be a blessing instead of a case of having too many choices, given that injuries have dictated almost everyone getting a look in and the right balance finally seems to have been struck. With almost the full side fit again, Villa finally have decent options, and one hopes that it doesn't create problems. It's easy for a manager to outsmart himself.
Whereas I'd said Hogan was a waste of money since we apparently couldn't play to his strengths, we're now finding a way to get him the right kind of service. I can't help but think Jack's a big part of that, and maybe Agnew as well, as we're keeping the ball on the carpet much more and making him a point of focus for opponents. Since he can handle that, it opens things up for others, especially especially since he's giving us a ball-carrying impetus in the center of the park.
I'll keep finding other players besides Hogan and Snodgrass who seem deficient in any given spell, as they obviously read AVL and decide to up their game when receiving criticism. But no one gave me a chance yesterday. So well done, the lads.
All told, we should feel pretty good right now. Was chatting with a Forest mate during the match, and he reckoned Villa looked more like a PL side. I said we ought to, given the money spent and number of players who have played at that level. But he had a point. There was organization and composure, threats from different areas, and a general sense of steadiness about us.
I like to think of myself as a realist, rather than an optimist or pessimist. The realist in me is a reasonably happy guy today.
Over to you.