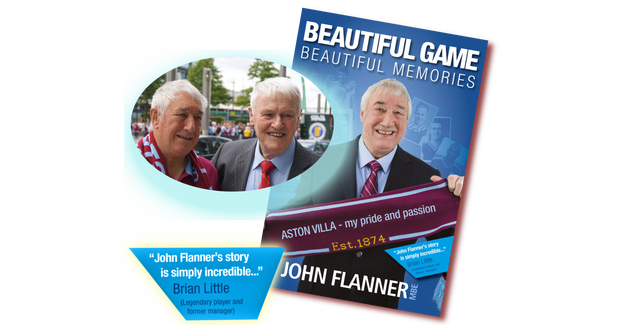 I have the pleasure of knowing John Flanner, a remarkable Villa fan. And a fan whose published story will appeal to all other Villa fans, I'm sure.
The official press release goes:
Peter McParland MBE, who scored the two goals in Villa's memorable 2-1 triumph over Manchester United in the 1957 FA Cup Final, will be joining blind super-supporter John Flanner MBE to celebrate the launch of John's compelling book about his memories of the game.
In the book, 'Beautiful Game, Beautiful Memories,' due to be launched on 4 May, John pays homage to the Club as he shares the magical moments of football heroes past and present, recounting legendary matches and dramatic events over the past 60 years.
Brian Little, legendary player and former Manager of Aston Villa, said: "John's story is simply incredible…Most of us have been blessed with being able to watch football, rather than having to imagine in our mind's eye what is happening on the pitch.  So for someone like John to follow Villa as passionately as he has done without being able to see is amazing."
Peter McParland, who first met John in May 2015, commented: "John is a unique man who has overcome many difficulties as a young boy to become a fantastic supporter of Aston Villa and a fantastic person.  It's marvellous he's overcome the difficulties he has to become who he is today, and an outstanding supporter of the Club."
Former Aston Villa Manager Ron Atkinson added: "John's recollections of players and matches stirred up so many wonderful memories for myself.  This book is a fantastic read for all of those who genuinely love 'the Beautiful Game' and I thoroughly recommend it as an inspirational read."
Recalling precious memories of 'Going to the Villa' with his Dad and son, John said, "I have so many truly great memories and one of the sweetest of all, after several years of heartache, was when the Villa boys turned in a performance that shocked the football world when they beat Liverpool in the 2015 FA Cup semi-final at Wembley Stadium.  That memory will live with me forever because it was so unexpected and therefore all the more sweet.
"Being a football supporter is a strange thing because it takes you on an emotional roller-coaster ride.  It is very similar to a marriage and, in my case, the love of Aston Villa as a football club is clearly engrained in me. In my 60 years following the Club there have been countless highs and lows but, as with all true supporters, you stick with the Villa no matter what." 
Copies of the book will be available on Amazon and Kindle from 4 May and you can find out more about John by visiting his website at: www.johnflanner.co.uk