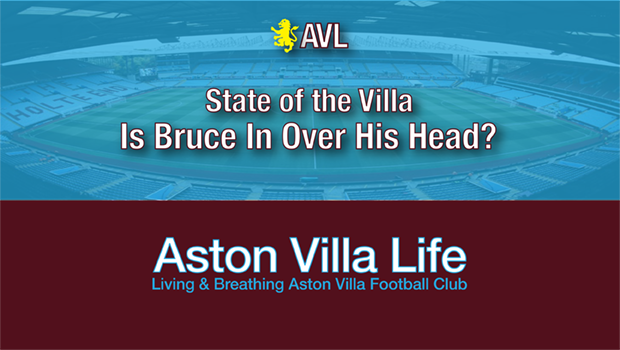 The headline might seem a bit of a wind-up. But after the weekend, the simmering question has moved front and center—among a whole host of other questions that were already there.
So, there's not much good to write about this week, there's plenty bad, and Saturday was just downright ugly. That's it for my schtick.
Let's start with what we do know. Following that dismal outing against Blackburn, we're playing Brighton to close out the season and Jonathan Kodjia has a broken ankle. Beyond that, it seems as though we have almost as much uncertainty as ever heading into the close-season.
We think Tony Xia will hold on to Villa, as rumors of him selling up are apparently "complete rubbish". We think Bruce might still be the manager. We imagine a number of loanees will be leaving permanently. One would also imagine Steve Round and the rest of the backroom staff are staying. It seems there will be more incomings during the window.
But of course, the biggest questions surround Bruce, the squad, tactics, and to what extent Villa can hope to improve over the summer. Perhaps it was simply end-of-season lethargy that left us looking so inept against a Rovers team at home that desperately needed a win. Perhaps it was deeper. It seems deeper, given the reaction coming out of management. We've heard from Bruce for weeks that there's a lot of work to do and that the performances have to be better. So we assume there's work being done, but the performances don't seem to reflect that.
These things sound all too familiar for Villans. What I can say is that to all appearances Bruce still doesn't know his best XI or how to play them together, including the players purchased in January who would, as we understand it, have been sanctioned by Bruce. We don't seem to be able to win without either Kodjia or Mile Jedinak on the pitch. Basically, we don't seem to have actually progressed.
Of course we did find a couple of good streaks and some long overdue wins—hadn't had many of those in recent years. But whereas at one point we hoped they signaled the start of something coming together, the last few matches have brought that into serious question. Instead of kicking on with the pressure off, these performances instead indicate to many that we're lost at sea and Bruce is flailing. I couldn't argue against that…not very strongly, anyway.
The counter-argument, of course, is that the rot was so deep, and the club left in such a shambles, that to expect much more this year was unwarranted. And to a degree I can accept it.
However, with so many new players, a new owner, two new managers…It's hard to understand how such a hangover could persist so long. Some of those in the know suggest the depths were such that this shouldn't be hard to understand.
At any rate, we're now left wondering whether Brighton takes on added significance for Steve Bruce. Does another woeful display spell trouble for the gaffer? Is he about ready to walk on his own? Can we view the game, at this stage of the season, as a referendum of whether the players want to play for Bruce? In my book, if they have any pride and any regard for Bruce, they'll show it. Unless, of course, he's preventing them from showing it.
It almost seems that once safety was secured, however precarious the matches and routes to victory, the players didn't have it in them to push for that improbable sixth playoff spot, and instead they…what? Downed tools, or just lumbered through an inevitable run of poor results that they could've always had in the preceding run of victories?
Once again, is it all down to Bruce's formations, tactics, and team choices leaving Villa looking poor? Or is it the players? All of the above? Bottom line, it's become impossible to avoid asking if Steve Bruce is simply in over his head.
It might not be fair…football rarely is to managers these days, but Dr. Tony's focus on a quick return to the top tier and the money he's invested obviously generate pressure. Bruce was carefully vetted coming in, but do Xia and those who compiled the dossier feel as comfortable with the choice as they did before the holidays?
We'll soon find out. And Bruce being here over the summer won't necessarily imply the confidence is there. As many have said, the clock most definitely seems to be ticking. For me, I wanted stability. Villa need it. By the same token, if we're not in the top three or four come Christmas, then something's wrong. And if we don't get out of the traps quickly, Christmas might well be too late to make a change.
Dr. Tony has shown he's not afraid to make a change, even when the manager was his idea. He's held up his end of the bargain so far, and has got every right to demand returns. Just as we long-suffering supporters do.
I don't know how this turns out, but I do know that if Villa don't put in a truly credible performance against Brighton, I wouldn't be surprised to be writing about Bruce's departure in the days or weeks following.
Over to you.
•••••
Reminder: John Flanner's book 'Beautiful Game, Beautiful Memories,' is available today, 4 May. Copies are available on Amazon and Kindle, and you can find out more about John by visiting his website at: www.johnflanner.co.uk