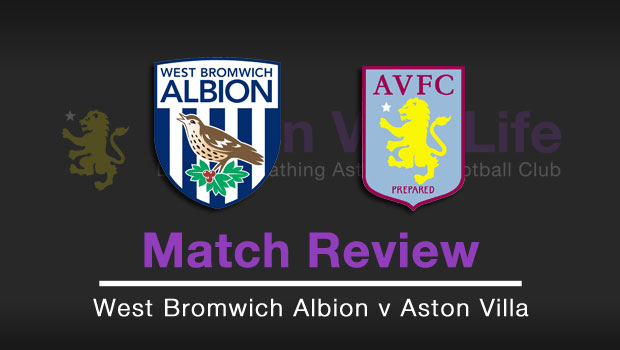 For 45 minutes, Aston Villa looked like they were going to be in for a long night at the Hawthorns with a combination of slopy defending, panicked play, and some excellent control by Shane Long.
Long, a player almost sold to Hull City in the last transfer window, was certainly West Bromwich Albion's most dangerous player. His first goal was, in my opinion, an outstanding bit of control, followed by a shot that gave Brad Guzan no chance. Yes, Nathan Baker's positioning was sloppy, but I think there are moments in the game where brilliant play shines through, and few can argue that Long took his goal well.
Albion's second goal was very much a mistake, with Leandro Bacuna practically offering an assist for Long to seal his brace. At that point, the panic in the team was very much there to see – something needed to change, and pretty quick.
If I was to pick out a flaw in the starting lineup, it was regarding the defence. Between Ciaran Clark and Bacuna – neither of which I'd call a full back – the whole defence seemed like they were a bit of a mess. Not only that, but the fact that Villa rely heavily on the need for the full backs to provide the width for the team means that the central pairing – Ron Vlaar and Nathan Baker – are pulled apart too easily.
In fact, Villa's starting line up played directly into the hands of a team playing 4-2-3-1, with our centre halves ending up stuck in the middle of nowhere between full backs that were needing to play too wide. What did that mean for Villa? Well it left the centre halves with a challenge of who to pick up – do they go for Long in order to mark the man directly in front of them but leave Stephane Sessegnon with space behind him? Or do they end up trying to track Sessegnon and split the central pairing?
The former gives Albion space to play, but the latter means the defence is broken up with no real coherent line.
Come half time, it was pretty evident things had to change. How? The most likely change seemed to be the removal of Aleksandar Tonev, a player whose profligacy was becoming a source of frustration. Whilst I can strongly argue that a team needs players who take chances to shoot, I can't really see that Tonev was offering anything other than wide shots and/or losing possession.
What seemed like the most sensible move was to revert to a flat back three. Between the injury to Antonio Luna and the erratic form of Matthew Lowton, Villa lack wide players, so for Lambert to play both Bacuna and Clark in strange roles was, in my opinion, asking for trouble.
Some were surprised that changes were not enacted during half time, but there is a sensibility to give the team a little bit of a chance to work their way out of problems. As things turned out, the substitutions became as much a necessity as a logical step with Gabby Agbonlahor, Andreas Weimann, and Fabian Delph providing the impetus to turn the game around.
In those substitutions, Lambert deserves credit – Villa needed to change, and they did – but there was a lot of inherent risk too as all three have only recently returned to training.
In fact, injuries are a key part of what has affected Villa's ability to develop a constant rhythm. Between the loss of Jores Okore, injuries to many key players, and a dry spell for Christian Benteke, there have been challenging times. However, it is a positive that Villa remain in mid-table despite such issues, and despite a lack of real ability to spend money.
Getting back to the game, Karim El-Ahmadi and Ashley Westwood both benefitted from a more attacking focussed approach. Whilst some criticise Lambert's often cavalier attempts at playing attacking football, there is a certain feeling that attacking comes far more naturally to his youngsters, something that past issues with clean sheets may well point to.
Regardless of the longer term issues, Villa will be relieved to come away with a point. In a game where the first 45 minutes seemed to look desperate, the second 45 made a big difference, down to substitutions and commitment.
Whatever the individual feeling on the team's abilities, few can doubt that the commitment was there to get back into the game. Could Villa have snatched a 3-2 had their three substitutions been fully fit? I guess we'll never know.