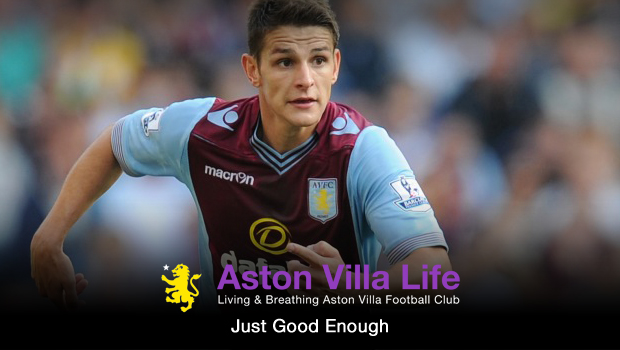 I doubt many would've been surprised by a draw yesterday, and neither would many have expected that Villa would claw their way back from an early two-goal deficit.
But Villa did find their way back into the game, and a point, after the Baggies got off to a flying start courtesy of Shane Long. It was a welcome reversal from a year ago when it was Villa who conspired to blow a two-goal lead in a 2-2 draw that felt like a loss.
In footballing terms, though, there wasn't necessarily a lot to like about Villa's performance. Perhaps the best thing was simply the resilience. Along with the reintroduction of Gabriel Agbonlahor, Andreas Weimann and Fabian Delph.
The triple substitution helped spark Villa, and it was Gabby's industry that ultimately led to the chance that Ashley Westwood took to notch his first goal for Villa. We've seen him try those long-range shots several times before, but this time he found the net, and it was enough to salvage a point from a game that didn't seem to hold much promise.
Karim El Ahmadi had a nice goal himself to pull Villa back into the game and it was obviously Villa's midfield that came to the rescue, at least in goal-scoring terms.
On the downside, Christian Benteke once again looked a shadow of his former self, and the pairing of him and Libor Kozak doesn't really look to offer much, although Kozak did nip the top of the crossbar in the first half.
Many Villa players had poor games, and all too often squandered possession far too easily. Tonev started brightly but faded from view and Sylla did a lot of running. Leandro Bacuna gifted Long his second opportunity. El Ahmadi also did a lot of running.
What once again seemed painfully evident is that Villa don't have a real ball-winning player in midfield. And when in possession, Villa continued to play at a tempo that wouldn't really trouble anyone. Players don't show for the ball, and when they do, their teammates often miss them or play it poorly to them. Touch is lacking.
Even though Villa have started better than they did last season, there seems to be an overall lack of confidence in the side. Too much hesitation. Too much rushing when patience is called for. Too much dwelling when quickness is required.
But while Villa weren't impressive, they did manage to be just good enough to salvage something when it looked as though it would be a long, frustrating night.
So, given the disastrous start, it was a decent-enough result. My sincere hope is that Delph will be making his way back into the starting lineup and rediscover the form he'd been showing. Villa need his drive. I'm also hoping that whether it's Andi or Gabby out there, Villa find a way to offer something different up front and get Benteke back on track.
The reality is that Villa should be in a different league to Albion, and it is easy to find out how. For example, what if only second half goals counted? Would Villa be better or worse off? How about if there were no penalties? With a League Of Your Own, YOU can see the important statistics affecting Villa's results, share your findings with friends, and prove how the boys in claret & blue are progressing!