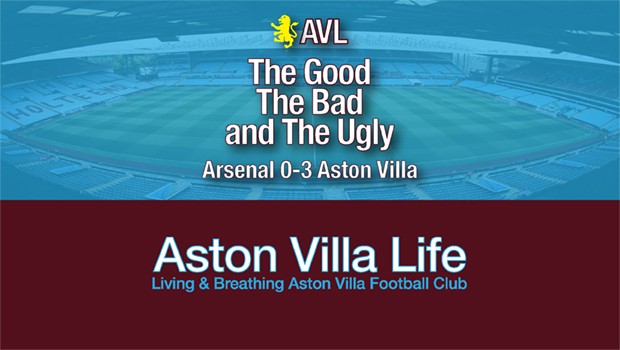 In case you were wondering what had gone wrong at Villa Park, Aston Villa delivered a message in their well-deserved 0-3 smashing of Arsenal at The Emirates: We're alright, thank you very much. With Ross Barkley and John McGinn back on song, Villa sent opposition fans into meltdown, and moved back up to sixth. Not bad for a Sunday night.
The Good
Sharp, incisive, and even a bit cheeky. Two real finisher's goals from Ollie Watkins, who, while missing his touch to begin with settled down nicely and also chipped in a lot of good hold-up play. A quick start that yielded a goal within a minute of kick-off. It didn't stand, of course, but was a beautiful piece of play and showed McGinn at his best. Lots of tactical variation throughout the match. Limited opportunities for the hosts. Solid defending across the back. Martinez looking fully in control and setting Jack off brilliantly following a strong catch he came out for. Emi otherwise not having much to do. Excellent work from Trez, who never stopped running and helping Matty Cash, and whose presence at the back post forced Saka's own goal. Luiz's sublime ball into Barkley, highlighting a strong performance. Good pressing energy and midfield bite. Playing for more until the final whistle. We could've had five or six.
Last but not least, let's not forget another imperious performance from Jack Grealish. He really is something special.
The Bad
There were a few nervy scrambles in the box, and some less-than-convincing clearances that contributed to Arsenal's limited periods of sustained pressure.
The Ugly
Lacazette somehow failing to direct Arsenal's best chance on goal. The weather wasn't very good, either.
Final Verdict
Villa were under a bit of pressure coming in, deserved or not, and answered the bell. That's the biggest thing for me. Fifteen points out of 21 on offer is a great and very unexpected return. Barring a long run of serious misfortune, Villa are well on their way to being safe. The fact that nine of those points came against Liverpool, Leicester, and Arsenal by a combined 11-2? That's been a long time coming.
On the day, Arsenal will say they were poor, and they were. But Villa had more than a little to do with it, and even though John McGinn's first-minute goal didn't stand, it set the tone and rattled the Gunners. From there on, Villa showed more heart and less fear. More team spirit. Never mind having the best player on the pitch. Elneny and Partey did nothing, and Aubameyang never had a sniff.
Apart from commitment and application, we also saw a number of tactical tweaks throughout the game that kept Arsenal from finding any easy-going. Perhaps the most notable was seeing Villa often drop into a 4-4-2 without the ball, leaving Barkley higher with Watkins, and Jack and Trez dropping deeper to fill in the flanks and keep Targett and Cash from getting overwhelmed. Matty and Trez had a lot to do wide right, and they did it well against three overlapping Gunners.
The balance in the middle got back to feeling right, with Villa setting up in a 4-2-3-1 in attack, Barkley being largely left in the advanced role behind and alongside Watkins. Luiz and McGinn did a good job with their defensive duties, contesting the midfield high and low, and keeping things nice and clogged up. At varying points, I saw different players all over the pitch, interchanging and taking responsibility. Jack wide right for a spell and Trez on the left, McGinn and then Luiz advancing or sitting deep.
The match also highlighted the differences in sides throughout the league. In the preview, I wondered which Arsenal side would show up. And the right one did. But there's more, and it's that a lot of teams do not want to play like Leeds, nor can they. You'll get periods of pressure like Villa exert, and then spells where they drop off and conserve. If you invite them forward, you'll get space in behind and not be harried by a pack of terriers. And to be honest, it's more enjoyable football to watch, for me. Not just when Villa win, but because it's not just about relentless running.
Given this, Villa had a bit more time to play: You only had to look at Jack and Ross taking the piss on the edge of the box before Barkley found Targett to cross toward the back post for the opener. But when Villa were quick, they were quick. Maybe the most enjoyable single moment, apart from the beautiful Luiz-Barkley-Watkins sequence, was Jack outrunning Bellerin with the ball, showing good strength at the end and playing Ollie in perfectly. The resulting finish was calm, composed, and exactly what you like to see. No snatching, no extra touches, just a player in the flow and not overthinking.
And as every wag on the internet has pointed out by now, that run made a complete laughingstock of Southgate's "pace and athleticism" excuse. Nothing against Mount, but let's see him take the game by the scruff and do that week after week, and more than once a game. It was glorious to watch, a reminder of what's best about football. Jack wants to win. He wants to drive, score, and assist. He wants the armband, he loves the club. He loves playing and using his gifts.
Results are great, and systems are great if they give you the results. But personally, I love individual flair that has an end product. I love seeing the confidence, the arrogance, the complete mastery on the ball. The perfect takes, time after time after time. There's very rarely a wasted ball out and up to Grealish. There's a fast-growing maturity and intelligence that, at 25, hints at an absolutely glorious prime for him.
But I'd be remiss if I glossed over an excellent day from Ross, Ollie, John and Luiz. Ross was back on form, and it makes a world of difference. That extra player with quality, vision, and confidence for Jack and Ollie to link up has proven invaluable. I'd also be remiss if I didn't acknowledge how well everyone else played. Dogged, positionally aware, making good decisions. It was a very good day at the office. When they get the bit between their teeth, they'll defend, score goals, and are fun to watch. They might even make your proud.
That's a credit to the players and the staff. You don't just forget a relegation miracle six months prior, but there's belief, talent, effort, and cohesion on display. We're Villa, we shouldn't get carried away. But we should also enjoy what we're seeing. We've taken a good step forward, and the foundations are solid.
Over to you.