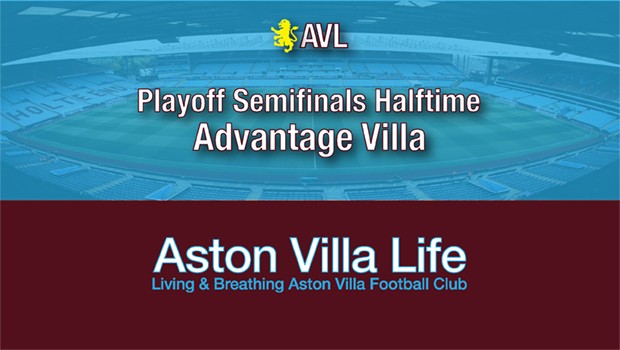 It wasn't a thing of beauty, but Aston Villa found a way through Albion's bus-park to gain a critical 2-1 advantage in leg one of the playoff semifinal. Another fightback, and a return to winning ways in a game that counted. This team doesn't have much quit in it. In days past, I wouldn't have been at all surprised to see Villa walk away on the wrong end of an 0-1 scoreline.
Having secured promotion, Villa took their foot off the gas in the final two games for the most part. One could've been genuinely concerned that a draw and a loss were not what we needed heading into an intense playoff match-up. Momentum could well and truly have been lost. And for a while, Saturday, it looked like that might've been the case.
Gifting Albion an early lead gave them the opportunity and incentive to sit back and counter after Villa had started brightly and squandered two decent chances to take the lead. Albion were organized and physical, and looked comfortable despite Villa's dominance in possession. Grealish was once again man-marked, and Anwar El Ghazi found himself with two to beat every time he received the ball anywhere near the Baggies' area. There wasn't any more room wide right.
With the balls we did manage to pump into the box we obviously got very little success, and were generally stifled trying to work our way through the middle. We looked bereft of ideas and John McGinn looked off the pace. Mings looked uncharacteristically shaky at times. The quick-passing triangles we like down deep were getting overloaded. Players were either taking too long looking for the perfect pass or trying to take on too many men to make things happen. Movement wasn't great. Then again, there weren't a lot of spaces to move into.
Villa were, in other words, playing into Albion's hands. And West Brom were tenacious in breaking things up and winning the ball back.
But this is not the old Villa, and Albion were also playing into Villa's hands.
The Difference
The Villa side know there are moments of magic in it. They keep attacking. They play to the final whistle. They can turn the screw late on. They can wear you down, constantly probing, resting on the ball, maintaining energy for the last 15-20. It can take a while, but between Abraham, Grealish, McGinn, Hourihane, and El Ghazi, there's a lot for a defense to keep a lid on. The longer you have to do it, the harder it gets, especially with the constant effort it takes to come off the double-teams and pick up another player. Because of Mings' and Tuanzebe's pace, agility, and strength we can push up the pitch, offer a lot of support, and still not get caught out too easily.
So as frustrating as it was, there was always a sense Villa weren't done. They kept coming, kept making Albion defend. Kept drawing fouls. And finally the breakthrough came as Smith made the two logical changes, getting Green's athleticism on the pitch, as well as Hourihane's uncanny knack of being in the right place at the right time. Grealish got the ball in the box, defenders collapsed down deep, and Hourihane was all alone in the middle to beautifully take advantage of the simple cutback from Jack.
This was the soft spot in Albion's defensive set-up all along. As players doubled up on the wings, and sought to deny Grealish, Abraham, and McGinn any room, Whelan was often finding himself in pockets of space 25 yards out. But Whelan doesn't really present a scoring threat, so Albion were content to focus attention elsewhere. Hourihane's introduction changed that. And that changed everything. Albion were deflated, Villa had gears to shift into, and suddenly there was confusion and space. Grealish was getting down lower, and a nice little pass to set him running into the box led to the decisive penalty.
So. Advantage Villa. Never mind Gayle's sending off.
Lessons Learned
Albion obviously will have to come out at The Hawthorns. Whether they'll be content to play for penalties at home remains to be seen. Albion were of course very reluctant to let us play Saturday, as we saw with the time-wasting. But, you'd also expect the away side to be conservative in the first leg, especially when gifted a lead.
What that means in terms of applying lessons learned on Saturday? I don't know. Which is the thing with two legs. How open they are Tuesday, how quickly they look to score, how nervous the crowd gets, how nervous they are, what their injury situation ultimately looks like, how they'll play if they get one back first…who knows.
One thing we do is that Villa will continue to play like Villa. The early stages will be particularly interesting since we look for fast starts and often create a lot early on. And given that we didn't play at our best in the first leg, we'd expect a better overall performance with the nerves perhaps settled a bit. I don't know whether we'll persist in trying to find Tammy on the end of high crosses, but I expect we'll see much more impact from McGinn. And probably instructions to let fly more quickly and frequently.
Does Whelan start again? Going by Smith's brief history, I'd say yes. Dean knows he can always bring Conor on and change a game. But if he's looking for a knockout punch early? We'll see. He can always bring Whelan on to help steady things. Then there's the Adomah-Green question. But again, Smith has gone back to favoring Adomah. He gets a lot of stick, and he's certainly not been the impact player he was. But he is positionally smarter than Green, seems to work harder (in part because it seems he's more assured of his role), and is involved a lot at the back. He has a lot of running in him, too. This is why I think he's been starting. Smith isn't necessarily looking to him for goals—more so how he fits into the system. And again, he knows he can change things up with Green, who definitely presents a problem to a tiring defense.
My Invaluable Advice
If it were me, I'd keep trying to get Jack and Anwar carrying the ball into the box. McGinn, too. After the penalty, they'll get a little room, suck defenders in, and make the cutbacks available. I'd also be telling Jack to let fly along with the others, and I'd look to get him open a little quicker: If El Ghazi and Taylor keep pulling two or three defenders wide, we should have Jack cheat a little more to the middle and ask the pair to get the ball quickly to his feet as he's drifting inside and before defenders slide over. Do this a few times, and it should give El Ghazi more room to attack. I think Jack is trying to be smart by not pulling the trigger when it's not a real clear look so that a blocked shot doesn't launch a counter. But with a little room and awareness from others that he will be shooting…They should be wise enough to position accordingly.
But you could also say the same about getting McGinn open as players move to deny Jack space. He's just about due for another cracker.
Anyway. My tactical genius on display, which has obviously been indispensable to Smith down the stretch.
Whatever happens, they're in thick of it now, know they can get a result when it really counts, and shown yet again they can overcome adversity. The team's mentality has to be good at this point. If we get an early goal, take the crowd out and get the Baggies really stretched and needing two? We could end up scoring for fun.
We could also find ourselves at 0-0 80 minutes in with Albion throwing the kitchen sink at us, too.
I don't really want to see that. So my advice is score early and score often, boys, give the next opponent something to think about, and the yam yams a bitter pill to swallow.
Over to you.