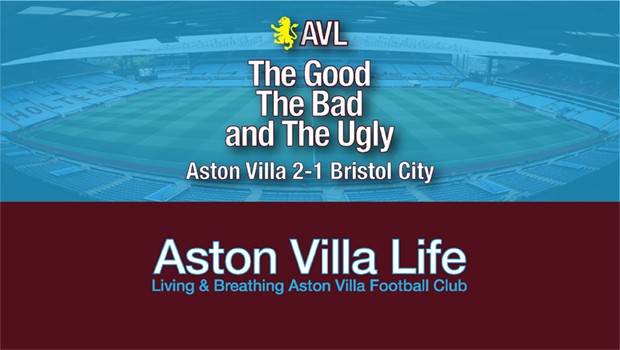 Imagining there may be one or two hangovers this morning after Villa stretched their winning streak to eight yesterday and gave supporters hope that something really has changed. Because even without Jack Grealish and Tyrone Mings, Villa were still far too much for Bristol City, who left Villa Park on the wrong end of a 2-1 scoreline that could've looked a lot different.
The Good
The mental state of the team: confident, aggressive, attacking. The physical state of the team: Three nearly miraculous, hard-fought games in a week, and still chasing and looking to score through all six injury-time minutes on Saturday. The technical state of the team: Well drilled, passing quickly, picking their spots when pressing, connecting well with excellent anticipation.
In short, it looks like Dean Smith has finally stamped his mark on Villa. And Villa have come together as a team. I could go on, but that's a really good thing.
As far as individuals go, Anwar El Ghazi had a fantastic game. As did John McGinn and Conor Hourihane, who on any other day would've had a beautiful hat trick. Abraham got back on track being given a penalty to convert. Conor kept playing and finally got his. Whelan kept things steady and kept being in the right places at the right times. Keinan Davis had a very promising cameo. Really looked the part.
The Bad
Missed a couple chances to get in front earlier, and then to make it more comfortable, but you can't really point to much else. I suppose I could also say that we did have a little trouble clearing out lines, which helped the Robbins claw one back, and should perhaps be a little more clever taking the air out of the game. On the latter, though, I'm not going to criticize a team for always looking to score.
The Ugly
Got nothing.
Final Verdict
Everyone was buzzing about the result, and with good reason. We'd been looking to this game increasingly as the streak built, a six-pointer that was the third game in a week. And we'd probably been wondering whether the late winner (feels like 'winners') at Wednesday and the fightback against Rotherham were signs of encouragement, or indications we were just riding our luck. Then Hause went down, Mings was suspended, and Jack came up sick. This morning, it seemed like maybe that eighth win on the spin was a bridge too far.
And it turned out to be quite the opposite. While not perfect, Villa took the game to Bristol, and played quick, attacking football that yielded 25 shots, 11 on target, three or four of which were denied by incredible reaction saves and one denied by the woodwork. They were aggressive, committed, and playing hard for each other. They basically did everything you want a team to do.
It would've been easy to make excuses today, play for a draw, go into our shells. None of that happened. Everyone stepped up, and everyone played pretty much as well as we've ever seen them play. This team has goals in it, and believes that. They don't stop playing. They believe they can make a moment of magic at any time.
Good thing, too, with Boro and Derby winning.
Bristol will have a couple complaints. The penalty, the offside. I couldn't really give a toss. We've had our luck good and bad, and it papers over how many we could've, and ordinarily would've scored based on the quality of chances.
So now we're down to four, and we've no idea what the last one or two will mean. Right now, I'm stuck in the funny psychology of streaks. You know they end. But just because 8 or 9 represent historic heights for us doesn't mean that's some kind of ultimate ceiling. If the side feel invincible, and play like it, so much the better. If they're cocky and overlook teams, well that's not so good. If they're just statistically fated to lose a game, then you never know what the right time is. Just before the playoffs, to get them focused? Somewhere earlier, so they build momentum?
You can make yourself crazy thinking about it. But the fact is that Villa will feel the next two are games they should be winning. Then they'll play two they'll really want to win, to prove something to themselves and everyone else. So, why not 12 in a row? And then why not demolish whoever we'll face in the playoffs since we've played so well against them all before?
Which means your guess is as good as mine as to how this will play out. What I know is that with Saturday's win, the window is closing on the sides looking to pip a spot. We could have our tickets booked by the time we play Leeds.
The other thing I know is that if I were a betting man, I don't know that I'd be betting against Villa. All teams lose, but we see the good ones don't lose very often. Villa are back in the form they were showing before Jack and Axel went out, and it was the kind of form that would've seen us in the top two.
Which means I think it's really down to Villa. Right now, they can do what they want.
Over to you.