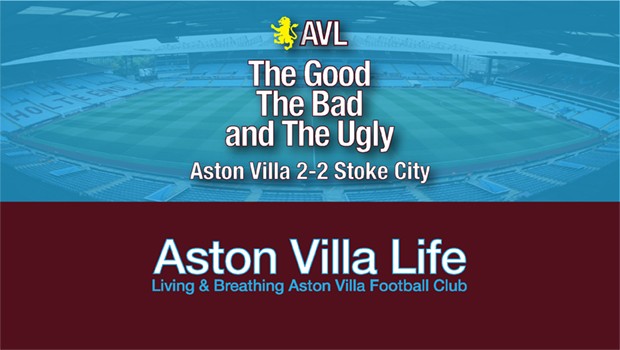 The Potters came visiting, the weather was terrible, and Aston Villa looked out of sorts as they clawed their way to a 2-2 draw with Stoke. It probably goes down as the side's worst performance so far under Dean Smith, but there were still some positives.
The Good
Resilience, mainly, and Kodjia coming to the rescue off the bench by earning a penalty and then scoring the equalizer. Can't say there was really much else, though Nyland did have a good reaction save in the first half. Wait. Smith's decision to bring on Kodjia. That obviously paid dividends. I don't think we'd have come away with anything otherwise. And I wasn't at all convinced it was the right move when he came on. I also liked the decision to bring on Hogan and go for the win. It's a consistent philosophy, and it very nearly worked.
The Bad
A fair amount. Bolasie got the assist on Kodjia's goal, but otherwise both he and El Ghazi just didn't have their customary control on the ball and were largely ineffective. Wayward passes all over the place, and Hourihane had his fair share of them. Lack of pressure. Some terrible defending from Ahmed Elmohamady to allow his man to easily get inside him and then foul him in the box. Never really got Tammy Abraham involved. Hogan had a couple half-chances at the death, but it just didn't come off. Overall, the service into the box was poor, as were the longer passing attempts, and the players actually looked a bit tired. They didn't have the quickness and relentlessness we've started getting used to. We had a couple good breaks where we didn't make the right decisions.
The Ugly
Let's go with the weather, though the overall performance might do just as well. Deano will not be happy with that one.
Final Verdict
Coming into the game, I wondered what effect Grealish's absence might have. And this is what I was seeing as I watched. So maybe I'm going to overemphasize this. I'm also going to qualify that by saying no one really played all that well (apart from Kodjia's cameo) and the conditions were awful.
In recent weeks, as Smith has emphasized a much more team-oriented approach, it may have seemed that Grealish's contributions, and significance, had shrunk. Instead of putting everything on his shoulders, the side are now trying to distribute responsibility and not depend on one man. So, some might wonder exactly what he's doing now, and whether we'd be just fine with McGinn taking on his role.
Without Grealish, Villa seemed to lack confidence and cohesion. Having Whelan as your only viable alternative in midfield doesn't help. One might well argue that O'Hare would've been a better choice, leaving Hourihane to continue playing deep. Perhaps Smith thought Stoke were a little too big and burly for him, or that he just isn't ready to claim a starting spot. Maybe Smith blinked a little there.
What Villa needed, to my mind, was someone to carry the ball, take men on, pull teams out of shape, and open things up in the middle. I think overall Grealish settles the side and gives the players around him confidence. McGinn didn't really fill that role today, and the game passed him by for stretches even though he put in his customary graft. What I see is that Grealish and McGinn are very complementary players. They each allow the other to do what they do best. In his post-match presser, Smith talked about lumping in crosses rather than getting in behind the CBs. I think Jack helps us play better in the middle of the park and doesn't leave McGinn so much to do, as he was essentially trying to play two parts. Bolasie and El Ghazi were tightly marked, and quite often double-teamed without having to worry about Grealish and McGinn in the middle working together. With those two out there, it's less of an issue that Hourihane doesn't impose himself on games so much as allow Grealish and McGinn to do what they do best.
Of course it's just one game, so you can't draw too many conclusions. If Jack were out longer, players would have to get used to doing things differently, and they probably would. If someone like Birkir Bjarnason had been available, that would've helped the midfield balance.
And I'll say it again, the weather did not help anything. But it was the same for both teams, and Stoke dealt with it better. They were also more industrious and organized, and perhaps surprisingly dangerous on the break. Villa looked very much at sea on more than one occasion. Stoke, and Joe Allen, were able to pull our wide men inside, and Deano pointed out the net result, which is that there was a lot of room for the Potters' to work with out on the flanks in our third.
So, there's that. A rather poor day at the office, and Villa will be kicking themselves that they couldn't find a way to three points. That gap is starting to widen now with the Albion and Forest draws that should've been wins and today's disappointing effort. Smith will be seeing those as six points dropped.
I'm guessing it will be an intense week for the players. Smith will have plenty to focus on. That said, there are always days like this, and at least we got something out of a game where it really looked like we wouldn't. Whereas once we couldn't really seem to cope with falling behind, today we fell behind twice and it would've been easy to buckle after their second. But there was always a sense Villa had another goal in them, and they went out and got it. And we even ended up being a half-step away from potentially snatching a win at the death.
Next week's match against Leeds is going to be important at this stage of the season, if only for the sake of psychology. We've done well in a tough run, and bouncing back after an underwhelming outing is something good teams do. And Smith is getting the team to feel like they're the ones making runs tough for others, as witnessed by remaining undefeated. In other words, his line that Villa fear no one is a simple statement that 'tough runs' are just a series of games that we should always be expecting to win.
In the end, though, this is simply one to forget about. What's more important is that we have our best midfield combination available for Leeds.
Over to you.