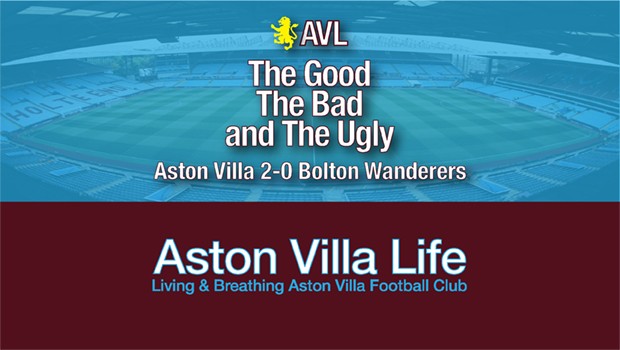 Following Dean Smith's first full week of training with the Villa squad, Bolton came to Villa Park Friday night and were sent home on the wrong end of a 2-0 scoreline with Jack Grealish and James Chester providing the goals. By Smith's own admission it was a mediocre performance, but it was a needed three points and clean sheet.
The Good
Three points and a clean sheet. Jack finally opening his account with the goal and the assist for Chester. Chester's goal-line intervention at one end and two goals at other, only one of which counted. Lovely turn and pass from Tammy Abraham to put Grealish in. More effort from Kodjia tracking back, and a decent cameo from Bolasie following that of the QPR game, hinting at a possible return to form. A fast start and long periods of possession.
The Bad
Some sloppy defending, lack of pressure. Kodjia and Abraham both profligate in front of goal. A match Villa could easily have put away earlier, and yet could also have got nothing from. Nyland's mishandling of a cross almost cost Villa goal, but to be fair he also had a nice reaction save at his near post that prevented one.
The Ugly
Once again, nothing really comes to mind, but there were a couple of nasty challenges aimed at McGinn and Grealish, and McGinn in particular was probably feeling it Saturday.
Final Verdict
It was hardly a vintage performance, and what stuck in my mind more than the win were the number of chances Bolton squandered, which was only emphasized watching the highlights. Most of their moves started wide, and Villa had trouble getting to the initial cross and then clearing it well. That said, when you look at the back, there's not a lot of height, and indeed not a lot throughout the squad. So it may well be the case that those sort of attacks will trouble us for a while. When Abraham went out against Norwich and they scored immediately after, Smith pointed out that was a ball that he'd expect Abraham to get. Short answer is to stop those balls coming in. Easier said than done, of course.
But we also saw some of the fruits of the week's training in the way Villa worked the opener, the kind of goal we're not really used to seeing. From us, anyway. After the game, Smith and Grealish both talked about the work they'd put in in creating those kinds of moves. Smith obviously sees more goals and assists from Jack, Jack would like that, and so would we all.
Amongst the support, there's consequently been a lot of talk about Grealish and the start to his season so far, which hasn't been as impressive as his performances in the second half of last season. However, when evaluating the situation, I stand by what I've said previously. He's an extremely talented player who has not been served well by Villa's lack of philosophy, nor the club's over reliance on long balls and individual moments of magic. And he's not the only one.
I say this because by all accounts, Villa really haven't been a side that's been coached in a cohesive fashion, and as we've watched them play it's shown. It's been clear to the supporters and clear to pundits.
Just this week, for example, Axel Tuanzebe talked about the way Smith wants to play being much more complementary to what he was used to at United and that it would serve him well upon his return. That it was less direct, and they were working on giving themselves more ways to score.
And of course over time, we've also seen a longstanding tendency for underachieving or marginalized players to leave and find their feet elsewhere. And we've seen a number of players like Hogan and McCormack come in only to seemingly regress from the form they displayed elsewhere.
It's simply the fact that although football, at root, is a simple game, all athletes benefit from coaching. You don't ping the ball around the park unless you're pinging the ball around the training ground. Quick, one-touch football doesn't materialize out of thin air. There's a lot of understanding, anticipation, movement, pattern, and expectation. It's fast because it's natural and you don't have to think about it. Automatic execution requires practice. And this sort of preparation also breeds confidence. As does fitness. As a schoolboy in the '70s we worked relentlessly on fitness, our coach telling us we'd win a lot of games in the last 15 minutes. He was right. It inspired a mantra I'd repeat to myself over the years: Fatigue makes cowards.
The players' comments about the new regime have been diplomatic as far as Bruce goes, but they seem to be enjoying working with Smith, and they all seem to be saying in one way or another that they're benefiting from the change.
All a very long way of saying that the incessant focus from Smith on training, system, and tactics really does sound like a manager seeing a squad and knowing from playing against them what was lacking. And those are the exact things he would've told his players and built his game plans around at Brentford. Further, one assumes what's likely well known within the coaching community about different manager's approaches was certainly something Smith was more than a little aware of. As gentlemanly as Dean seems, it comes across as a little bit pointed, but confident. It also seems respectful to the supporters, who've had more insight into the club in two-and-a-half weeks than they have in years.
As always, nothing's guaranteed. We don't know if all the very complimentary things Smith's saying about the squad are just diplomacy. We don't know if we actually have the pieces to play Smith's way. We know that some managers have success one place and it doesn't come off for them somewhere else.
But at the risk of repeating myself, it's been a refreshing couple of weeks, and I know I'm not alone in feeling like Villa have finally taken a step in the right direction. Not only with Smith, but also throughout the organization.
With a much tougher run of games coming up starting with Derby at the weekend, we'll hope that Smith does indeed know what he's doing and that the players are truly taking it on board. There's a chance to make up ground, which Villa obviously want to do. It obviously may be far too soon to see much improvement and Smith has talked about patience, just like his predecessors have preached patience.
The difference this time is that more of us seem to believe our patience will be rewarded.
Over to you.